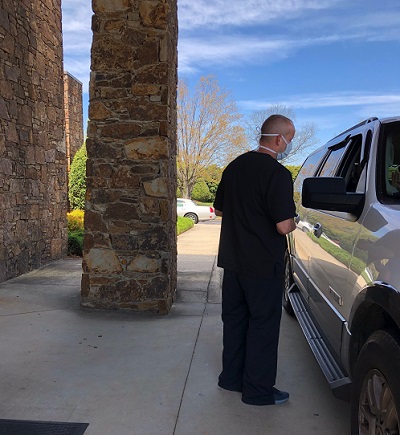 Special to Iredell Free News
Iredell Physician Network offices calling patients to confirm appointments before scheduled visits have noticed a trend recently — many patients are planning to cancel because of worry over safety concerns relating to COVID-19.
The network of practices is easily able to calm those fears, though, thanks to new visiting options, including Telehealth and carside visits that allow patients to meet with providers where they are most comfortable.
Covered by most insurance providers, telehealth includes virtual visits via phone or video. For patients who wish to meet with a provider in person and have face-to-face contact, the option of carside treatment allows patients to stay in their vehicle for their appointment.
By using Telehealth, the physician network ensures that as the state's stay-at-home order reduces the number of potential COVID-19 patients, it does not prevent current patients from receiving the care they need now.
"We're proud to say we have a very polished system," said Carla Johnson, one of two directors of operations for the Iredell Physician Network, a part of Iredell Health System. "We've adapted our efforts to protect our patients without interruption."
Kellie Dancy, practice manager of Family Care Center of Taylorsville, emphasized that her practice's use of telehealth aligns with Iredell Physician Network's belief that the less touch there is, the better-protected patients are and the safer they feel inside and outside their facility.
"Patients have been so appreciative," she said.
"This pandemic has encouraged us to be creative, think outside of our box, and use available technology so that we can still provide quality care to our patients in the community. And that's what we've done," added Kim Holland, director of operations for the Iredell Physician Network.
Despite having decades of experience facing diverse health risks, older individuals are anxious about the COVID-19 crisis and what it means for their health. By continually executing telehealth at all of its practices, Iredell Physician Network is providing those individuals, and many others, with peace of mind.
And, as an extra precaution, many of Iredell's practices have adjusted their office hours to see well patients in the morning and sick patients in the afternoon.
While those with underlying conditions are at a higher risk of complications from COVID-19, the possibility of contracting the virus also increases the urgency of those patients to address their underlying conditions, especially if they do not already have a primary care provider. Welcoming those who are vulnerable and in need of treatment, Iredell practices are not only open but are accepting new patients.
"When you look across the nation, across our state and counties, there are physician practices closing for different reasons," said Harold Brown, vice president of the Iredell Physician Network. "We have not closed any practices and do not plan to do so. Our goal is to always maintain access to healthcare for our community, and that availability hasn't changed during this time of crisis."
In a time of insecurity, Johnson provided reassurance to community members looking to their local Iredell Physician Network practice for help.
"We're here, and we're doing everything we can to meet the needs of our community," she said. "Our mission to provide high-quality care is moving forward in our communities while respecting the comfort level of every patient."
To set up a Telehealth or car-side visit, patients should call their healthcare provider's office. To find a provider, please visit iredellphysiciannetwork.com.
About Iredell Health System
Iredell Health System includes Iredell Memorial Hospital; Iredell Home Health; Iredell Wound Care & Hyperbaric Center; Community and Corporate Wellness; Occupational Medicine; the Iredell Physician Network and more. Iredell Memorial Hospital is the largest and only nonprofit hospital in Iredell County. The comprehensive healthcare facility has 247 beds; more than 1,700 employees; and has 260 physicians representing various specialties. Centers of excellence include Women's and Children's; Cardiovascular; Cancer; Surgical Services and Wellness & Prevention. The mission of Iredell Health System is to inspire wellbeing. For a comprehensive list of services and programs, visit www.iredellhealth.org