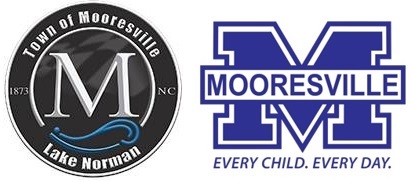 BY MIKE FUHRMAN
Mooresville town commissioners agreed Wednesday to publicly support the upcoming $125 million school bond referenda.
At the conclusion of a joint meeting with the Mooresville Graded Schools Board of Education that focused on the explosive residential growth in and around the town and how the school district is preparing to handle anticipated future growth, MGSD Board Chairman Roger Hyatt asked town commissioners if they would pass a resolution in support of the March ballot measures.
When polled informally by Mayor Miles Atkins, town commissioners agreed unanimously to do so. They are expected to consider a formal resolution at an upcoming meeting.
Iredell County voters will consider two ballot measures in the March 3 election authorizing the Iredell County Board of Commissioners to finance construction of a new middle school for MGSD, a new high school in the south end of the county for Iredell-Statesville Schools, and a public safety center for Mitchell Community College.
County officials estimate that commissioners will have to raise the property tax by one cent per $100 in property valuation to pay the principal and interest on the $125 million bonds.
During Wednesday's meeting in Mooresville Town Hall, town officials said there's no sign that the growth in and around town is letting up. The town's population increased from 18,873 in 2000 to 41,255 in 2018.
Some 3,364 residential units were constructed in Mooresville between 2015 and 2019. Another 4,065 units have either been approved or are under construction, town officials said, and another 2,359 are in the pipeline for approval.
Current and future development is predicated upon current town zoning and the town's comprehensive OneMooresville plan, officials explained.
While all of the development has been a boon to the town's tax base, the population growth has pushed enrollment in MGSD schools to near capacity.
"We're in desperate need for more seats in our schools," Superintendent Stephen Mauney said.
Three elementary schools, which house K-3 students, are currently at 95 percent or more capacity, and that includes the use of nine-classroom mega-units. Meanwhile, Mooresville Middle School, which serves the district's seventh- and eighth-graders, has 1,042 students.
Passage of the school bond, coupled with already approved renovations at two elementary schools, will enable the district to relieve overcrowding at all levels, Mauney said.
The superintendent outlined the district's plan for town officials:
♦ Using the $35 million it would receive if the public schools bond referendum passes, the district would pay for construction of a new 900-seat middle school on property it owns of Rinehardt Road. Construction would likely start within 12 months of bond approval and take about 18 months to complete.
♦ MGSD will use $6.5 million it received from the county in leftover proceeds from the last bond referendum and $8 million it will borrow to pay for badly needed renovations to South and Parkview elementary schools. That work includes construction of new gymnasiums and new HVAC systems at both schools.
When those renovations are complete and the new middle school is ready for occupancy, the district would then reconfigure its schools: elementary schools would switch from K-3 to K-2, intermediate schools from grades 4-6 to grades 3-5, and middle schools from grades 7-8 to grades 6-8.
Also during the meeting, members of both boards expressed their concern over the lack of affordable housing in the Mooresville area. Teachers, firefighters, police officers and other employees for the town and school district are being priced out of the housing market by rising home values and the cost of new construction.
Town staff explained that by law the town board cannot force developers to build homes in a certain price range. New home prices are often inflated because the cost developers must pay for land in and near the town has increased in response to increased demand driven by the growing population.
"We can't force the developers not to be greedy," Mayor Pro Tem Lisa Qualls said.
"We're very focused and committed to addressing" this issue, Mayor Atkins added. "We're on the same page. I promise you."
That sense of solidarity was on display throughout the meeting, and the mayor and school board chairman concluded the session by committing to continue working together for the betterment of the town and the school district.