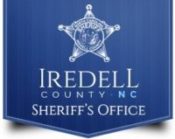 FROM STAFF REPORTS
A Salisbury man faces drug and gun charges following a traffic stop by an Iredell County Sheriff's Office deputy.
Sheriff Darren Campbell announced the arrest of Terry Isaac Brown Jr. 36, in a news release.
Brown was a passenger in a vehicle that was stopped for a traffic offense in the 1700 block of Salisbury Highway on Saturday, February 8.
According to the news release, the deputy noticed an opened alcoholic beverage in the floorboard under the front seat passenger's legs and then conducted a search of the vehicle.
During the search, deputies located crack cocaine, marijuana, drug paraphernalia, and a loaded 9 mm pistol in Brown's possession.
Deputies learned Brown had an unserved warrant for his arrest for assault on a female, Campbell said.
Brown was arrested and taken to the Iredell County Detention Center, where he was charged with felony possession of a firearm by a convicted felon, felony possession of cocaine, misdemeanor possession of marijuana and misdemeanor possession of drug paraphernalia.
Brown was taken before Magistrate Nicholson, who issued a $35,000 bond on the new charges. He also received a No Bond on the assault on female warrant.