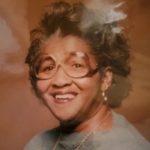 Mrs. Eunice Pearl Whiteside Green, 88, of Statesville, N.C., passed away on February 7, 2020, at Autumn Care in Statesville. She was the daughter of the late Cleveland Usher Saden and Ozena Hambrick Whiteside. Mrs. Green was married to William Grady Green, who preceded her in death. A son, William Grady Green Jr., two brothers, Arthur Whiteside and James Whiteside; and two sisters, Helen Millsaps and Corrie Turner, also preceded her in death.
Eunice attended the Cleveland County Schools, and she was a member of St. John's Baptist Church, where she served on the kitchen committee and the usher board. She was also a member of the American Legion Auxiliary Post.
She leaves to cherish the memory of her life her children, Carolyn Ann Green of Lyndon, N.J., Patricia Gail Green, Alice (Stanly) Green Avery, and John Wayne (Louvenia) Green, all of Statesville; brothers, Jeffrey (Deborah) Sarden of Savannah, and Georgia and Cleveland Sarden of Fayetteville; four sisters, Teresa Whiteside of Newark, N.J., Pauline Sarden Thompson of Fayetteville, Pearlena Sarden Thompson, and Letitia Sarden; a sister-in-law, Mattie Hayatt of New York; grandchildren, Rodney V. Green (Nikki Ramseur), Frankie Green, Lamont Avery, Joelle (Kelly) Brawley, Ebony (TJ Keaton) Green, Brandi (Todd Rosby), Travis Green and Rahkim Sharpe, all of Statesville, Detra Green of Timmonsville, S.C., and Cleveland Sarden of Fayetteville; great grandchildren, Myleek Green, Rodnika Vanderburg, Isaih Burton, Jaquela Grun, Nakiya Green, Tyrice Richardson, Jeremiah Green, Ariana "Toasty" Green, Dorricco " Man" Davis, Kayla Avery, Jalen Robinson, Justice Robinson, Tija Green, Emari Green, Tylin "Buddy" Keaton Fayth Rosby and Dominic Green; great-great grandchildren, Keyon "Benny" Green, Kameron Davidson, Mason Robinson, and Kaizir Thompson; and a host of other cousins, relatives, and friends.
A celebration of life will be held on Wednesday, February 12, 2020, at 3 p.m. at St. John's Baptist Church with Pastor Burrell Brooks officiating. Visitation will be from 2 until 3 p.m. Burial will follow in the Iredell Memorial Park on Friday, February 14, 2020, at 12 noon.
Visit the book of memories for Eunice Green at www.rutledgeandbigham.com. Rutledge and Bigham is serving the family of Eunice Green.