BY DEBBIE PAGEdebbiepage.svlfreenews@gmail.com
Despite gloomy skies and rain showers, enthusiastic, mask-wearing South Iredell High School staff members and administrators greeted seniors and their families for picture keepsake opportunities on Wednesday through Friday of this week.
Parents dropped off seniors at the rear entrance of the Performing Arts Center, before driving to the front parking lot, so students could be applauded and greeted with congratulatory signs by socially distanced staff seated in the auditorium.
Before the heavy rains and cool weather, the plan had been for staff to be applauding along the driving route around the school, but rain put a damper on those plans.
Several photo stations opportunities were also placed along the students' path to the lobby area. Social distancing markings on the floor, used during busy times, each had a special message for students to read.
As each student exited the front door, his or her name was announced before mounting the steps on the raised graduation stage under the building's canopy to join Assistant Principal Robert Little and Principal Tim Ivey to receive the coveted diploma.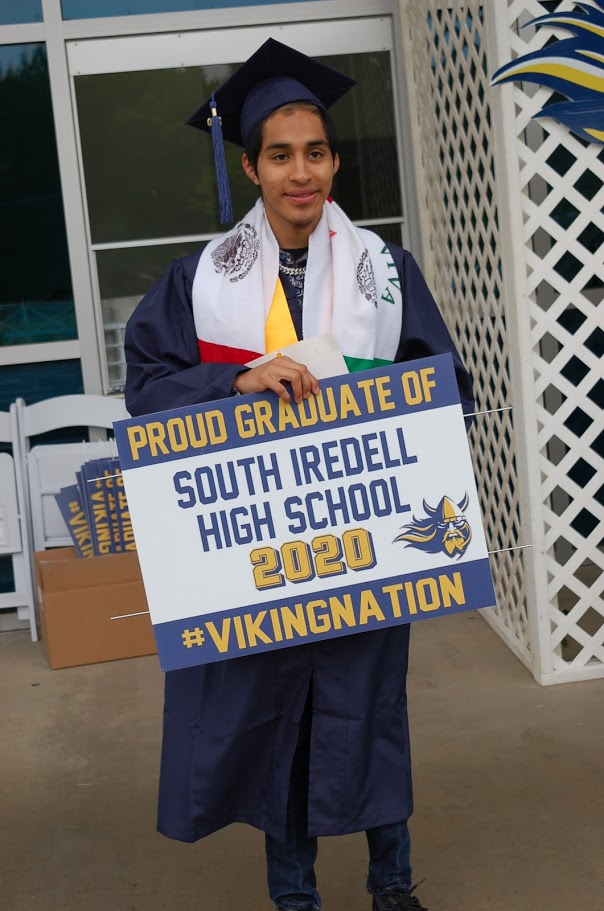 After posing for pictures, students exited the stage to receive a special SIHS graduate sign, donated by an anonymous benefactor, to place in their yards. They also got a chance for a family photo to document their graduation achievement.
Media center specialist Karen Van Vliet said the staff discussed a variety of ideas before devising this safe process for recognizing seniors. All staff wore masks, step railings were sanitized if touched, and Ivey and Little wore gloves and socially distanced while handing the diplomas to students.
Van Vliet said many students had signed up for a time slot to participate in the senior celebration. "We wanted to recreate graduation as close to normal as possible."
"This has really been a personalized experience because in this situation, the parents can get out of the car, and they can literally come right up to the front of the stage and be part of the ceremony and make it more personal for the families."
Parents were encouraged to decorate their cars as part of the celebration. On Wednesday, one student even rode up to the stage area on her horse for a unique graduation moment.
The school's rock was also specially painted as another photo opportunity for students to commemorate their graduation accomplishment.
Van Vliet added that a cloth-covered chair with a flower bouquet was placed before the stage to remember James Sanders, a Class of 2020 student who passed away during his sophomore year.
A video was released on the school's Facebook page and YouTube channel on Friday night. The program features remarks by Ivey and the senior class president, as well as the portraits of all seniors with "Pomp and Circumstance" playing in the background.
Van Vliet said the school staff hopes these activities will help students have a somewhat normal graduation experience, but they all look forward to welcoming students back to campus for a traditional graduation ceremony on August 1.
"Some of the things we've done this year we actually think they are going to be continuing next year," said Van Vliet, including allowing parents to decorate the fence line.
The school also allowed students to decorate their caps this year, and seniors' portraits are being displayed on a rotating basis on the school's digital sign for passersby to enjoy.
Photo Gallery