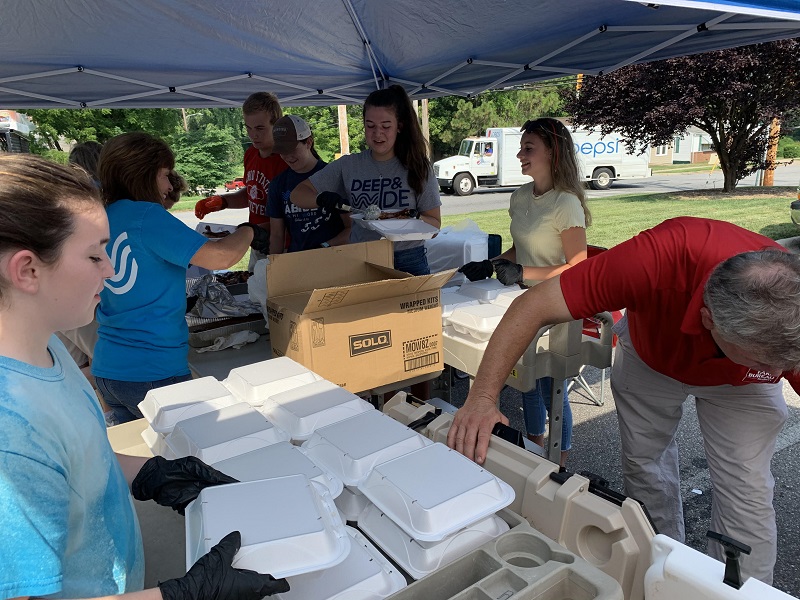 BY BRANDY TEMPLETON
South River Baptist Church and N.C. Farm Bureau Insurance in Statesville showed their appreciation for local law enforcement on Friday.
They teamed up to serve lunch to personnel from the Iredell County Sheriff's Office, and the Statesville and Mooresville police departments.
South River Youth Pastor Scott Townsell brought members of the church's youth group to help serve.
"We're serving our 1,800th piece of chicken since March," he said. "We're just reminding people that we're all essential."
Doug Holland, vice president of Iredell County's Farm Bureau, said it was a way to show support of all law enforcement during these trying times.
"We just want to let Statesville PD, the sheriff's department, and the Mooresville PD know that their brothers and sisters in Christ want them to go home at the end of the day," Holland said.
President Jimmy Howard agreed with Holland.
"We always want to support the police office during these challenging times," he said.
Sheriff Darren Campbell expressed his gratitude for all the love and support his department receives.
"I don't think there are good enough words to explain how you feel when members of the community love and support you," he said. "They truly care for us."
Campbell said South River Baptist and N.C. Farm Bureau have been constant supporters of law enforcement.
"Farm Bureau and South River have always been good supporters and promoted our programs," he said. "They take care of us by coming out during a heatwave and serving us, and more than anything they love us."