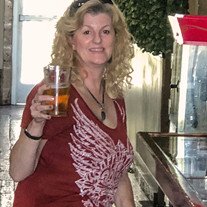 Astrid Bettina Donahue, 53, passed peacefully on Thursday July 16, 2020, at UNC-Chapel Hill medical center. She was born on July 31, 1966, in Fulda, Germany, the daughter of Bertie Schwab and Franz Schwab.
She married her lifetime partner Jerry and devoted herself being an Army wife and mother of Tabitha and Michael. Astrid enjoyed gardening, painting, yoga, writing her book, which she just finished, spoiling her dog Bailey, cruising the motorcycle with Jerry and enjoying the weekends with family and friends. The one thing Astrid loved the most every year was going to the Isle of Palms and walking along the beach.
Astrid had many accomplishments throughout her life. One of them is being the kindest soul anyone would ever get the chance to know. Her life will be celebrated by those left behind.
She is survived by her husband Jerry Donahue; mother Bertie Schwab; son Michael Donahue; daughter Tabitha Donahue; grandchild Tyler Donahue; grandchild Evan Donahue; grandchild Emma Williams; grandchild Harper Williams; daughter-in-law Kristie Donahue; son-in-law Josh Williams; brother Roland Schwab; sister-in-law Corazon Schwab; niece Sabrina Schwab; nephew Tobias Schwab; brother-in-law Troy Donahue; sister-in-law Pam Donahue; niece Abigail Donahue; father-in-law Gene Donahue.
Cavin-Cook Funeral Home & Crematory, Mooreville, is serving the Donahue family. Condolences may be made to the family at www.cavin-cook.com.