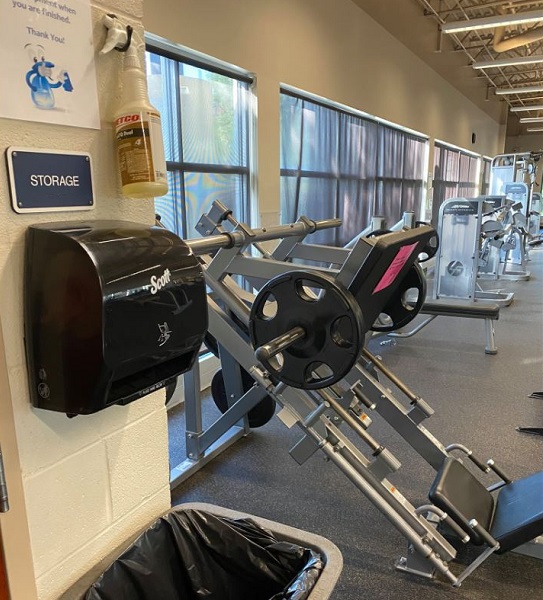 Special to Iredell Free News
After being closed since March due to COVID-19 restrictions, the Statesville Fitness and Activity Center (SFAC) will open Tuesday, September 8, with some adjustments to its layout and operations.
The state's move to Phase 2.5 this week permits the opening, and the SFAC staff has implemented a number of safety precautions in conjunction with state regulations.
Additional modifications to SFAC operations and safety precautions will be made as needed. An update on the operations at Bentley and Bristol Community Centers will be announced at a later time.
For the time being, the SFAC will be open Monday–Friday, from 7 a.m. to 7 p.m., and Saturdays from 8 a.m. to 3 p.m. It will be closed on Sundays.
Class schedules and additional program information can be found at statesvillenc.net. Information on sports leagues will be announced later.
Below are safety precautions the SFAC plans on taking:
• Hand sanitizer stations around the facility, fitness room, and gymnasium
• Lobby furniture and equipment spread out to allow six-foot distance
• Each patron will be provided with a bottle of cleaning solution to use while in the facility
• All equipment will be sanitized regularly by staff after use by a patron
• Patrons encouraged to wear masks and work-out gloves, but not required
• If facility areas reach their maximum capacity, a one-in, one-out procedure will be utilized
• Locker rooms will be available for use with increased sanitizing by staff, wipes provided for patrons to clean lockers, benches, surfaces, etc.
The gymnasium courts will be utilized for group fitness classes with six-foot areas marked for attendees. Courts will also be used for individual basketball shooting and as a walking track when needed. Sign-up sheets and time limits will be used if necessary.
Childcare will be offered with a maximum of 10 children: Monday-Saturday from 9 to 11 a.m., and Monday-Thursday from 5 to 7 p.m. Children should bring their own activities from home. For more information call 704-878-3944.
Other changes occurring because of Phase 2.5 include the opening of playgrounds in public parks and the increase in maximum numbers of persons who can rent outdoor facilities (50) and indoor facilities (25).