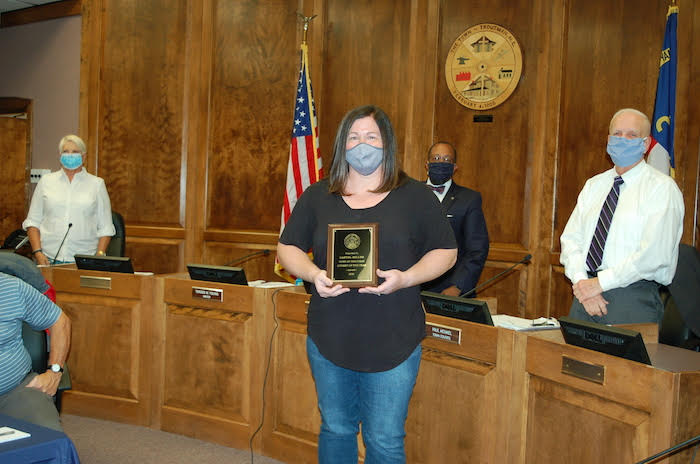 BY DEBBIE PAGE
debbiepage.iredellfreenews@gmail.com
Danyel Cline Miller, known for her "heart for service," was honored as the Troutman Citizen of the Year during Thursday night's Town Council meeting. Troutman Baptist Church was also as honored as Organization of the Year.
Mayor Teross Young commended Miller for her willingness to help out at Troutman Elementary and Troutman Middle schools and with other community organizations and events, calling her a role model for the community.
"She is really an example of an outstanding citizen, and we appreciate all that she does," the mayor said.
Young also presented a plaque to representatives of Troutman Baptist Church, which "has been a consistently faithful partner to the Town of Troutman, participating in events and bringing needed supplies any time we've asked them to support us."
The church also sends teams of volunteers to help with 5K races and other town-sponsored activities.
Phillip Yarborough, associate pastor, said the church finds it an "honor and a privilege to be in such a great community. We just believe the Lord is calling us to love our neighbor as ourself, and we are just thankful to be able to love our neighbors through the community here in Troutman."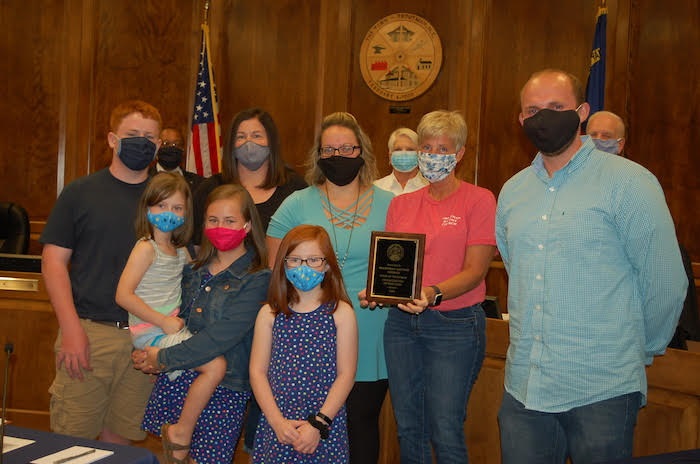 FACE COVERINGS
Although face masks give some people "heartburn," the mayor asked citizens to continue wearing their face coverings to decrease the number of COVID-19 cases.
"Let's continue to support each other and wear our masks. We need to get to the holiday season and a vaccine and try to get back to some degree of normalcy," Young said.
LCID PROPOSAL REJECTED
After a lengthy presentation by Bradley Miller, the council rejected a request to add a text amendment to the Unified Development Ordinance to allow land Clearing and Inert Debris (LCID) landfills within the Troutman zoning jurisdiction.
Both Town Planner George Berger and the Planning and Zoning board recommended against the text amendment. Berger cited Troutman's rapid growth, the allowance of small beneficial landfills within approved development projects, and the negative noise, air quality, and traffic impacts on nearby residential areas.
Miller, an experienced LCID operator, claimed the projects, operating within 100 foot to 300 foot setbacks, produced few problems with neighbors in his previous landfills and that he addressed any concerns.
"My goal is to be in harmony and not be a bad neighbor," said Miller, noting that he lived near one of his LCID sites.
The landfills, which only take clean dirt, concrete, and wood, are regulated and inspected by both county and state officials. Miller noted that a 20-acre property may only use six to seven acres for the landfill, so the surrounding area can be used for other purposes once the landfill is closed and settled.
Council member Sally Williams spoke in favor of the text amendment, noting it was in the UDO from 2006 – 2018, and that the council has made other changes in the ordinances since the latest adoption last year.
Council member Paul Henkel, who served with Williams on the UDO subcommittee, said that the group discussed including landfills in the revision and that the consensus, from the UDO consultant as well as the staff, community, and council representatives, was to eliminate them in the current revision.
Council voted 4-1 (Williams dissenting) to reject the request for the LCID text amendment.
RELIEF FOR LANDOWNER UNDER CONSIDERATION
In a unique situation discussed for over an hour, property owner Dallas Norman requested relief from a previous zoning administrator's 2017 ruling to freeze development of his site as a landscaping business for five years. The relief requires a four-fifths vote of the council.
Norman clear cut trees from the 117 Trackside Drive property without a permit in 2017, resulting in the ruling, and under questioning by Williams, admitted he had more recently enclosed the garage door side of an outbuilding without a permit.
However, Norman had letters from neighboring residential property owners who asked him to cut some of the trees, which endangered their property. He also constructed some berms and added matching fencing to address one neighbor's request for added pool privacy.
Norman presented a reforestation plan to the council, which cost him $5,000 to construct with an engineer and certified arborist, to address the loss of trees, which he said were mostly scrubby and undesirable.
The landowner has also improved the property, removing thick brush, two dilapidated barns, an old car, and a decaying doublewide trailer.
However, Berger said parts of the reforestation plan still failed to meet UDO standards in relation to berm height and trees. Council member Paul Bryant also pointed out that the drawing was not an official site plan so it lacked enforcement value for the town.
After lengthy debate, council voted to table the decision until its September 10 meeting. Young instructed Berger to give Norman a list of specific steps to take so that the council could consider giving him relief from the previous ruling at its next meeting.
WASTEWATER AGREEMENT
After three years of negotiations, the council also unanimously approved a wastewater agreement with Iredell County and the Children's Hope Alliance.
The county will pay up to $202,000 for the project, which will help improve services to the county-owned recreation center and fairgrounds. Troutman will pay the rest of the project, estimated at $856,000.
The project will also connect to existing sewer lines at CHA after it corrects any infiltration and outflow problems, as indicated by system testing, to Troutman's satisfaction.
TOWN MANAGER UPDATES
♦ The council commended Troutman Police Officers Jones, Bova, and Benge after Town Manager Bryan Gruesbeck shared letters Chief Tina Fleming received commending them for assisting motorists and for helping a citizen after the passing of her mother.
♦ The 2018 Street Paving package is now complete.
♦ The Public Works Department scored 100 percent in its recent state compliance water system inspection.
♦ New wayfinding posts are up around town and sign panels should be installed by August 24.
♦ The Parks and Recreation department is looking at possibilities to have the Trails and Treats, National Night Out, and Wicked 5K events in some safe, socially distanced or virtual form.
♦ Work on the ESC Park ballfields is continuing. Surveying of fence lines is complete, and the irrigation system will be installed in two weeks. Work on the infield is nearly done. Backstop options are also being considered, including brick, fence, or some other type of screening.
♦ Council members thanked Parks and Recreation Director Emily Watson and the Troutman Rotary Club for their work on the school supplies drive, which resulted in an abundance of supplies delivered to Troutman elementary and middle schools, CATS, and South Iredell High School.
♦ Gruesbeck said the Town Planner position, open now that Berger has accepted the assistant planner job in Statesville, has been posted on various professional websites as well as the town website.
He hopes to close applications on September 12, conduct interviews and hire by early October, and have the new planner in place by mid-October.
OTHER BUSINESS
Council also:
♦ Reappointed Wes Edmiston and Ron Wyatt to the Troutman ABC Board and Lori Eberly to the Planning and Zoning Board.
♦ Set public hearings on September 10 for Smith Village (69 acres on Highway 21 near Iredell Charter Academy) and 46 acres at 735 Perth Road (part of the already approved Calvin Creek subdivision).
♦ Approved a budget amendment to expend $24,360 in grant money received from the Governor's Crime Commission to replace police department tasers.
♦ Approved a budget amendment to allocate $66,692 in recently received COVID-19 relief funds, including $20,000 to the Governing Body, $15,000 to Administration, $16,692 to police, and $15,000 to Parks and Recreation for supplies.