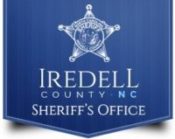 FROM STAFF REPORTS
The Iredell County Sheriff's Office is investigating the death of a 5-month-old child.
Troutman firefighters and Iredell County EMS personnel were dispatched to a home in the 600 block of Old Mountain Road around 3:48 p.m. Sunday for a medical emergency.
The child was pronounced dead at the scene.
Sheriff Darren Campbell said Sunday evening that ICSO investigators were interviewing the child's mother and other witnesses.
It appears that the child was left in a vehicle for several hours, Campbell said.