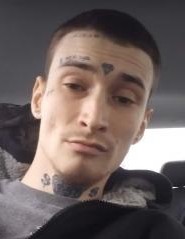 James Allen "Lace Up" Loomis III, of Lexington, N.C., passed away on Thursday, April 22, 2021.
James was born in Lexington on February 13, 1994. Left to cherish his memories are his grandmother, Carolyn E. Loomis, mother, Lorie A. Loomis; father, Dana M. Loomis; sisters, Nichole Smith and Amanda Loomis; brothers, Michael A. Loomis, Dylan R. Smith, Devin Smith, Jeffery A. Watts, Dana M. Loomis Jr., Chad R. Looms and Ronald Suffoletto.
He was preceded in death by his loving uncle, James Allen Loomis Jr.
In loving memory of James Allen "Lace Up" Loomis III, loving son, brother, grandson and friend: With a heart of gold, a friend to many, a young life taken way too soon. A free spirit who was loved and will be missed by all. Until we meet again God's sweet angel. Don't grieve for me now, I am free, I am following the path God laid for me. I took His hand when I heard Him call, I turned my back and left it all. I could not stay another day, to laugh to love to work or to play. Tasks left undone must stay that way, I found that peace of close of day. If my parting has left a void, then fill it with remembered joy. A friendship shared, a laugh, a kiss, ah yes, these things I too will miss. Be not burdened with times of sorrow, I wish you the sunshine of tomorrow. My life's been full, I have savored much; good times, good friends, a loved one's touch. Perhaps my time seemed all too brief, don't lengthen it now with undue grief. Lift up your hearts and share with me, God wanted me now. He set me free.
A visitation will be held at Troutman Funeral Home from 2 to 3 p.m. with a graveside service following at Troutman Family Cemetery on Friday, April 30, at 3:30 p.m.
In lieu of flowers, memorials can be made to Troutman Funeral Home for funeral expenses at 345 N. Main Street, Troutman, NC 28166.
Troutman Funeral Home is serving the family.