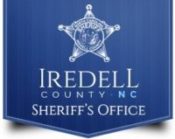 FROM STAFF REPORTS
The Iredell County Sheriff's office reported the following felony arrests:
JANUARY 22
♦ Anthony DeWayne Daye, 37, of Charles Street, Statesville, charged with safecracking, breaking or entering, misdemeanor trespass and misdemeanor vandalism to real property.
♦ Raeford Willie Kimble, 63, of Richburg, S.C., charged with being a fugitive from justice.
JANUARY 23
♦ James Daniel Gillis IV, 21, of River Road, Robbins, charged with breaking or entering a motor vehicle and misdemeanor injury to personal property.
JANUARY 25
♦ Patrick Ladell Glenn Jr., 31, of Glennwood Drive, Charlotte, charged with flee/elude arrest in a motor vehicle, speeding, reckless driving to endanger, aggressive driving and failure to stop for siren.
JANUARY 26
♦ Rashad Darrisaw, 30, of Bluegill Road, Charlotte, charged with conspiracy and larceny.
JANUARY 27
♦ Isaac Eugene Norman, 38, of Sharpe Street, Mooresville, charged with interfering with an electronic monitoring device.