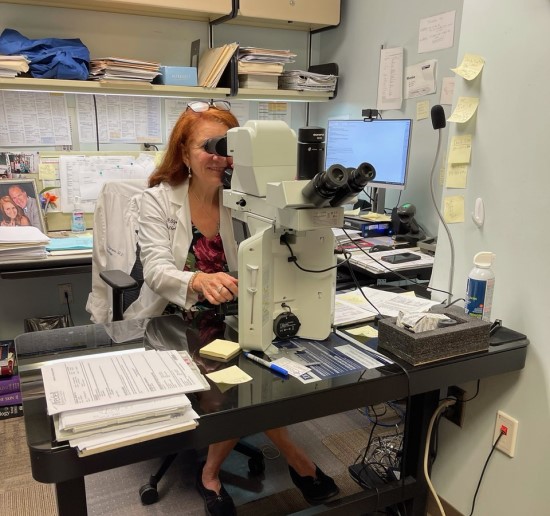 Special to Iredell Free News
Though patients at Iredell Health System may have never met the hospital's chief pathologist, the integral, vital role she plays in everyday patient care is astounding.
Sometimes called the "doctor's doctor," part of a pathologist's role is to help the physician diagnose a patient's illness so that the physician can find the best possible treatment plan for that patient.
Dr. Georgia Olympio, chief pathologist and laboratory medical director at Iredell Health System, has worked behind the scenes since 2005, ensuring accurate diagnostic testing for each and every patient.
From diagnosing cancers and other chronic diseases to managing clinical labs, Olympio has had a significant role in Iredell patients' lives.
After 16 years of compassionately serving the needs of patients at Iredell Memorial Hospital by providing accurate and timely diagnostic results, Olympio is retiring.
During her time at Iredell, she is most proud of providing accurate diagnoses and turning cases around in a reasonable amount of time. Olympio has also greatly enjoyed the variety and diversity of her role as a pathologist.
"There's very interesting pathology here at Iredell. We see a lot of cases that you do not think you would see in the community. There's never a dull moment, and there's always something that's challenging," said Olympio.
The Iredell Laboratory incorporates various disciplines, including chemistry, microbiology, blood bank, hematology, and histology, all of which Olympio is very passionate about. In addition to being chief pathologist and laboratory medical director, Olympio has served on various committees, including the infection control committee, tissue and transfusion committee, cancer committee, and medical executive committee. She has also been a College of American Pathologist's laboratory inspector, leading over 30 different inspections in several hospitals.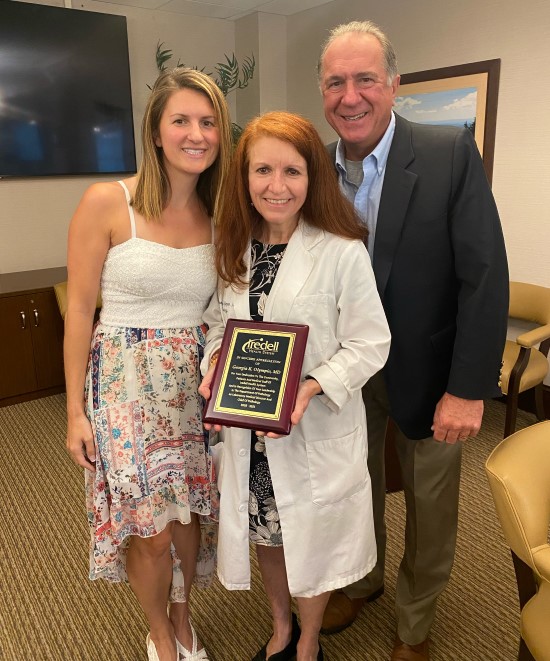 Olympio is accustomed to hard work, often working late hours in the lab and coming in early the following morning, doing all she can to get accurate answers back to patients as quickly as possible.
"Of all the people that I have worked with and met over the past 30 years, Dr. Olympio stands tall above many of them. She has the best work ethic of anyone I have ever met. She selflessly gives 110 percent to reviewing her cases and cares about the patients and physicians she sends the diagnosis to," said Mark Berry, director of Iredell Health System's laboratory.
Even in her last week at the lab, Olympio was still working hard, making sure to do her part to provide optimal patient care.
Even though she has played an exceedingly crucial part in patient care and despite all of her long hours and nights in the lab, Olympio is quick to turn the spotlight on others, giving credit to her lab team.
"We have a very close-knit, hard-working laboratory, and everyone gets along very well. We all work together. Our lab staff is complete, conscientious, and very meticulous in making sure all the information and paperwork is correct," said Olympio.
"It's been a pleasure working with them," she added.
And though she has certainly made a difference in the lives of patients at Iredell, she has also made a lasting impact on all the staff and employees she has worked with.
"She cares about her faith, family, and the staff that she comes into contact with every single day. She is never too busy to speak to someone or compliment them," said Berry. "Dr. Olympio expects nothing but your best and has made all of us at Iredell Lab better for it. I will miss her, as will we all."
When asked what she will most miss about working at Iredell, Olympio tearfully replied, "everything."
Although she will truly miss working at Iredell, she is looking forward to retirement, hoping to spend more time with her family, travel, and see more of the world.
"It's been a pleasure and an honor working here at Iredell Memorial Hospital. We have very dedicated employees, and the administration has done a fabulous job providing to the needs of the community," said Olympio."It's a very different feel than a very large hospital. You feel like you really do make a difference in what you are doing," she added.
And a difference she has made.
About Iredell Health System
Iredell Health System includes Iredell Memorial Hospital; Iredell Mooresville; Iredell Home Health; Iredell Wound Care & Hyperbaric Center; Community and Corporate Wellness; Occupational Medicine; the Iredell Physician Network and more. Iredell Memorial Hospital is the largest and only nonprofit hospital in Iredell County. The comprehensive healthcare facility has 247 beds; more than 1,700 employees; and has 260 physicians representing various specialties. Centers of excellence include Women's and Children's; Cardiovascular; Cancer; Surgical Services and Wellness & Prevention. The Health System's newest campus, Iredell Mooresville, is home to the area's only 24-hour urgent care facility, as well as an ambulatory surgery center, imaging center, rehabilitation services, and physician practices. The mission of Iredell Health System is to inspire wellbeing. For a comprehensive list of services and programs, visit www.iredellhealth.org.