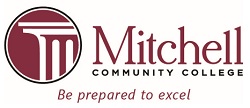 Special to Iredell Free News
Mitchell Community College's Nu Tau Chapter of Phi Theta Kappa (PTK) Honor Society was recently honored as a 2021 PTK Recognizing Excellence in Acceptance and Completion with Honors (REACH) Rewards chapter.
The REACH Rewards program encourages membership by rewarding chapters who achieve or exceed 15 percent for their membership acceptance rate. Mitchell currently has 175 members who are enrolled in coursework at the college and a total active membership (members since Fall 2017) of 360. After four years of active membership, members are granted alumni membership status, which they hold for life.
To be eligible for the PTK Honor Society, students must have completed 12 credit hours at Mitchell and hold a 3.5 cumulative GPA or higher. Members participate in various projects and events to benefit the campus and community as a whole. Past projects include volunteer fairs, clothing drives, mental health awareness events, speaker events, and more.
"One of the biggest benefits for students in joining PTK is the supplemental resources that PTK can provide," said Lisa Ausburn, a Mitchell English Instructor and Phi Theta Kappa co-advisor. "While, of course, students have more access to scholarships, they also get access to free, supplemental courses that will give them an edge or a leg up when it comes time to transfer to a university, get a job, or even just be a more successful student overall. These resources are kind of like insider knowledge, and only PTK members have access."
Since 1918, Phi Theta Kappa Honor Society has helped college students expand their horizons. The Society has more than 3.5 million members in the United States and 10 sovereign nations. The Phi Theta Kappa Foundation awards $1.5 million in scholarships to members each year. Beyond recognizing academic success, PTK gives students opportunities to develop professional and leadership skills, earn scholarships, explore career paths. Learn more at ptk.org.
About Mitchell Community College
Mitchell Community College serves 9,000 students annually through a variety of curriculum, continuing education and workforce development programs. With campuses in Statesville and Mooresville, Mitchell offers quality, affordable education options to residents of Iredell County and the surrounding area. For more information, visit www.mitchellcc.edu or call (704) 878-3200 (Statesville Campus) or (704) 663-1923 (Mooresville Campus).