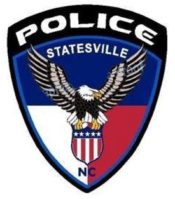 BY STACIE LETT CAIN
Despite the COVID-19 pandemic and associated challenges, crime decreased in the City of Statesville in 2020, but reports of some categories of violent crimes increased from 2019.
According to Police Chief David Addison's second annual Crime Report, murders and aggravated assaults increased last year compared to 2019, but reports of rapes and aggravated assaults decreased.
The SPD investigated seven murders in 2020 compared to three in 2019, and there were 216 reported aggravated assaults in the city in 2020, up from 177 in 2019. Meanwhile, there were seven rapes reported in 2020, a decrease from 15 a year earlier, and 26 robberies, down from 47.
Among nonviolent crimes, there were 14.9 percent burglaries, 22 percent fewer motor vehicle thefts, 10.6 percent fewer larcenies and 1.7 percent fewer theft from motor vehicle reports in 2020 compared to 2019.Overall, SPD personnel responded to 61,914 calls for service in 2020, down from 58,286 in 2019.
Addison presented the report to the Statesville City Council Monday night.
"2020 was a very challenging year for the department," Addison explained. "It tested our character, and it proved that we as a department had what it took when we needed it most."
Even though violent crimes increased, according to Addison, there is still a positive side.
"We saw a 5 percent increase in violent crimes, and any increase is a concern," he stated. "But other jurisdictions are seeing increases of 15 percent and 20 percent and in light of that, we are pretty happy with the 5 percent."
The annual crime report was part of the promise Addison made in 2019 when he began his position.
"One of the things we talked about back in 2019 was to introduce and maintain transparency and accountability into the police department," Addison said. "That's what we have done in respect to the crime happening in the City of Statesville."
Other changes this year for the police department, according to Addison, included the formation of a Forensics Unit to aid in investigations. He has also appointed four regional captains to act as liaisons between the community and the department.This particular change resonated with Councilman John Staford.
"I want to commend you on your decision to assign captains geographically," he told Addison. "I work with two of them and that has really worked out well."
Councilwoman Doris Allison also praised Addison for something that may have not been common knowledge to other members of council or to citizens of the city.
"Many people don't realize this, but Chief Addison visits the homes of a lot of families in need, whether they are grieving or there's an issue, especially in my ward," she explained. "We have never had that before. So I appreciate his effort."His officers have done the same thing. I've been driving through my ward at night, 10 o'clock at night, and officers are out talking to children on the streets. It makes such a big difference."

Learn More
Read the 2020 SPD Crime Report