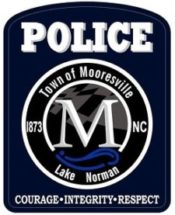 Special to Iredell Free News
LAW Publications has announced the winners of its new Community Engagement Awards, including the Mooresville Police Department as "Department of the Year."
The awards recognize the creative efforts of law enforcement agencies across the country in connecting with their communities to make them safer places.
LAW Publications' "Department of the Year" category recognizes a department that "does an overall excellent job of connecting with its community." They look for departments who "utilize opportunities such as community events, public appearances, and other tools to find unique and effective ways to connect their work to the needs of their community."
Consisting of 120 officers and support staff, the Mooresville Police Department has "built an exceptional relationship with the community through more than 600 crime prevention and community outreach activities each year. The depth and breadth of programming offered by the department exemplifies both the educational component of crime prevention and an extensive list of community outreach events fitting of a 'Department of the Year' award winner," according to the publication.
"The Mooresville Police Department is both humbled and honored to be presented with the Department of the Year Award from LAW Publications for their involvement in community outreach, engagement and programming," said Dave Harding, MPD crime prevention and community outreach officer.
"It is a testament to the men and women of our great department who work tirelessly day and night to serve our wonderful community and build positive relationships between our department and the community that we serve. We will continue to provide exceptional police and community services to our community and the citizens whom we proudly serve and protect."