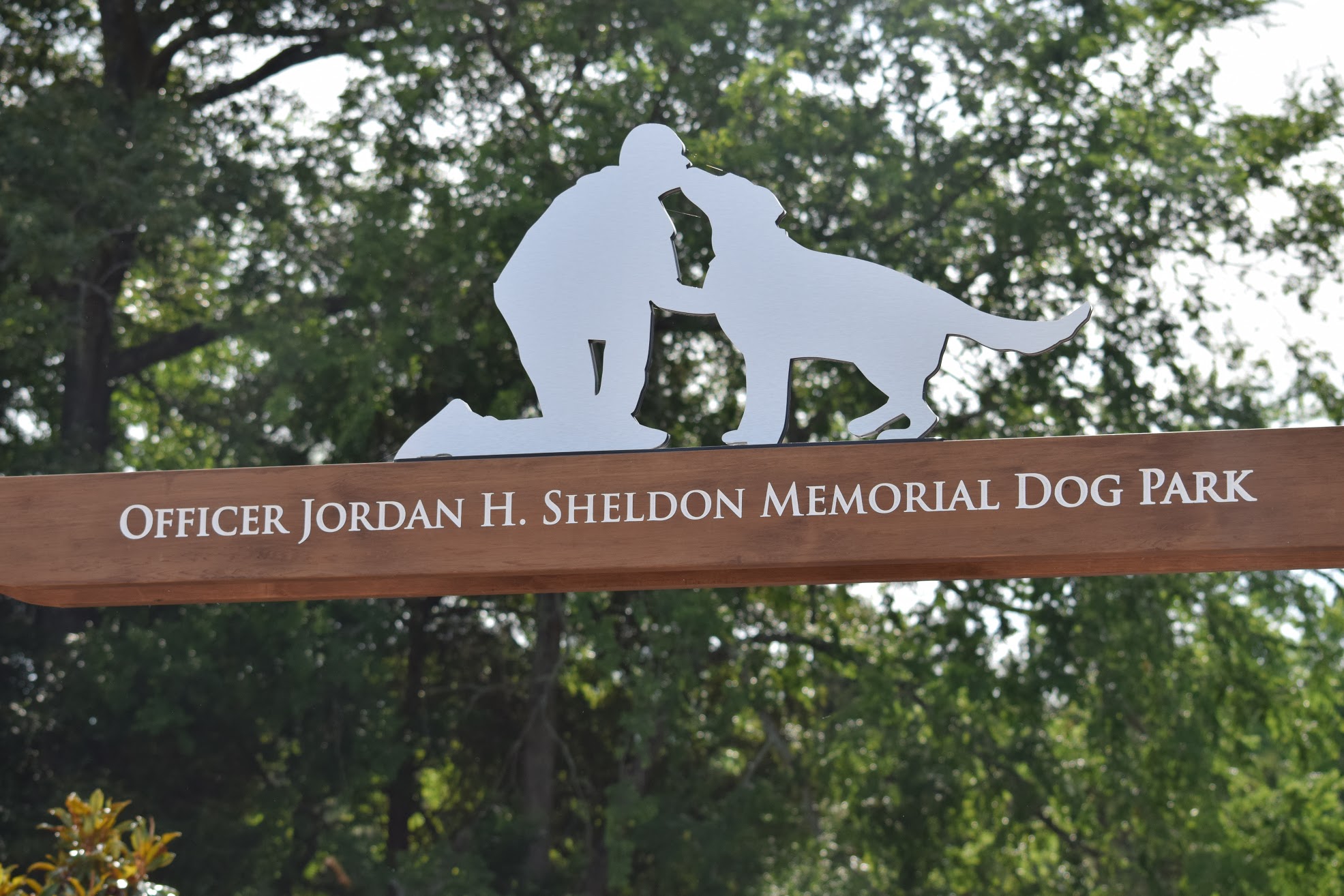 BY DEBBIE PAGE
debbiepage.ireellfreenews@gmail.com
A mixture of smiles and tears marked the dedication and ribbon cutting for the Officer Jordan H. Sheldon Memorial Dog Park at Cornelius Road Park in Mooresville on Saturday morning.
The family of Officer Sheldon, who was killed in the line of duty on May 4, 2019, attended this event to honor his memory.
Because Sheldon loved animals and the citizens he served, the Town of Mooresville and his family believed that a memorial dog park would be a fitting way to honor the fallen officer and his legacy in the community. Community sponsors and agencies raised $175,000 to fund the project.
Sheldon, who dreamed of serving as an officer since he was a child, achieved his goal in 2013 when he joined the Mooresville Police Department. He earned the nickname "Officer Smiley" for his friendly rapport with fellow officers and the community.
During his six-year tenure with the department, Officer Sheldon was an Honor Guard member, served on the Special Response Team, and became a K-9 Officer working with K-9 Loki and later with K-9 Ramon.
OPENING CEREMONY
Pam Reidy, Parks and Recreation director, welcomed Sheldon's family and the crowd of over 300 to the opening ceremony, ribbon cutting, and fun activities, the planning of which was the Mooresville Youth Council's primary project this year.
Mayor Miles Atkins, Mayor Pro Tem Lisa Qualls, town commissioners Eddie Dingler, Thurman Houston, Barbara Whittington, Bobby Compton, and Gary West, and Chief of Police Ron Campurciani were among the dignitaries who attended.
Martin Blue, president of the Mooresville Youth Council, said, "This dog park, and the heroic legacy of Officer Sheldon that it symbolizes, will undoubtedly leave a lasting mark on our community, and we are truly grateful for the opportunity to be involved."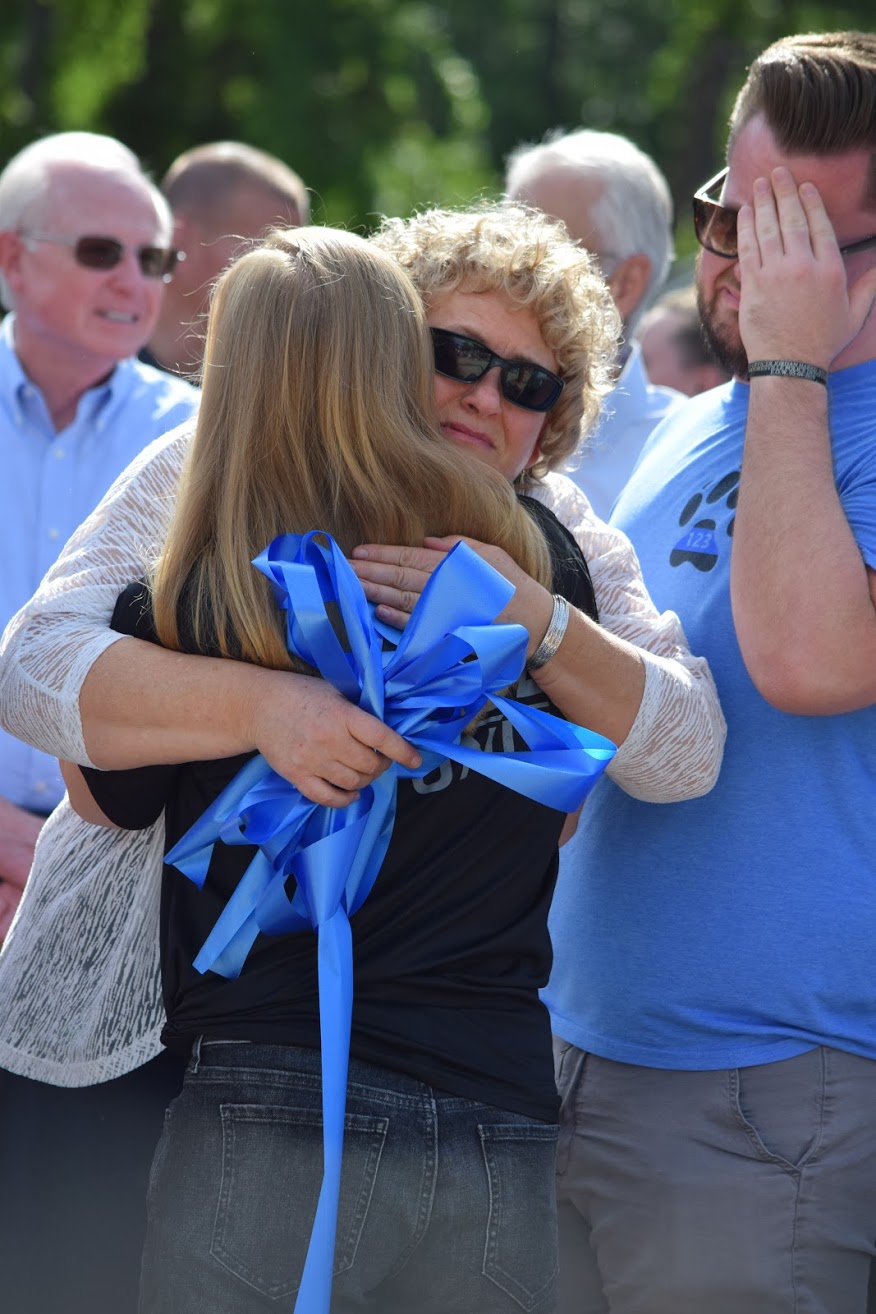 An emotional Mayor Atkins said that this was "truly a momentous day and opportunity for our community, Jordan's family and friends, law enforcement officers, and our best friends to come together to honor his memory and celebrate his legacy and its lasting impact on each of us."
"While the tragic event that occurred on May of 2019 will forever be etched on our memories, it will not overshadow the legacy of an amazing person, Officer Jordan H. Sheldon."
"Jordan loved his family, loved his job, loved his community, and loved his K-9 partner. I cannot think of a better way to honor the legacy of Jordan Harrison Sheldon than by dedicating a community dog park in his honor.
"This will forever be a gathering spot for our community as well as offer a special training area fo our law enforcement K-9s. There's nothing we can do to bring Jordan back, but we as a community will continue his legacy."
.Atkins also thanked Diane Plyler for coming up with the idea of a dog park in Sheldon's honor as well as the town council, staff, and police department for their assistance in bringing the project to fruition.
Chief Campurciani commended the community for truly not forgetting the sacrifice of Officer Sheldon while protecting its citizens.
'Mooresville's a very special place, and just look at what they've done here today with this incredible amount of effort," he said.
"This dog park fills so many voids, helps so many people. It helps the community who feels helpless when things like that happen, when tragedies happen, because they don't know what to do. They want to do something."
"It helps the police department here because I can tell you this police department loves you guys absolutely. But, most importantly, this is for Jordan's family because you're never gone until you're forgotten."
FAMILY STATEMENT
Mayor Atkins read a statement on behalf of the family: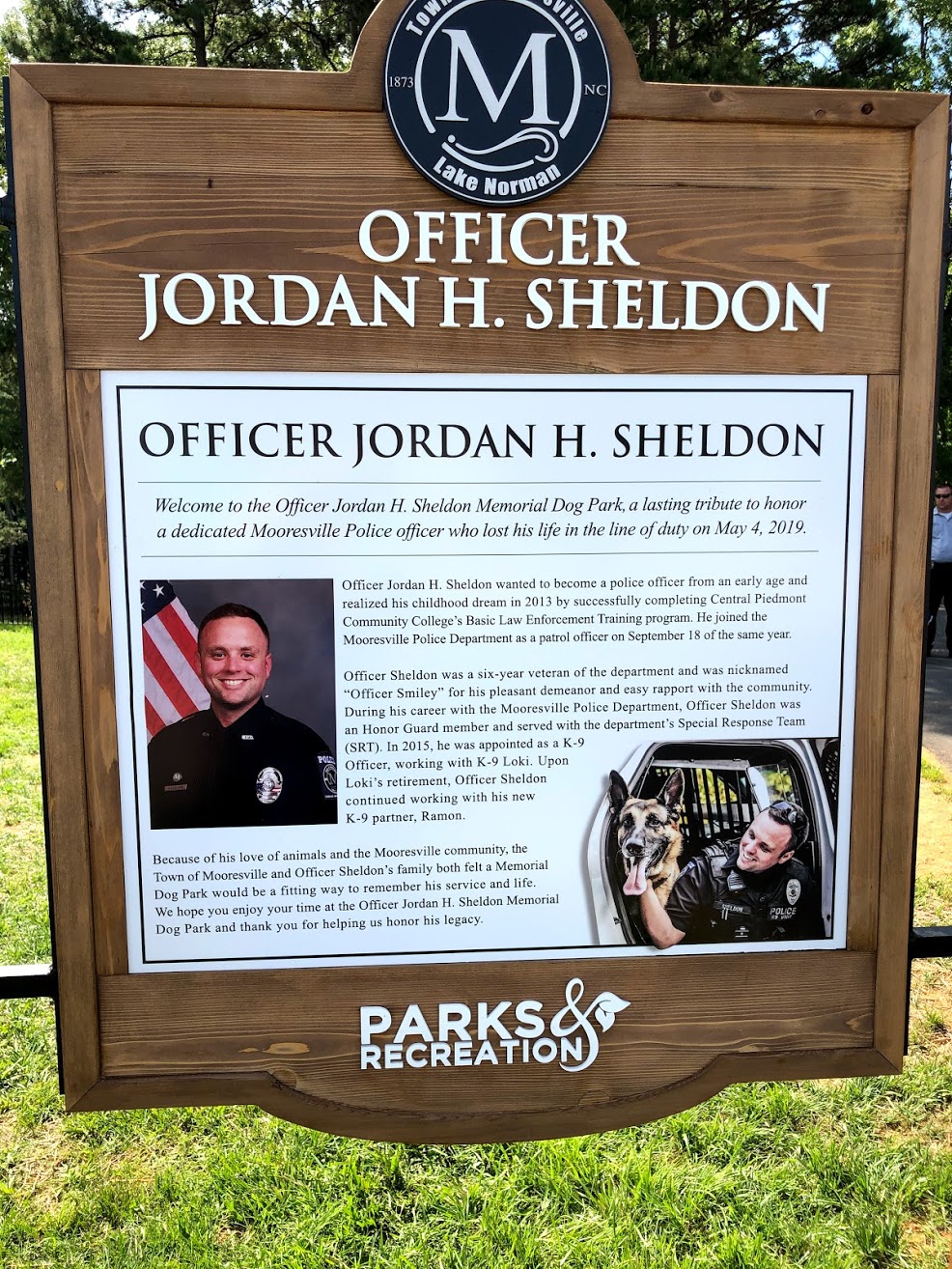 "Nothing can replace Jordan or bring him back to us. In the time since his death, we have tried to champion causes that keep his legacy alive. Through the work and time of others, we have seen our hopes for Jordan's legacy come to fruition.
"Not even a fraction of the things done in his name could have been accomplished by us had we gone it alone. Jordan not only worked in Mooresville, but he was building his life here. While his absence is a void that can never be filled, in its place, his impact can continue to grow.
"So many people have shared their instances with us of when Jordan helped someone or made an impact on them that we never knew about. That's the kind of person that he was.
"So too this dog park will be a piece of his legacy, offering a quiet and peaceful place for our four-legged friends and their owners alike. Words seem inadequate to express our appreciation for the efforts displayed by this community to honor Jordan."
PROJECT SPONSORS
Mayor Atkins also thanked the community partners and citizens who made the dog park a reality.
Sponsors of the project include Lowe's Corporation ($37,500) for fencing, Randy Marion Automotive Group ($25,000) for "Pawvillions," Continuum/TDS Telecommunications ($15,000) for park wireless service, Brad Keselowski's Checkered Flag Foundation ($15,000) and Sheldon's K9s ($5,000) for K9 agility equipment, BestCo ($10,000), and $5,000 each from blueharbor bank, Carolina Beverage Group, Cavin-Cook Funeral Home & Crematory, Corvid Technologies, Duke Energy Foundation, Greenworks, Iredell Health System, JR Motorsports, Mooresville Ford, and NGK.
Niagara Bottling also provided funding for water stations for both humans and dogs.
The Mooresville-Lake Norman Exchange Club sold personalized five-inch bones or badges in honor of a first responder, family member or pet to raise money for the project. The badges and bones are displayed on a plaque along the fence line of the dog park.
The youth council sold T-shirts, hats and bandannas at the event with the help of MI Screen Printing, with a portion of the proceeds going to Sheldon's K9s and Lake Norman Humane organizations.
DOG PARK
After the opening ceremony, Officer Sheldon's family, town officials, Mooresville Youth Council officers, police officers, and sponsors gathered to watch Sheldon's mother, Susan Ledford, cut the ribbon to officially open the new facility.
Gary Worth of Worth and Associates designed the dog park, which consists of three very large enclosed areas for various sizes of dogs, watering stations, shade trees, seating and covered areas, and agility training features in one area.
Tim McClellan of Miles-McClellan Construction oversaw the project, in conjunction with Chris Winecoff, Mooresville's director of facilities and construction.
The many pups in attendance enthusiastically tried out two sections of the new facility, making new friends, chasing balls, and slurping up water at the water station. At the third area, Mooresville K-9 officers offered two agility demonstrations to entertain attendees.
DOG MAYOR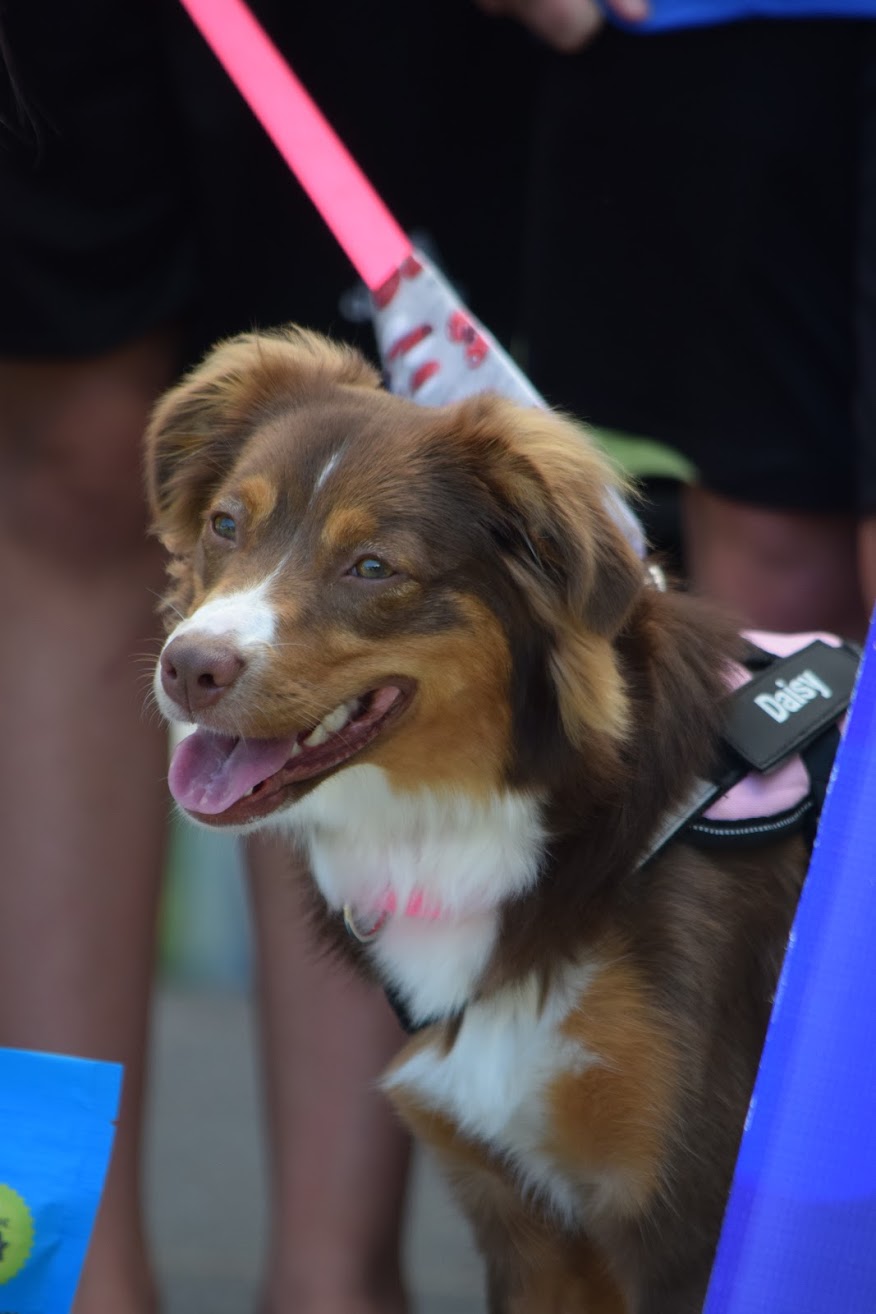 The Mooresville Youth Council sponsored an "Honorary Dog Mayor" contest in conjunction with the grand opening. Eighty-five residents entered their pets for a chance to serve, with over 2,000 votes cast to determine the winner.
Trena Morrison's third-grade class at Rocky River Elementary School came up with the idea. The students suggested the contest while learning about local government. At noon, Principal Check LaRusso, Morrison, and some of the class announced the winner, Daisy, who earned 366 votes.
Daisy received a "Dog Mayor" vest to wear and a basket of goodies from Mooresville's Waggamuffins as part of the honor.
WANT TO VISIT?
The Officer Jordan H. Sheldon Memorial Dog Park is located at Cornelius Road Park, 247 Cornelius Road, in Mooresville.
Photo Gallery