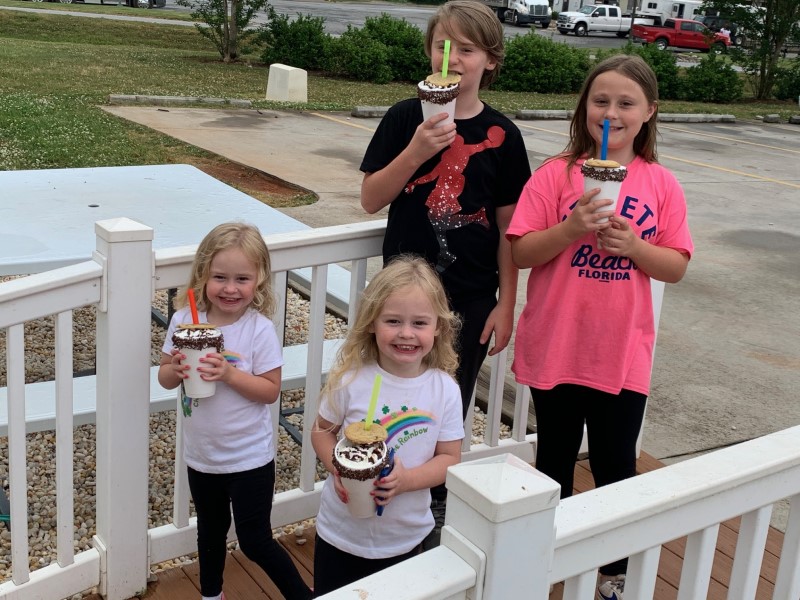 BY BRANDY TEMPLETON
Union Grove Elementary School partnered with Mason's Sweet Shoppe for a sweet end-of-year treat and fundraiser on Friday.
Students sold $8 tickets to help raise money for their school, and the school raised enough money to provide every student with their very own milkshake. All total, 550 tickets were sold.
Mason's Sweet Shoppe allowed Union Grove Elementary to create their own specialty milkshake for the event. The school chose the ingredients for their "Cookie Deluxe" — cookie dough ice cream, a chocolate sprinkle rim, whipped cream, chocolate syrup, and a chocolate chip cookie.
Manager Eian Hoots had had 11 workers on hand to assist Friday.
"It's been a little bit stressful, but I'd rather be stressed than sitting at home doing nothing," he said.
By 5:30 p.m. Friday, 274 tickets had been redeemed, but Mason's still had until 9 p.m. to go.
Marcus Brooks, another manager, stayed busy scooping out the ice cream.
"We've used 90 gallons of ice cream so far," he said.
Photo Gallery