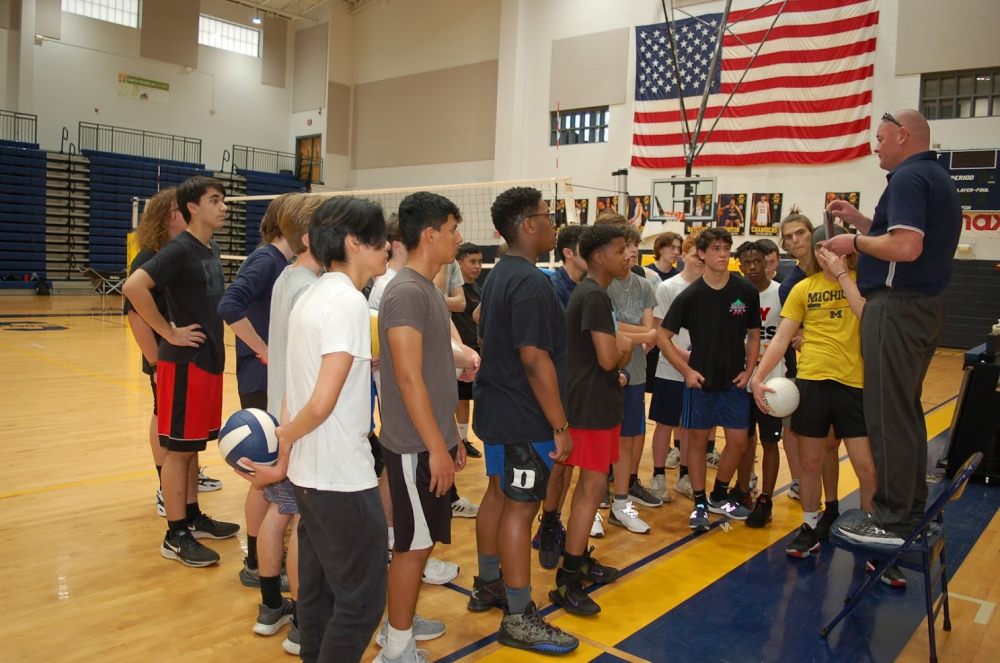 BY DEBBIE PAGE
debbiepage.iredellfreenews@gmail.com
Forty young men spent Tuesday afternoon working on fundamentals at the first official practice of the South Iredell High School Volleyball Club, practicing various blocking and passing drills under the watchful eye of Coach Kerry Baker.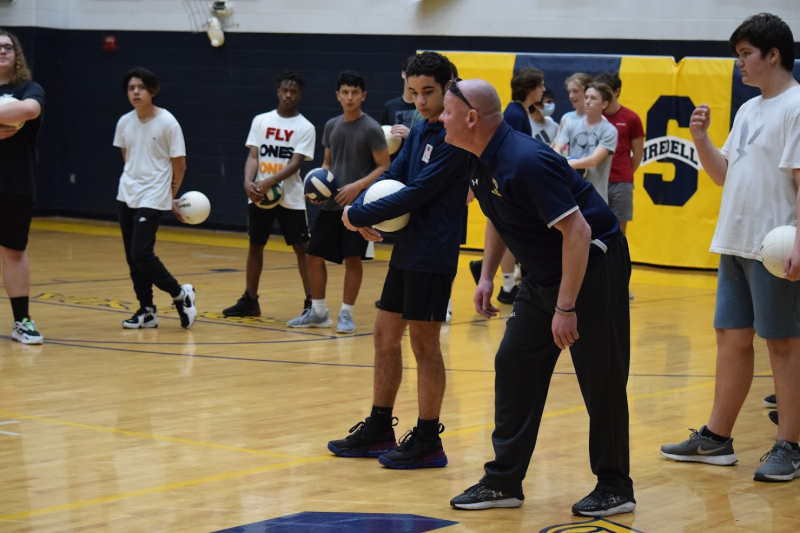 Baker, the lead school resource officer for the Troutman Police Department and SRO for the Career Academy and Technical School, said the team is an opportunity for students who do not play other sports to be a part of a team and represent their school by wearing the blue and gold of the Viking Nation.
Coaching the team also provides an opportunity for Baker to further connect with students.
"In the current climate, kids need to realize that officers are more than a badge and gun. We have hobbies and lives well beyond that," he said. "Through these kinds of activities, I can also help our community by building these relationships, which is particularly important with this age group since they will be our next generation of citizens."
Baker also works to develop leadership qualities with his players. He is proud of the feedback he has received from teachers, who report that his players have prevented issues or de-escalated situations off the court, serving as positive role models for their peers.
"Having confidence and building leadership skills are important parts of life," said Baker.
The team will play 10 to 15 matches, with the first match against Hough at SIHS tentatively scheduled for March 11, though that date may be pushed back if the coaches decide the players need more skill development as they rebuild after the two years of play was lost to COVID-10 restrictions.
Other opponents include Marvin Ridge, Weddington, and Liberty Prep. The final schedule will soon be available on the SIHS athletics page. Baker hopes the team will also have a good showing at the conference tournament later this spring at the Carolina Union Volleyball Club in Charlotte.
Baker, who previously served as the SIHS women's volleyball coach for two years, has only one returning player To build interest and skills, he conducted open gym sessions over the last few weeks to teach fundamentals in smaller groups to the mostly novice players.
No players will be cut, said Baker. All skill levels are welcome to learn and grow under his instruction, along with new assistant coach Jacob Morley, an SIHS and UNC-Wilmington grad.
Morley played beach volleyball while in college and has been working hard studying the game, watching videos and soaking up Baker's knowledge as he assists in the gym. "He's really taking ownership," said Baker.
When Baker was in high school, no men's volleyball opportunities were available, though he always wanted to play.
When he attended Ball State University, Baker became the men's volleyball team manager, learning the game from the university's legendary coaches, Don Shondell, who has the second-most wins by a head coach in NCAA men's volleyball history, and Joel Walton, the fourth-winningest active coach in NCAA Men's Volleyball.
After returning to North Carolina, Baker was energized to bring his love of the game to the area. After becoming an SRO in Troutman, he achieved his goal by starting the first boys volleyball club team, with only nine players, at SIHS 11 years ago.
Looking out at the crowded gym, Baker said, "And now it's grown to this. It makes me smile."
To create more interest and excitement in the program and to draw spectators to support the players, CATS teacher Tanya Topazio and her Film/Television Production students are creating a promotional video about the team to distribute on the SIHS website and social media.
Though the school and principal strongly support the program, the club team does not get school athletic funds. Players must pay for their own uniforms, practice shirts, and warmups. For students who cannot afford the costs, Baker said generous donors have covered the cost.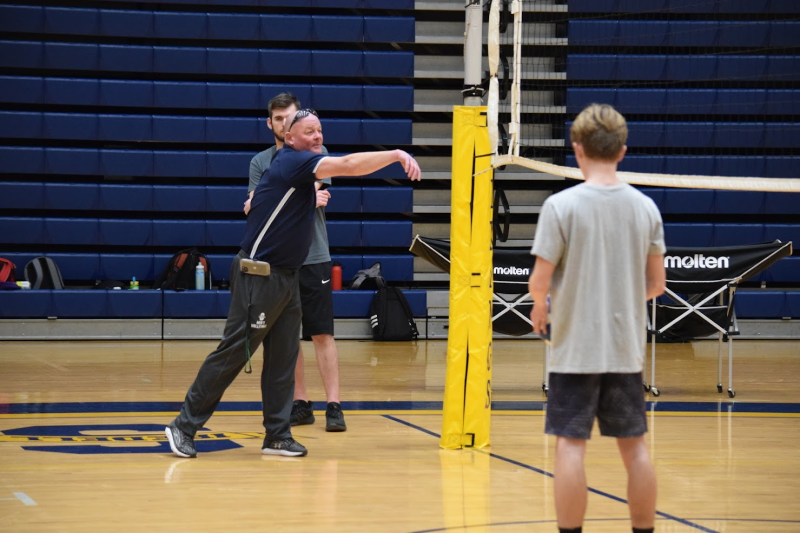 Sophomore Joshua Renza, along with several other soccer players, decided to join the team this spring. Renza's dad and other family members played in the family's native Columbia, so Renza was interested in giving the sport a try.
Renza attended the open gyms, usually with only 10 to 15 players, which allowed him to learn the passing, setting, hitting, and important team communication skills in a small group setting. "It's new and active, and I'm enjoying it."
"We learn together. It's been a good experience and helps with our teambuilding. Coach Baker is a good coach who really teaching us the fundamentals."
Freshman Isaiah Jackson also decided to join the team after playing some club volleyball this past summer. "I like the feeling I get when I play," he said.
Practices with Baker and watching these matches are helping Johnson with his footwork. "That's really hard to get," he said.
Baker enjoys making these connections with students while teaching them about his sporting passion.
"I love these kids. They make my life more enjoyable. Some are so starved for attention, acceptance, understanding, and discipline, and they get that in my gym," he said.
"They work hard and care and respect one another," he added. "I'm very proud."
Photos