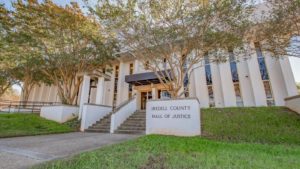 BY MIKE FUHRMAN
During interviews with Statesville Police Department officers who were investigating the January 2020 death of Shana Nichole Harmon, Qawiesha Toliver boasted that she "beat bitches up" during the time she was prostituting herself and selling crack cocaine in the streets and in drug houses in Statesville.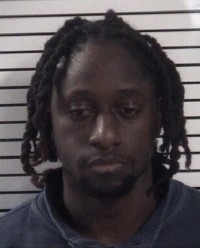 Testifying for the fourth day this week in the murder trial of Jhammar Bowen in Iredell County Superior Court, Toliver conceded during cross-examination that she could be violent. She also admitted she was upset that Bowen was going to have sex with Harmon in front of her on the day that Harmon was shot to death.
Toliver, who like Bowen is charged with murder and conspiracy to commit murder in Harmon's slaying, also admitted that she lied to investigators for more than a year before giving a jailhouse interview pinning the shooting solely on Bowen.
But, during more than four hours of questioning by defense attorney Ken Darty, Toliver repeatedly rejected his assertions that she was the one who shot Harmon three times in the abandoned home off 8th Street on January 16, 2020.
Alternately defiant and disengaged, Toliver has dictated the flow of the trial throughout the week. While battling cancer, she has been taking chemotherapy and prescription medicine for nausea and pain that can make her sleepy, dizzy and confused, her lawyer said on Friday.
Twice this week Visiting Judge Lori Hamilton has suspended Toliver's testimony after deeming her too cognitively impaired to continue. On Friday, the judge asked the state's key witness to delay taking some of her medication in an effort to accelerate her testimony.
At one point Friday morning, after Toliver repeatedly answered "I don't know" to a long string of Darty's questions, the judge gave the witness a break and sent the jury out of the courtroom so the attorneys could discuss Toliver's testimony and the lack of progress in the case. Then, when the judge told Toliver that she expected her to continue her testimony, Toliver replied, "I'm not going to answer any more questions until I get my medicine."
During her direct testimony earlier in the week, Toliver, 28, told the jury that Bowen shot Harmon twice inside the abandoned home known as the "Honeycomb Hideout" and once on the back steps after Harmon ran. A forensic pathologist testified earlier that two of the three shots — one to the head and one that damaged her heart, aorta and pulmonary artery — were lethal.
Toliver told the jury that Bowen was in front of Harmon when he shot her the final time, testimony that was seemingly at odds with forensic evidence that the final shot that felled the 25-year-old Statesville woman was to the back of the head.
Toliver also repeated her earlier testimony Friday that she did not know ahead of time that Bowen was planning to kill Harmon.
Assistant District Attorney Mikko Red Arrow has been trying to convince the jury that Bowen killed Harmon because he believed she had stolen cocaine from Toliver's apartment.
During cross-examination, Darty attacked that theory from several fronts, implying through his questions and statements that Bowen never threatened Harmon and would not have killed her for such a small quantity of drugs — which Toliver valued at between $600 and $1,150. As evidence of this, Darty pointed to Toliver's testimony that after a relative of hers stole $9,000 from Bowen, Bowen did not harm her.
Toliver's statement to Statesville police Investigator Christy Cleary at the Iredell County Detention Center — made more than a year after Harmon's death — was motivated by her desire to get out of jail on bond, Darty implied numerous times.
After giving her statement implicating Bowen, Toliver received an unsecured bond. She has been free since March of 2021 while awaiting trial.
Darty also sought to discredit her repeated statements and testimony that she was scared of Bowen. She has testified that she lied to police because that's what she was told to do by Bowen.
"What were you afraid of?" the defense attorney asked at one point.
"That he was going to do something to me," Toliver responded.
"Did Jhammar Bowen ever threaten to hurt you?" Darty asked.
"No," she answered.
"Has Jhammar Bowen ever physically hit you?" Darty asked, concluding the line of questioning.
"No," Toliver said.
While she was in jail, Toliver wrote love letters to Bowen. But, she said, she was upset when she found out that Bowen, who lived in Winston-Salem, was married. Bowen and Toliver met through an online dating app several months before Harmon's death and began a sexual relationship before Bowen started providing Toliver with cocaine to sell, according to her earlier testimony.
Before being directed by the judge to look at the exhibits and answer Darty's questions, Toliver had refused to look at one of the letters.
"If I don't want to look at it, I don't have to look at it," she said.
Later, when asked to summarize a portion of the letter, Toliver said, "He played me. He got me good. He's a sneaky person."
Judge Hamilton sent the eight-woman, four-man jury and three alternates home about 4 p.m. Friday.
"I think we've all had about as much as we can deal with this week," the judge told the attorneys.
Darty is scheduled to conclude his cross-examination of Toliver when the trial resumes Monday at 9 a.m.
Related Stories
DAY 1: Murder trial begins in January 2020 shooting death of Statesville woman
DAY 2: Forensic pathologist testifies about 'devastating' gunshot wounds that killed Shana Harmon
DAY 3: Witness: Defendant picked Shana Harmon up at apartment on day she was killed
DAY 4: Alleged accomplice: Defendant shot Shana Harmon after driving her to drug house
DAY 5: Judge suspends testimony of key witness in murder trial, citing cognitive impairment
DAY 6: Key prosecution witness in murder trial returns to stand; jury to hear testimony about cocaine, guns found in defendant's home
SIGN UP FOR OUR FREE E-MAIL EDITION HERE.