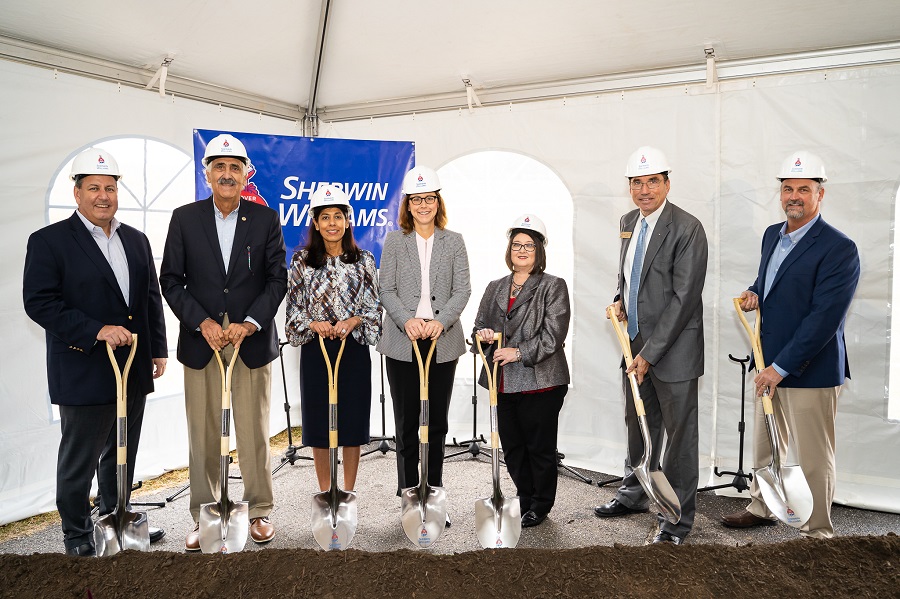 BY KARISSA MILLER
State and local officials joined Sherwin-Williams Co. executives and employees, contractors and partners in Statesville on Wednesday for a ceremonial groundbreaking to mark the beginning of a $300 million expansion of the company's manufacturing a distribution facilities.
The first shovels of brown dirt marked the symbolic beginning of construction of a 36,000-square-foot expansion of Sherwin-Williams' existing manufacturing facility and new 800,000-square-foot distribution and fleet transportation center.
The project, which which is scheduled to be complete by the end of 2024, will also add four new rail spurs at the existing manufacturing site.
Sherwin-Williams plans to add more than 180 full-time jobs at the facility over the next three years.
"This is a momentous occasion, and we're delighted to have so many of you here with us today," said Kathleen Szczesniak, senior vice president of operations, told the large crowd.
Chairman and CEO John Morikis said the event was an important milestone for the company.
"This project will support our growth for years to come. We are proud to be a part of the community here and grateful for the partnership we have with the local and state officials," he said.
Sherwin-Williams has been a cornerstone of the community for three decades, according to Statesville Mayor Costi Kutteh.
"We are thrilled Sherwin-Williams, a company that has been an integral part of our community since 1993, chose to make a significant investment in Statesville for both its manufacturing and distribution facilities," Kutteh said.
"The decision to expand their footprint here represents the largest paint manufacturing operation for the company in North America based upon total gallon capacity and the largest single investment in the history of our city," he added.
Sherwin-Williams has great people and leadership, the mayor added.
"What I have learned in a short time, everyone talks the talk, but very few people walk the walk. In my experience, Sherwin-Williams walks the walk," Kutteh said.
Iredell County Board of Commissioners Chairman James Mallory thanked Sherwin-Williams for choosing Iredell County. Company officials looked at multiple locations for potential expansion opportunities in a competitive vetting process before selecting the Statesville facility.
"Sherwin-Williams, like their logo, covers the world. They have multiple plants throughout the world …They had a choice to make when they looked to expand," Mallory said.
The Statesville facility was chosen for its transportation infrastructure, the strength of the current workforce and depth of the local talent pool, the facility's ability to handle additional capacity, and a location that provides for the centralization of existing distribution opportunities for the company's regional operations.
The facility upgrades will add millions of gallons of annual manufacturing capacity and sizable pallet storage capacity to help the company meet increasing demand for its architectural paint and coatings products.
Sherwin-Williams announced in February that it signed an agreement with the State of North Carolina, Iredell County and the City of Statesville to expand its facility in Statesville.
"This project in Statesville adds to North Carolina's reputation as a top workforce location for modern manufacturing," said Gov. Roy Cooper. "With more than 2,400 full-time Sherwin-Williams employees in our state and more coming, our state is committed to the education and training that will create success for years to come."
Sherwin-Williams will receive approximately $30 million in state, county and city government incentives.
Photo Gallery