BY DEBBIE PAGE
debbiepage.iredellfreenews@gmail.com
Developers of a proposed mixed-use project located on 848 acres near the Town of Troutman held a community information session on July 6 to introduce the development and listen to citizens' suggestions and concerns about the project, which will greatly impact the northern entrance to Troutman.
Prestige Development of Stanley has submitted a conditional mixed-use rezoning request and will request annexation for the area covered in its Barium Master Plan. A conditional mixed-use zoning district, if approved, is developed based on the submitted concept plan and features residential and business/commercial uses that must follow agreed upon conditions.
The proposed project is behind the Children's Hope Alliance campus, across the street, and along Moose Club Road.
Prestige is currently building the Smith Village mixed-use project near Exit 42 as well as the Sequoia Forrest and Ashlyn Creek residential neighborhoods in Mooresville and several residential and commercial projects in Sherrills Ford and Terrell.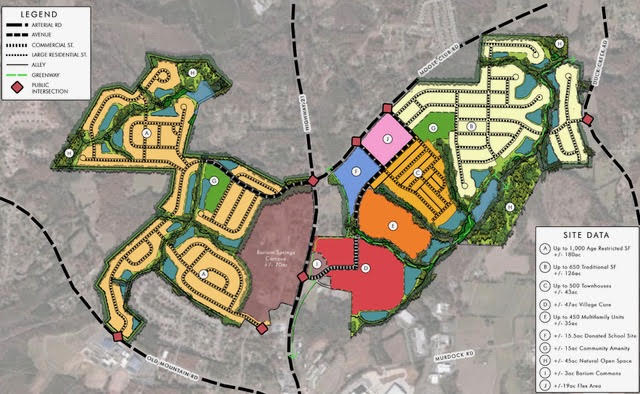 THE PLAN
After hearing a presentation detailing the development plan, the approximately 40 attendees visited several stations to talk with developers individually, ask questions, express concerns, and make suggestions.
Since the meeting was not a whole group question and answer format, Town Planner Lynne Hair said the developers will compile a list of the community feedback to submit to the planning staff in their community meeting report in the near future.
The project includes plans for about 2,500 residential units, including up to 1,000 age-restricted single-family homes, up to 650 traditional single-family homes, up to 500 townhomes and up to 450 multi-family units. Plans also include space for retail, land for a new school, and about 45 acres of open space.
The Springs neighborhood will be behind the Children's Hope Alliance Campus and feature larger lot single-family homes. Amenities include pool and club house, tennis courts, picnic areas, walking and biking trails, and green spaces.
The Brook neighborhood, located between Moose Club and Duck Creek Roads, features single-family homes with amenities such as pool and club house, pickle ball courts, a dog park, playground, and outdoor seating areas.
The Grove, located to the west of The Springs off Moose Club Road, features multi-family townhomes. Amenities include fire pit areas and green spaces.
The Flats, an apartment community, is located behind the development's school land donation off Moose Club Road and adjacent to Calvary Chapel Church – Lake Norman. Amenities include a pool and club house, outdoor seating areas, and green spaces.
The Village is the shopping area located south of the church and accessible to Highway 21, with Barium Square, the current Heart Strings building, located adjacent.
The transportation plans through the connected neighborhoods will feature large tree-lined avenues and residential streets, commercial streets, and alley ways. The development will also feature attractive wayfinding signage as well as green spaces located on the periphery and throughout the neighborhoods.
At the Town Council pre-agenda meeting on Monday, council member George Harris commented that the meeting was a "good working session. People came out and voiced their opinions."
Hair commented that it was a good evening and that people engaged well with the developers on a one-to-one basis.
A second community meeting is expected at a future date. The Planning Board is expected to review the rezoning request and make a recommendation at its August 22 meeting, with the Town Council possibly making the final determination on rezoning and annexation requests at its September 8 meeting.