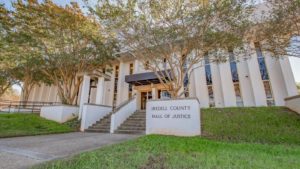 BY MIKE FUHRMAN
A young woman described for an Iredell County Superior Court jury on Tuesday the intimate details of the sexual relationship she had years ago with a local church leader when she was a teenager.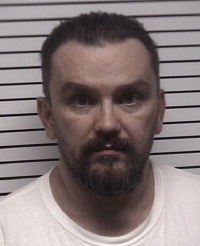 Testifying during the first day of Dalton Smallwood's criminal trial, the woman said she met the defendant when she was five or six years old. When she was 13, he began teasing her, making hurtful comments about her acne breakouts, she told the jurors.
But after she turned 14, the woman recalled, Smallwood began flirting with her and telling her she was "pretty" and "smart" and "mature."
Their relationship began with a Facebook call when Smallwood asked her to video herself undressing for the shower, she testified. Then there was a kiss near the mailboxes at the end of the long dirt road near her home.
The relationship progressed from there to secret meetings arranged by Smallwood that included sexual contact behind a thrift shop, in vehicles, at two churches, inside an abandoned trailer near her house and inside his Troutman home, the woman testified.
Smallwood, now 49, is charged with multiple counts of statutory sex offense and taking indecent liberties with a child. The transgressions occurred in 2012, when he was 36 and a leader at Strait Way Baptist Church in Troutman.
Under N.C. law, as a 14- or 15-year-old, the victim could not consent to a sexual relationship with a 36-year-old man.
The jury of five women, seven men and two alternates was empaneled about 11 a.m. Tuesday. The trial is expected to last two days.
During her opening statement Tuesday morning, Assistant District Attorney Crystal Beale outlined the prosecution's case for the jury, which includes two recorded statements of Smallwood admitting he had a physical relationship with the teen.
Defense attorney Judy Dalton, however, told the jury that after all the evidence was presented in the case they would not be able to find Smallwood guilty of committing any crimes in Iredell County.
The young woman told the jury she lived in nearby Rowan County when their relationship began. Some of the sexual activity occurred in that county, and Smallwood previously pleaded guilty to indecent liberties there and was sentenced to 18 to 31 months in prison.
He has completed that sentence and is currently being held in the Iredell County Detention Center pending the outcome of this trial.
During more than two hours on the witness stand, the woman — who moved out of state before charges were filed against Smallwood — told the jury about sexual contact she had with the defendant at a wedding at a Mooresville church, at Strait Way Baptist Church and at Smallwood's home in Troutman.
On one occasion, after having sexual contact with the teen during Vacation Bible School at Strait Way Baptist, Smallwood gave her a signed certificate "for being very attentive," she testified. That certificate was dated July 28, 2012, when she was 15.
On another date, she testified, Smallwood had sexual contact with her in a bedroom in his Troutman home. The teen and her father went to the defendant's home so her father could prepare an estimate for roofing repairs. Her father and Smallwood's wife at the time were outside discussing the color of the replacement shingles at the time of the sexual encounter, she testified.
The third incident she detailed for the jury occurred on August 4, 2012, during a wedding at Liberty Baptist Church in Mooresville in the parking lot and in a Sunday School classroom inside the church.
Conflicted by feelings of guilt for deceiving her parents and for having a relationship with a married man, the woman said she contemplated ending her life by suicide or running away from home before deciding to tell her parents about the relationship in July of 2016, when she was 19.
"I didn't really want to get him in trouble," she testified. "I just wanted to deal with my own problems."
Prior to that, Smallwood had traveled more than a thousand miles to her home, given her an engagement ring and asked her father if he could date her.
During the prosecution's case, defense attorney Judy Dalton attempted to show the jury that it was not simply a one-way relationship.
"Is it fair to say you admired him at some point?" the attorney asked.
"Yes," the woman replied.
"Is it fair to say you flirted with him?"
"Yes, ma'am."
The defense attorney also introduced as evidence entries from the then-teenager's journals in which she discussed her feelings about Smallwood. The entries, many of which were written when the victim was 17, discuss her love for the defendant and desire to be with him.
The prosecution countered by introducing letters that Smallwood wrote to the girl and sent to her in a notebook.
He lamented how their relationship began but said it was worth it.
"I would have suffered the wrath of society, family and everyone else to be with you, and would do so now," he wrote.
Later, Smallwood added: "I am horrible. I truly am. … But I loved you the first time you smiled at me."
After the victim completed her testimony, her father took the stand and testified about the night his daughter confided in him about her relationship with an older man. She was reluctant to identify Smallwood but eventually did. The father told the jury he knew Smallwood from their time attending two different churches together, and he remembered doing roofing work at the defendant's home — and his daughter accompanying him on the job.
During questioning from Assistant District Attorney Josh Whaley, the father testified that he called "Brother Smallwood," who had moved to Georgia, and confronted him about the inappropriate relationship.
Whaley introduced an audio recording of the call and a transcript as evidence.
"I'm going to give you an opportunity to step up to the plate and be a man and walk like a Christian," the father told Smallwood during the call.
After initially denying any inappropriate contact with the teen, Smallwood admitted that he had a physical relationship with her.
Before contacting the Rowan County Sheriff's Office, the father said he and his wife decide to give Smallwood an opportunity to handle the matter without involving law enforcement. The father explained to the jury that if Smallwood had exhibited what he called "Godly sorrow," he could have avoided prosecution.
During a subsequent phone call, the father told Smallwood to return to North Carolina and turn himself into the Rowan County Sheriff's Office at a certain date and time. Had he done so, the father said, he had arranged for a friend to intercept him in the parking lot and tell him "he was forgiven."
When Smallwood did not take advantage of that opportunity, the father contacted law enforcement.
When Rowan County Sheriff's Office Detective Janet Wietbrock, who was assigned to investigate the case, called Smallwood at his Georgia home after the complaint was filed, the defendant knew exactly why she was calling.
Wietbrock, the prosecution's third witness, recorded her interview with Smallwood, which was also admitted as evidence on Tuesday.
Smallwood told the detective he had "consensual sex" with the teen, whom he believed was 15.
"What made you think it was okay to have (sexual) relations with a 15-year-old child?" Wietbrock asked him.
Smallwood struggled to answer before explaining that the teen had flirted with him and wanted him to come over to her house.
"It just happened," he said.
"Every time you kissed or touched this child, it could be an offense," the detective later told him.
"It didn't cross my mind then," Smallwood said.
Following his arrest, however, the defendant understood the gravity of his legal troubles.
"I have been arrested," he wrote in a text to the victim's father. "I'm going to jail for the rest of my life … Please help me."
The trial is scheduled to resume at 9:30 a.m. Wednesday.