FROM STAFF REPORTS
A Wilkesboro man was jailed in lieu of a $1 million bond over the weekend after being arrested on charges he sexually assaulted a child in north Iredell County.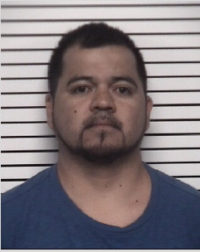 Iredell County Sheriff Darren Campbell announced the arrest of Rodrigo Castro-Olvera, 37, of Courtyard Drive, Wilkesboro, in a news release Tuesday afternoon.
The ICSO Special Victims Unit began investigating on Wednesday, July 6, after receiving a report regarding a juvenile who had been sexually assaulted. The investigation was assigned to Detective C. James.
Detective James met with the victim, who identified Castro-Olvera as the person who committed the sexual assaults, according to the news release.
Based on witness statements and physical evidence gathered during this investigation, the detective obtained warrants for Castro-Olvera's arrest.
The suspect was arrested on Saturday, July 9, and transported to the Iredell County Detention Center, where he was charged with four counts of felony first-degree statutory rape of a child and felony statutory sex offense with a child.
Castro-Olvera appeared before Magistrate Nethken, who set his bond at $1 million.