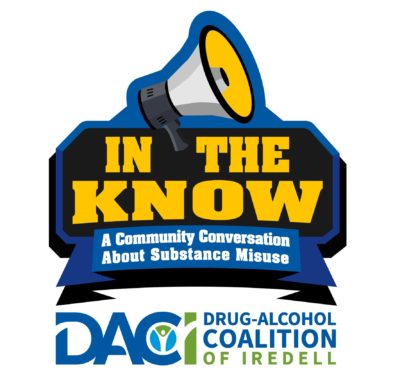 BY DEBBIE PAGE
The Drug-Alcohol Coalition of Iredell plans to focus its efforts in 2023 on creating awareness of drug and alcohol misuse by saturating the county with its new catchphrase "Be in the Know" through a series of community conversation sessions on substance misuse topics.
DACI is also spreading the word by embarking on intensive social media campaigns, launching a revamped website in January, creating a "DACI: In The Know" logo, and distributing a quarterly "In The Know" publication with current data and community snapshots of substance misuse issues.
This year's theme is "informing and educating the community to create advocates for reducing substance misuse in Iredell County." DACI will hold a series of "community conversations" throughout the county in 2023 that will focus on different substance misuse issues occurring here to get everyone "In The Know."
"By the end of 2023, we want anyone who will take the time to participate to know what they need to know about substance misuse in Iredell County because knowing is far more than half the battle," said DACI Director Shane Nixon.
"If you're a parent, what do you need to know? If you are a student, what do you need to know? If you are a minister, what do you need to know? If you work in public health or the criminal justice system, what do you need to know?"
"We have a chance to make a significant difference in individual people's lives," said Nixon, who said the goal is to flatten the statistical trajectory of substance misuse in Iredell County through the collective efforts of all concerned and committed community members.
The kickoff will be on February 7 with "In The Know: A DACI Community Conversation on Substance Misuse" from 10 a.m. to 3 p.m. at the Charles Mack Citizen Center in Mooresville.
An Eventbrite invitation to the free event will be online in December. Lunch will be provided.
Nixon emphasized that this conversation is for everyone — the faith community, school employees, business leaders, government leaders, elected officials, law enforcement, first responders, and interested community members — because solving the substance misuse crisis will take everyone connecting and committing to the cause.
Keynote speaker will be Dr. Lonise Bias, who will assure attendees through her talk that "Hope is Not Extinct."
Dr. Bias's personal journey with substance misuse emerged from a tragedy in June of 1986 after the death of her oldest son, Len Bias, a University of Maryland basketball player who died of cocaine intoxication while celebrating with friends just two days after being selected as the first NBA draft pick and heading to play for the Boston Celtics.
Forty-two months later, in December of 1990, the Bias family's second son, Jay, was the victim of a drive-by shooting.
Dr. Bias is president of the non-profit Bias Foundation Inc., a life investment organization that has developed community-based programs supporting families, communities and youth.
She is an internationally known motivational speaker, trainer, consultant, and a certified teen and family life coach. Dr. Bias brings "new solutions to old problems" along with "enduring messages of hope, inspiration, and tools to empower to the lives of youth, families, communities and those in the workplace," according to her foundation's website.
In addition to the keynote, the conversation will include an "Iredell County State of the Union" session featuring Nixon, Iredell County EMS, and other county partners still being finalized.
The York County, S.C., coroner will give a presentation on deaths relating to substance misuse, and District Attorney Sarah Kirkman is also confirmed for the program. Other county and health-related partners are also being invited to speak on their perspectives on substance misuse and the social determinants of health.
Nixon urged DACI coalition members to invite community members, friends, ministers, medical personal, and anyone they contact professionally or personally to this event.
"We don't want to preach to you, the choir. We need to reach everyone in the county."
Coalition member Pam Navey also asked coalition members to collaborate on creating a support group in Statesville for parents struggling with the loss of a child to overdose or with a child battling active addiction and in danger of overdose.
Nixon and several members committed to getting a group started after the first of the year in a Statesville location.