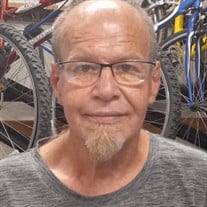 Robert "Bobby" Monroe Goodrum, 62, passed away on Thursday, November 17, 2022. He was born in Charlotte, N.C., and lived most of his life in Cornelius. He enjoyed the outdoors and spending time with friends. Most recently, he enjoyed attending First Baptist Church in Cornelius and volunteering with friends at the Neighborhood Career Center.
Bobby was preceded in death by his parents, Robert H. and Mildred Goodrum; and brother Charles H. Goodrum.
He is survived by his brother, Tim Goodrum and wife Tracy; nephews, Justin and Jake; and niece, Jessi Goodrum.
A Celebration of Bobby's Life will be held at 6 p.m. Monday, November 28, 2022, at First Baptist Church of Cornelius with Pastor Judge officiating. During the service, Pastor Judge will invite family and friends to come up to the podium to share a few brief words or memories of Bobby. We will allow as many people as time permits. If you speak, please be brief so that others may also have the opportunity to share their story.
Nicholson Funeral Home of Statesville has the honor of serving the family.