Special to Iredell Free News
EnergyUnited has awarded more than $46,000 to 43 North Carolina teachers through the NC Bright Ideas education grant program. Teachers in Alexander, Catawba, Davie, Davidson, Forsyth, Guilford, Iredell, Mecklenburg, Rockingham, Stokes and Wilkes counties are receiving grants ranging from $200 to $2,000 to support creative classroom projects.
"Education is the driving economic force that lifts individuals, families and communities above our greatest challenges," said Maureen Moore, communications manager for EnergyUnited. "Our Bright Ideas education grant program represents an important piece of the cooperative's vision of a brighter energy future that is shaped by innovation and education."
Since the Bright Ideas grant program began in 1994, EnergyUnited has contributed nearly $1 million to local teachers. EnergyUnited is one of 26 member-owned electric cooperatives in the state offering Bright Ideas grants to local educators. During the month of November, North Carolina's electric cooperatives have awarded more than $600,000 in Bright Ideas education grants.
Since 1994, North Carolina's electric cooperatives collectively have awarded more than $14.3 million to North Carolina teachers. The Bright Ideas program has reached well over 2.8 million North Carolina students and sponsored more than 13,500 projects in all subjects, including math, reading, science and technology, history, music and the arts.
Bright Ideas grant applications are collected each year from April through mid-September, and winning proposals are selected in a competitive evaluation process by a panel of judges. The application process will reopen for interested teachers in April 2023.
2022 Bright Ideas Grant Winners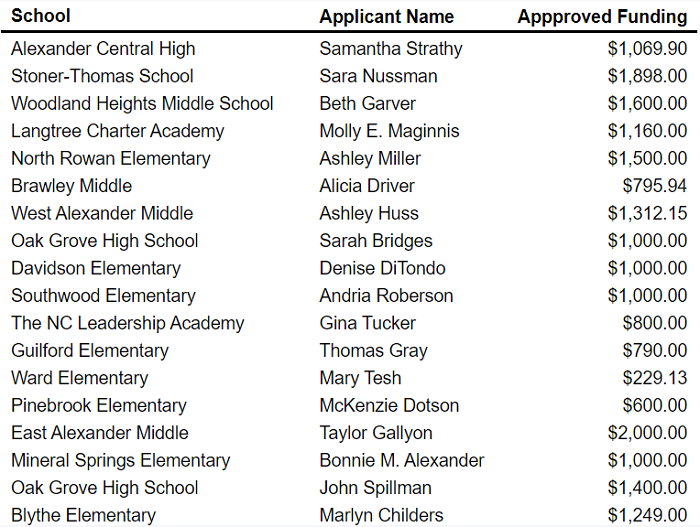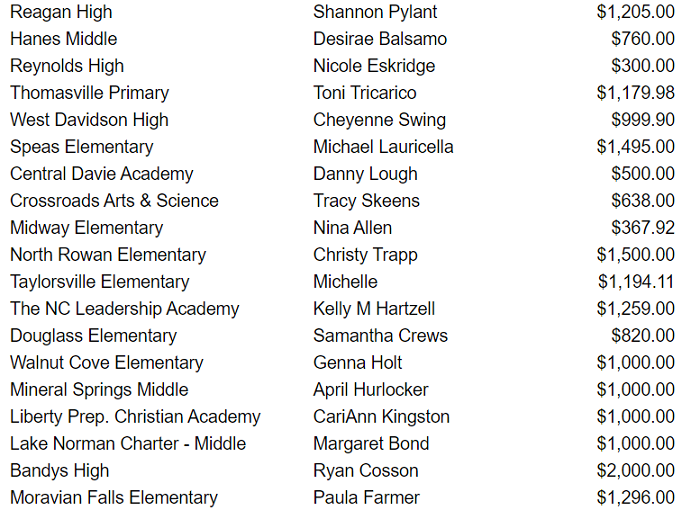 LEARN MORE
To find out more information about the Bright Ideas grant program, visit www.energyunited.com/bright-ideas-program.
About EnergyUnited
EnergyUnited Electric Membership Corporation (EMC) is the largest electric cooperative in North Carolina serving more than 135,000 metering points. Headquartered in Statesville, EnergyUnited provides electric service in portions of nineteen counties in west central North Carolina which include Alexander, Cabarrus, Caldwell, Catawba, Davidson, Davie, Forsyth, Gaston, Guilford, Iredell, Lincoln, Mecklenburg, Montgomery, Randolph, Rockingham, Rowan, Stokes, Wilkes and Yadkin. Visit EnergyUnited online at www.energyunited.com to learn more.