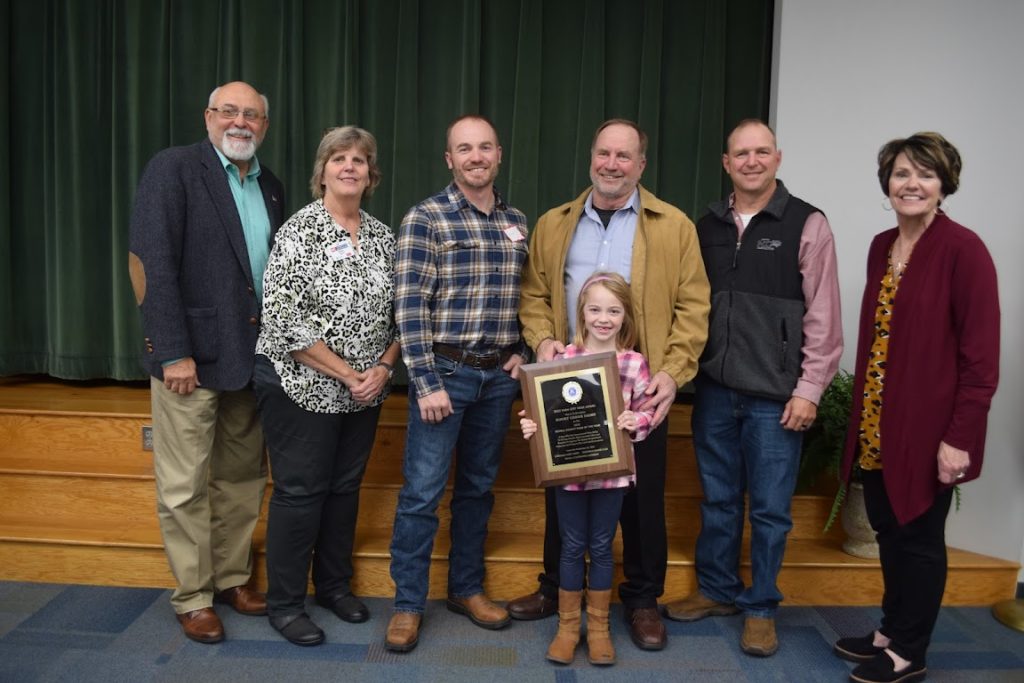 BY DEBBIE PAGE
At the annual Farm-City Week Banquet on Tuesday night, Rocky Creek Dairy President Dr. Ben Shelton, son Paul Shelton, and Thad Gaither accepted the Iredell County Farm of the Year honors from Iredell Cooperative Extension Director Nancy Keith and award sponsor Carolina Farm Credit's representative Kathy Bunton.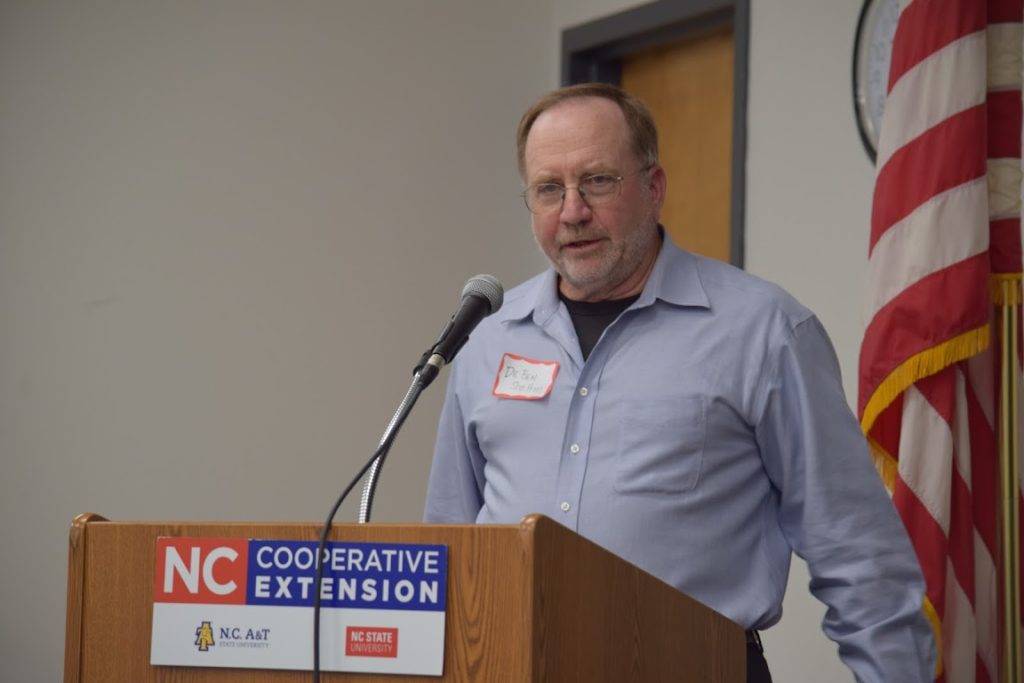 The award also recognized the contributions of Mimi and Mandy Shelton, Nicola Gaither, and Bill and Terri Slade.
In addition to its dairy farming operations, Rocky Creek provides veterinary and a wide range of services to area dairy farmers, including herd health, reproductive work, microbiological lab services, and a bio-pyrn lab to determine pregnancy through blood samples.
Keith noted that the Olin farm is continuously improving management practices and utilizing the most up-to-date technology in milk production. After initially renting the 450-acre farm and starting with 400 cows in 1992, the Shelton family purchased the farm after a few years and dedicated themselves to expanding and improving cow comfort, production, and efficiency.
Now the farm has grown to 1,400 cows and 1,250 heifers and calves on 1,900 acres, with an additional 500 rented acres, operated by two family members and 26 employees.
The staff milks 1,260 cows three times a day, with a rolling herd annual average of 31,200 pounds of milk with 3.6 percent milk fat. The milk goes directly from its double-16 parallel parlor to tanker trucks, which transport the product to be processed.
"They really pay attention to detail, making sure to produce high quality product," said Keith, including a "cow spa" remodel of the barns to include comfy beds, fans, sprinklers, and back scratchers.
Dr. Shelton is also vice president of Cobblestone Milk Producers and works with 4-H Clubs and vocational agriculture students. He also provides farm operation tours for groups such as Leadership Statesville, the Greater Statesville Chamber of Commerce, Crosby Scholars, and state legislators.
After accepting the plaque, Dr. Shelton said his family has been blessed to be living and working in Iredell County these past 30 years.
KEYNOTE SPEAKER
Kaleb Rathbone, assistant commissioner of the N.C. Department of Agriculture (NCDA), gave the keynote speech for the event to recognize the important connections between the farmers who produce food and fiber for all, and the cities that provide customers in restaurants and grocery stores as well as manufacturing, processing, and distribution capabilities for farmers.
Though many speak of the urban-rural divide, Rathbone countered that though the two may have differing perspectives, they share common interests and can learn from one another.
Rathbone noted the changing demographics of North Carolina with its influx of new residents and increasing urbanization, changes that impact policy, way of life, and how tax dollars are allocated.
Farmers are also changing with the times, increasingly employing technology, conducting research, and marketing their products to feed and clothe the growing population. "With the growing population, it's going to take everyone in the industry to feed them," he said.
"North Carolina is well positioned to help with that path forward. Thanks to our state's strong connection between farms and cities, we have a lot of great minds working to increase production."
"Part of that puzzle is diversification. In the Department of Ag, we have grant programs dedicated to developing specialty crops, vital energy sources, and new and developing crops. These programs fund research to find ways for our state's farmers to be even more productive and profitable than they are now."
"Whether that means improving what we currently do or finding different methods or new crops for our state, we have to work to make sure that farming remains economically, socially, and environmentally sustainable and a way of life for future generations."
Rathbone also spoke about the important priority of preserving farmland. The NCDA has protected 30,000 acres of prime farmland over the past few years "but there is still a lot more to be done."
"The American Farmland Trust ranks North Carolina second in the nation for potential farmland loss. That organization estimates that our state could lose between 1.1 to 1.6 million acres of agricultural land by 2040 for development."
"I know you've seen that firsthand" in Iredell County, Rathbone noted. "That's something we have to continue to fight to protect."
Agriculture is a $93 billion industry in North Carolina, the largest by far, and employs a nearly 20 percent of all its workers, according to Rathbone.
The state leads the nation in production of flue-cured tobacco, sweet potatoes, and overall poultry and egg cash receipts and is the second largest producer of turkeys.
Iredell leads the state in the number of milk cows, ranks fourth in beef cows, and leads the state in overall cattle. In Iredell County, agriculture cash receipts are just over $103 million.
"I'm confident that agriculture will remain a vibrant industry here, and along the way I hope you will continue to support the community and state by buying local as much as possible."
He also asked people who work in agricultural fields to share their stories with others in the community to stress the importance of agriculture in society and to reflect on its importance as all sit down to eat Thanksgiving dinner.
The last few years of food shortages during COVID-19 lockdowns, supply chain issues, and farming production disruptions from Russia's attack on Ukraine "have given people a renewed appreciation. You don't forget that."
Rathbone ended his speech by noting that never before in human history have so few fed so many, with less than 2 percent of the population working to provide food and fiber for the other 98 percent as well as exporting agricultural production throughout the world.
"It's a testament to the productivity of our agricultural systems in the United States, and when people aren't worried about where their food is coming from, they can focus on other endeavors, whether it's in the medical field or the arts or manufacturing."
In his closing, Rathbone referred to George Washington's quotation in a letter to a friend: "I know of no pursuit in which more real and important services can be rendered to any country than by improving its agriculture."
ACKNOWLEDGEMENTS
The Statesville Kiwanis Club and Iredell Cooperative Extension sponsored the Farm-City Week Banquet. The Flint Ridge bluegrass group provided music during dinner, and the Howard Family Farm provided pumpkins and gourds for table center pieces. Lake Norman FFA students and Kiwanis President Chuck Gallyon led the Pledge of Allegiance.
Photos