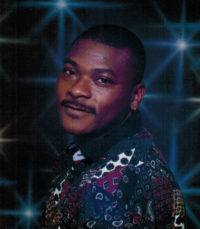 Mr. Craig Murdock, 61, was born on July 23, 1960, and was the son of the late Ferg Monroe Murdock and Mary Lee Peet. He passed away on Saturday, July 9, 2022, at Gordon Hospice House in Statesville, N.C.
Craig attended Statesville City Schools and prior to his death was employed at ASMO as a machine operator. He was a member of First Baptist Church. His favorite hobbies included fishing, racing cars, fixing cars, and frying fish.
In addition to his parents, he was preceded in death by his daughter, Erica Williams; and his two brothers, Jimmy Murdock and Artis Murdock.
He leaves to cherish the memories of his life one son, Craig Marquise Murdock (Ronslynn) of Yorktown, Va.; one daughter, Tamara Euneka Summers (Charles Gibbs) of Statesville, N.C.; three brothers, Cliff (Tara) Murdock, Larry (Ann) Murdock, and William Murdock, all of Statesville, N.C.; three sisters, Barbara Knox, Gilda Murdock, and Gaynell Murdock, all of Statesville, N.C.; a sister-in-law, Peggy Murdock; eight grandchildren, Charles Gibbs Jr., Quadaris Gibbs, Preston Harrison, Amaris Gibbs, Craig Murdock Jr., Zoe Murdock, Kayla Williams, and Gabriel Wilkes; four great grandchildren, Kaden Gibbs, Ka'zarion Brown, Za'mora Murdock, and Za'Maraya Murdock; and a host of other nephews, nieces, cousins, other relatives and friends.
A Celebration of Life will be held on Friday, July 15, 2022, at First Baptist Church Statesville at 2 p.m. Visitation will be from 1 to 2 p.m., and burial will follow in the Belmont Cemetery, Statesville.
Visit the book of memories for Craig Murdock at www.rutledgeandbigham.com.
Rutledge & Bigham Mortuary is serving the Murdock family.