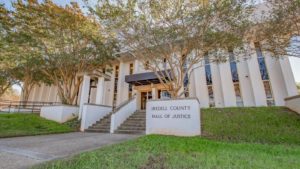 BY MIKE FUHRMAN
A Union Grove man will spend the rest of his life in prison for the willful, premeditated and deliberate killing of Harmony resident Tommy Cass.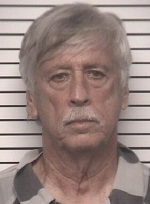 After a jury of 10 men and two women found Blaine "Dale" Hague guilty of first-degree murder for killing Cass, Superior Court Judge David Hall imposed a mandatory sentence of life without parole on Friday morning. The only other punishment for first-degree murder in North Carolina is the death penalty, which the prosecution did not seek in this case.
Hague, 71, shot and killed Cass on September 7, 2020, after confronting Cass and his hunting companions about hunting on the old Campbell dairy farm near Hague's home off Tobys Logfoot Drive in Union Grove. The two men, who had known each other for years, had an ongoing dispute about Cass hunting on the Campbell property, but Cass had the land owner's permission and invited three friends and his son Thomas to join him there for the opening day of dove season.
Cass, 46, pushed Hague to the ground after the two men exchanged words in the cornfield just after sunrise. After rising to his feet, Hague pulled a 9mm handgun from his back pocket, raised his arm and shot Cass in the face from close range, killing him, according to trial evidence.
The defendant claimed that he feared for his life and that the shooting was in self-defense, but prosecutor Lisa Coltrain argued that the shooting was a result of Hague' anger — not fear — and that deadly force was unnecessary. Cass was unarmed at the time of the shooting; his shotgun was found about 120 feet away from his body.
After the verdict was returned but before the judge sentenced him, Hague was given an opportunity to address the court. He maintained his innocence and said all of the relevant evidence was not presented during the three-day trial. Citing prevailing case law, the judge ruled during the trial that defense attorney Mark Davis could not elicit witness testimony about the victim's criminal record, which included felony assault and drug convictions.
"I do forgive the jury because they were only viewing some of the information — so I do forgive them," Hague said.
Judge Hall, who minutes earlier had earlier praised the jury for its attention throughout the trial and service to the community, took issue with the defendant's comments.
"You received a fair trial … There is no reason to forgive the jury. They spoke the everlasting truth," the judge said.
Although Hague's punishment was a foregone conclusion once the first-degree verdict was announced, the judge also gave the victim's family a chance to be heard before he officially sentenced the defendant.
Karla Cass read a statement, explaining the impact that her husband's murder has had on her and the entire Cass family.
"Tommy's death has left me vulnerable and scared to face my life without him and I am saddened that we will never have the chance to grow old together," she said. "Not only am I mourning the loss of the love of my life, my best friend, my partner in life, I am also mourning our hopes, our dreams, and our plans.
"Tommy's death also left his son without a father, his mother without her son, his sisters without a brother and his nieces and nephews without an uncle."
Calling Hague a selfish individual who placed no value on her husband's life, Karla Cass asked the judge to give Hague the strictest prison sentence allowed by law.
"His sentence will certainly not bring Tommy back but it is the only way to guarantee that he will never commit such a heinous crime again," she said. "Our family should never have to fear that Mr. Hague could possibly be set free to live in our small community."
The jury deliberated for about six hours over two days before returning its guilty verdict.
Hague, whose bond was revoked, was handcuffed as soon as the verdict was read. He will be transferred to the custody of the N.C. Department of Corrections.

Related Articles
DAY 1 of Trial – Witnesses: Defendant shot and killed Harmony man during dispute over hunting
DAY 2 of Trial – Defendant disputes witness testimony, claims he killed 'crazy' hunter in self-defense
DAY 3 of Trial — Jury deliberations underway in Hague murder trial
Stay Connected!
Sign Up for Our Free Daily E-MAIL EDITION: HERE