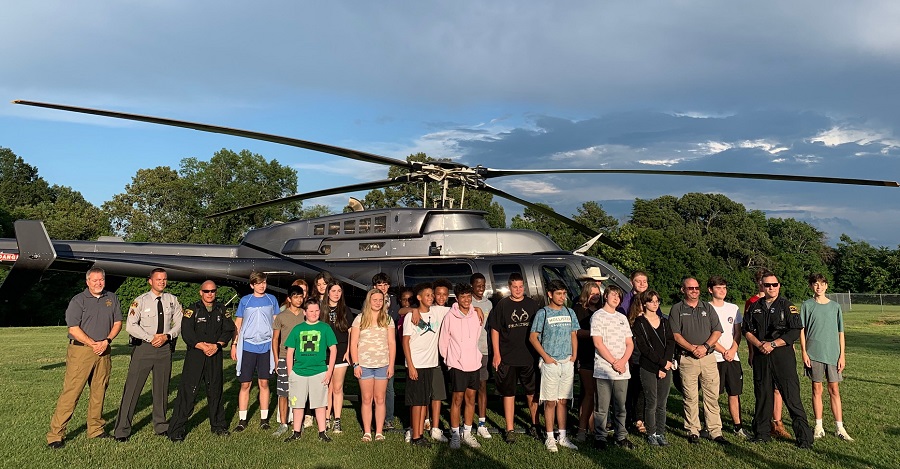 STORY & PHOTOS BY BRANDY TEMPLETON
Iredell County Sheriff's Office Teen Academy participants and members of the Iredell County Explorers learned about the dangers of speeding and texting while driving on Tuesday from officers who have seen the deadly consequences of these behaviors.
N.C. Highway Patrol Sgt. Ben Keller discussed the important work that troopers do every day across the state to keep the public safe.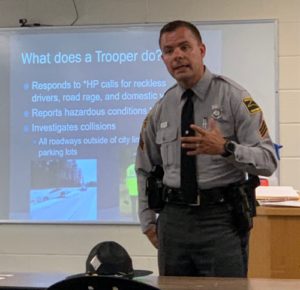 As a bonus, he brought a helicopter.
Keller, who is assigned to Troop F, which is based in Catawba County, explained that Troop F covers 20 counties, including Iredell. Eleven troopers work primarily in Iredell County.
Troopers enforce traffic laws, investigate crashes on state roads, assist with broken down vehicles and hazardous conditions, animal interference and emergency medical situations.
"Our primary goal is to reduce the number of wrecks and make the roads as safe as possible," Keller told the students.
He showed pictures of wrecks and explained what caused them to the students.
Distracted driving is an increasing cause of crashes, and troopers enforce laws designed to keep the roads safe.
"Reckless driving is a thing you do that is in disregard for the safety of others," Keller explained.
Accidents caused by texting or talking on the phone are very preventable.
It is illegal in North Carolina for 16- and 17-year-old drivers to hold a phone in their hands while operating a vehicle.
"If you type or read any electronic message, you're guilty," Keller told the students.
For the main event, he introduced SHP Aviation Unit helicopter pilots Brian Leventhal and Chris Agner, who flew in on a Bell 407 single-engine helicopter.
Eleven SHP pilots operate out of bases in Raleigh and Salisbury. They help search for missing people, assist in high-speed chases, locate criminals on the run, assist in emergencies, and transport law enforcement personnel.
"We also fly members of the U.S. Drug Enforcement Administration, the U.S. Federal Marshals Service, and Secret Service agents," Leventhal said.
They also help by assessing accident scenes and taking photos for sheriff's offices.
"These guys are important for when there's drunk driving accidents like the ones we've had on Fort Dobbs Road and in Union Grove," Lt. Matt Burleyson said. "They can show us the crash scene from an aerial view."
Photos