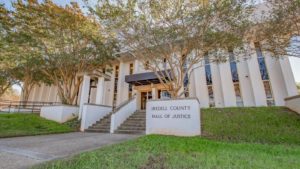 BY DEBBIE PAGE
One year ago, after hearing about Catawba County's Veterans Treatment Court, Brad Borders was determined to make this option available to eligible Iredell County veterans charged with low-level criminal offenses.
Court staff members work to help the veterans get back to productive, healthy lives with mentorship, mental health and substance use disorder treatment, and any other services they need.
Borders became aware of the need for this special court after a veteran last fall was charged with a low-level felony and his service record was never mentioned during the trial. This man had attempted suicide 14 times, had PTSD from his war experiences, and lost friends on the battlefield in Afghanistan.
Borders was disturbed that this man's service and trauma were not considered, and when he heard Catawba Veterans Treatment Court Coordinator Jared Weaver and Mentor Coordinator Mike Cloy speak about this program, Borders began working to bring this judicial option to Iredell and Alexander counties.
In this program, veterans receive due process along with accountability and rehabilitation services that ensure public safety. Since a felony record impacts veterans' ability to rent or gain employment, veterans, taxpayers, and the community are better served if veterans receive rehabilitation for their mistakes and avoid a felony record, Borders said.
The program is only for low-level or non-violent felonies or high-level misdemeanors that are somehow connected to their service or related substance abuse or mental health issues. However, Borders added that some veterans are not willing to commit to the treatment and accountability that Veterans Treatment Court requires.
"It's not for the faint of heart," he explained.
The follow-up and limits of the program are important for growth and healing, along with the process of making restitution for their offenses.
GETTING STARTED
Borders teamed with District Attorney Sarah Kirkman, Assistant DA Carrie Nitzu, and Clerk of Superior Court Jim Mixson on the effort, noting "it takes a lot of folks to make this thing happen."
The court project was awarded a $679,727 federal grant in October.
"We got all the pieces in place, and it took a lot of work on their part," added Borders.
Kirkman and Nitzu left the first meeting with Borders "saying this is something we need in our county."
Kirkman called Catawba County's DA office, connecting with Tammy West to get information and accepting an invitation to observe the Veterans Treatment Court in action.
Kirkman and Nitzu were especially impacted by the pre-court meeting about each veteran on the docket, during which the best resolution and next steps were discussed for each. The team included Weaver, the judge, prosecutor, probation officers, a Veterans Administration representative, mental health and substance use disorder professionals, and defense attorneys.
Instead of being adversarial, the team collaboratively worked together to figure out the best course of action for each veteran. Afterward, Kirkman and Nitzu watched the court in action and were impressed with the mentors each veteran had to support them.
Seeing the need for this court in Iredell and Alexander Counties, Kirkman returned to look for court time and space and supportive judges and began gathering data and information to support the grant writing process, with the help of Borders and Purple Heart Homes staff.
Gathering data for the grant process was a challenge because the Iredell court system was not tracking veteran status. Borders said U.S. statistics indicated that 6.6 percent of veterans were justice-involved.
Iredell County Sheriff's Office Chief Deputy Bert Connolly also canvased Iredell County jail inmates and learned that 17 veterans were incarcerated, including 11 who would have been eligible for the veterans court process.
The jail is now collecting this information during intake for the program, and probation officers are also collecting military service information as well.
The program is nearly ready to launch, with next steps including training in best practices. "We are excited and ready to get started," said Kirkman.
Nitzu said the court coordinator hiring process is underway. "I'm excited about the future," she said.
She thanked Purple Heart Homes for hiring the grant writer to make funding the coordinator position possible.
PROGRAM PROCESS
Kirkman said that Nitzu and the Veterans Treatment Court coordinator will screen cases for eligibility. Those who qualify will be asked if they wish to enter Veterans Treatment Court. She emphasized that this is not a diversionary program, and that all offenders will be charged and go through the court system.
Weaver said the veterans he has served in Catawba County are high risk, high-need people who will most likely be dead in a few years without a change of path.
He also noted a cost-benefit analysis of 16 veterans in the program, noting the savings of $102 per day per person being saved in prison costs, the $350,000 in veterans benefits they received and brought into the county, and the veterans service office that added $55 million into the county to spend on veterans.
Weaver said the program data speaks for itself, saving the county around $1 million per year by keeping these veterans out of jail or prison.
Mentoring is a key to the success to the program, giving veterans a person from whom they can get advice, vent to, or consult in a time or crisis. "Without mentors, the program would not be as successful," Weaver said.
Cloy, a Special Forces veteran with 27 years of services and a volunteer who serves as the mentor coordinator for the Catawba program, said the court treatment team and mentors work with various agencies and the state to get the veteran housing, employment, treatment, documents, benefits, and help with paying bills.
The court produces "a group of veterans who give back and volunteer in the community," Cloy said.
They have program alumni who have created a tribe of support for each other and who are looking for opportunities to assist the community as well as to help those just entering the Veterans Treatment Court program.
The program is not only saving money but creating invaluable community volunteerism and support, added Cloy.