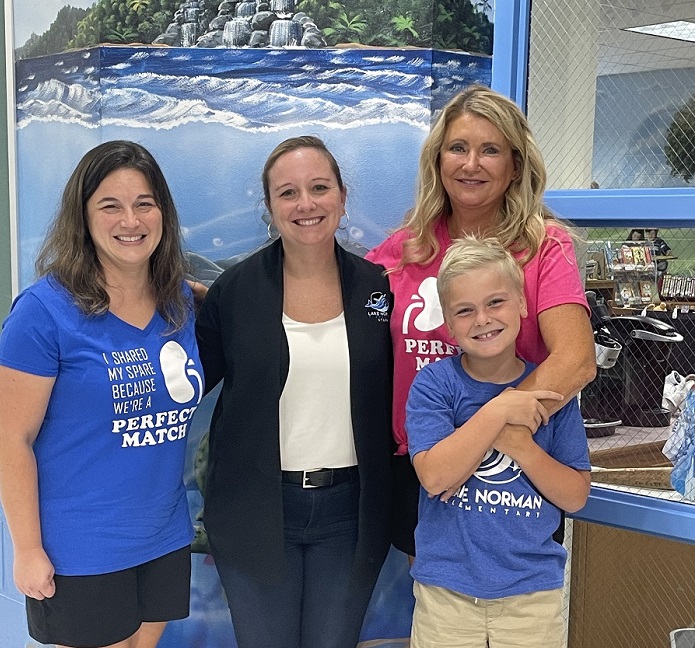 BY KARISSA MILLER
Traci General and Liz Zwahlen became friends through their involvement in the Lake Norman Elementary School Parent Teacher Organization.
In a few days, their friendship will be cemented forever when Zwahlen donates a kidney that will extend General's life and greatly improve her quality of life. The transplant surgery is scheduled for Tuesday at Wake Forest Baptist Medical Center in Winston-Salem.
"There are no words to express the debt of gratitude I owe to Liz," General said. "She is truly a selfless superhero — my life-saving superhero."
During a routine health checkup in her 20s, General was diagnosed with chronic kidney disease. Now in her 50s, she has experienced a rapid decline in her kidney function, and her life has been filled with doctors' visits, surgeries and new medicines.
In March, General's husband Todd sent a letter to Lake Norman Elementary Principal Nichole Tilley and their church asking for people to consider getting tested to be a possible donor. In the letter, he explained that Traci was facing end stage renal failure.
"I have known Traci for a couple years. I didn't realize her kidneys had gotten to that point," Zwahlen recalled. "Immediately I was like I have to go and get tested. I said, 'If it was meant to be, it was meant to be.'
"It was meant to be."
She prayed over the application and said her faith in God has guided her throughout the lengthy testing process.
"At Wake Forest, they asked me why would you donate to a friend? They ask you a ton of tough questions," Zwahlen recalled. "I said, 'In a heartbeat, she would do it for anyone else.' "
After the tests revealed she was a match, Zwahlen called her friend with the good news.
"We both were crying on the phone," General said. "It still feels surreal."
Her family was completely humbled by the call, describing it as "prayers answered" and "a miracle."
General said she looks forward to the simple things like not having to take two naps a day because she's so tired. She also wants to spend more quality time with her son Ty, a rising third-grader.
Zwahlen said she doesn't have any fears about the surgery or the recovery. The medical staff has been amazing, and she met with a social worker who walked her through the process.
Meanwhile, General and Zwahlen will always be grateful for Tilley for creating a compassionate community at Lake Norman Elementary that is more like one big family. Her leadership helped bring them together.
"We are connected for life," General said.
Learn More
:earn more about living donation on the National Kidney Foundation website www.kidney.org/livingdonation or by calling (855) 653-2273.