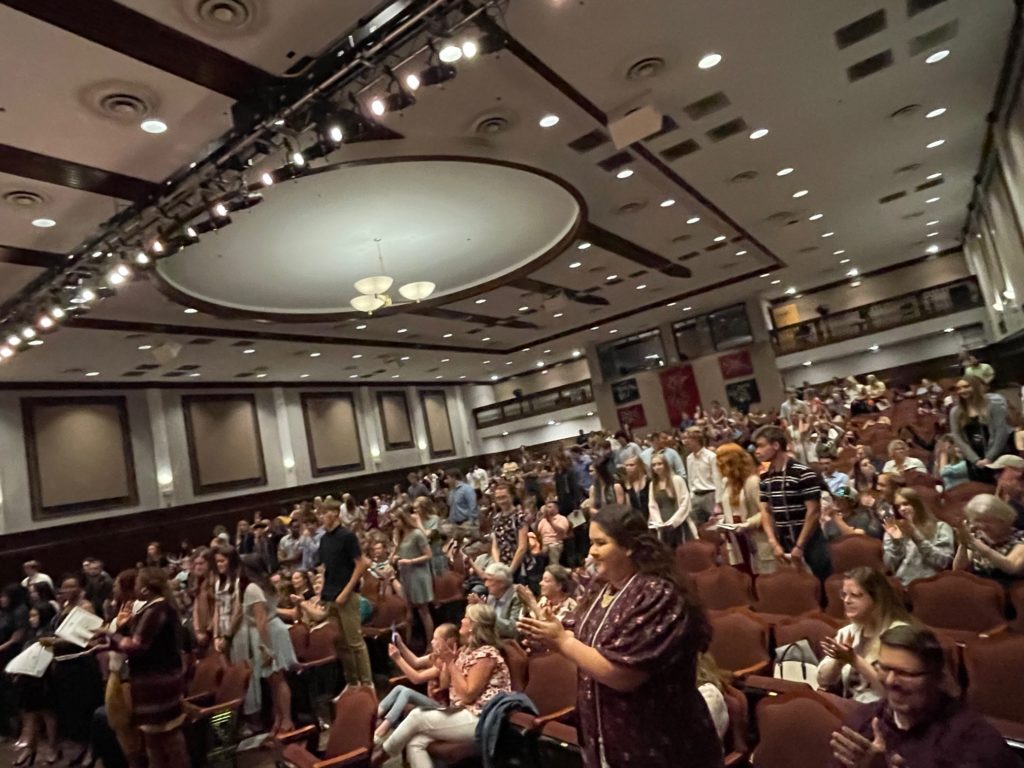 BY BRANDY TEMPLETON
More than 200 seniors from throughout Iredell-Statesville Schools were inducted into the National Technical Honor Society on Tuesday during a ceremony at Statesville High School's Mac Gray Auditorium.
Iredell County Commissioner Melissa Neader and local businesswoman Tracy Alston encouraged the students during the 27th annual event.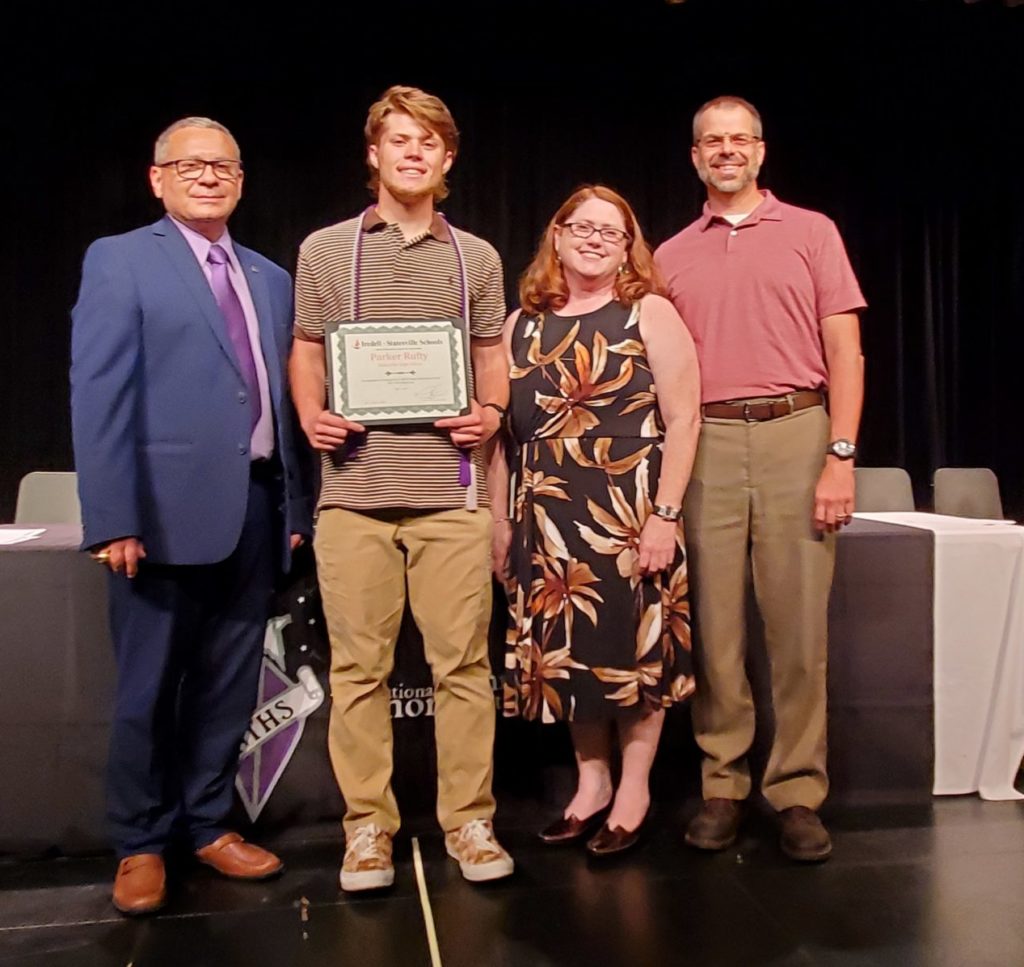 "You're probably being asked, 'What's next?' or 'What are you going to do after graduation?' " Neader said.
Alston, a mental fitness coach, said big questions like those can create stress and anxiety for new graduates.
"Recognize that fear can be the fuel that drives you," she said. "You have to fail sometimes. If you're scared, you're on the right path."
The students were also told that they each have a purpose and to not allow negative thoughts to keep them from their purpose.
"Tell that voice to be quiet, tell that voice not today," Alston shared. "You don't have to have all the answers or have it all figured out. It's okay to say, 'I don't know.'"
Both women told the seniors to stay in touch with community resources and encouraged them to celebrate their achievements.
During the induction ceremony, career and technical teachers from each of the district's high schools placed graduation cords on their seniors'.
CTE Director Tim Woody presented Statesville High School student Parker Rufty with a $1,000 scholarship from Denso. Rufty was chosen for academic excellence in CTE automotive technology.
PHOTO GALLERY
INDUCTEES

Agriculture & Science Early College
Britney Arbelaez
Jonah Dozier
Samantha Wall

Career Academy & Technical School
Sean Fansler
Sydney Horton
Matthew Ingle
Caleb Johnson
Benjamin Lighton
Judah Parker
Justin Wait
Bryce Weston

Collaborative College for Technology and Leadership
Kyleigh Amero
Aiden Brown
Leah Brown
Sage Brown
Wyatt Cox
Alexis DeCaron
Henry DiLeo
Kendall Elliott
Allison Eudy
Tara Ferrell
Jessie Frady
Cashion Fulbright
Hallie Harmon
Rhilynn Horner
Jason Lindsey
Levi Moeller
Parker Morrison
Ismael Padilla-Trevino
Ethan Parkhurst
Bryan Reyes
Kolby Shea
Ryder Spradley
Hailey Starnes
Jack Titus
Kennedy Totherow
Karli Townsell
Kaylen Vang
Evan Youssef

Lake Norman High School
Vittoria Abell
Sarah Ardus
Macy Bainbridge
Makayla Benoit
Marguerite Blattner
Nicolette Brulato
Mason Bulger
Gabriella Chavez
Nikolai Cichy
Emma Clarke
Isabella Clifton
Grace Cowin
Henry Dignan
Carson Freeman
Daniel Harman
Stephen Hinel
Griffin Horner
Diya Joshi
Abigail Kelley
Anna Kopecky
Reese Liggett
Samuel Lucktong
Kevin Martinez-Cruz
Ryan Mason
James Meister
James Michaud
Chase Moyer
Ryan Pannenbacker
Kenzie Paxton
Jason Phomsaly
Carly Reilly
Josephine Respess
Amelia Rider
Stevens Santiago-Guzman
Mackenzie Sawyer
Lane Schafer
Peter Shumaker
Zak Sikorski
Jared Smith
Alan Soto-Balladares
Mallory Stallings
Gigi Stefic
Courtney Storm
Luis Tuttle
Davis Wagner
Hadley Walker
Aaron Watson
Justin York

North Iredell High School
Bailey Barzee
Sarah Brown
Haley Duncan
Joseph Eudy
Lindsey Garcia
Aleasha Gonzales
Skylin Guill
Dillion Hobbs
Heidi Jenkins
Abby Martin
Jennie Neader
Shayla Phifer
Annalise Rash
Cameryn Reavis
Natalie Tucker
Morgan Vanwinkle
Ana Ward

South Iredell High School
Shianna Barnhardt
Jimena Benavides
Emily Bourgeois
Tanner Bowers
Adrianna Brown
Luke Brozo
Chance Caudill
Charles Cooney
Ashley Crowley
Gracie Day
Kev'Naysiah Dewalt
Brooklyn Ford
Trinity Frayer
Kayla Gaus
Tavia Graham
Anshuman Gupta
Emily Hapes
Jaclyn Heaney
Danielle Heckler
Riley Huffman
Ethan Ivey
Niyati Kandekar
Radha Ladani
Morgan Leahy
McKenna Lilly
Zachary Long
Elizabeth Lourcey
Emily McKnight
Frances Morales Velazquez
Abigail Mullins
Crista Nix
Ashlen Osborne
Jadon Palmeter
Emma Parker
Mary Parlier
Ashlie Peeples
Valeria Perez-Grajales
Angelina Peters
Amritha Pramod
Anthony Quartetti
Blake Ratcliff
Eli Ratcliff
Nathan Rohde
Emily Santibanez Espinoza
Lizzy Santibanez Solis
Samantha Sholar
Emily Shook
Harrison Smith
Holly Smith
Molly Smyth
John Starling
Bradley Strunk
Isabella Templeton
Jake Tevepaugh
Hannah Van Buren
Becky Wang
Thomas Wright

Statesville High School
Mariah Bayer
Te'kiah Blackwell
Evette Brooks
Asantee Campbell
Caroline Cothren
Shaniya Craig
Kyra Dobbins
Takaya Dobbins
Ashley Gaspar
Audreyana Geter
Zha'Monet Gray
Sincere Green
Brandon Hernandez
Nyesha Herndon
Phillina Johnson
Amelia Loflin
Kristen Manchester
Eddie Mariano-Rodriguez
Stephanie Marino-Zaragoza
Hilary Martinez
Karen Mendez-Alva
Torrey Miller Jr.
Jadyn Moten
Stephanie Pena Zurita
Parker Rufty
Queniya Steele
Zamari Stevenson
Victoria Vang

West Iredell High School
Ashley Boggs
Zacary Dellinger
Albree Garris
Elizabeth Godfrey
Johnathan Hastings
Dusti Hollar
Kendall Hurlbut
Brieanna Josey
Alee'cia King
Macy Murdock
Emma Nowlin
BreAnna Padilla
Caleb Reep
Lilly Reeves
AnnMarie Snook
Ashlyn Vance