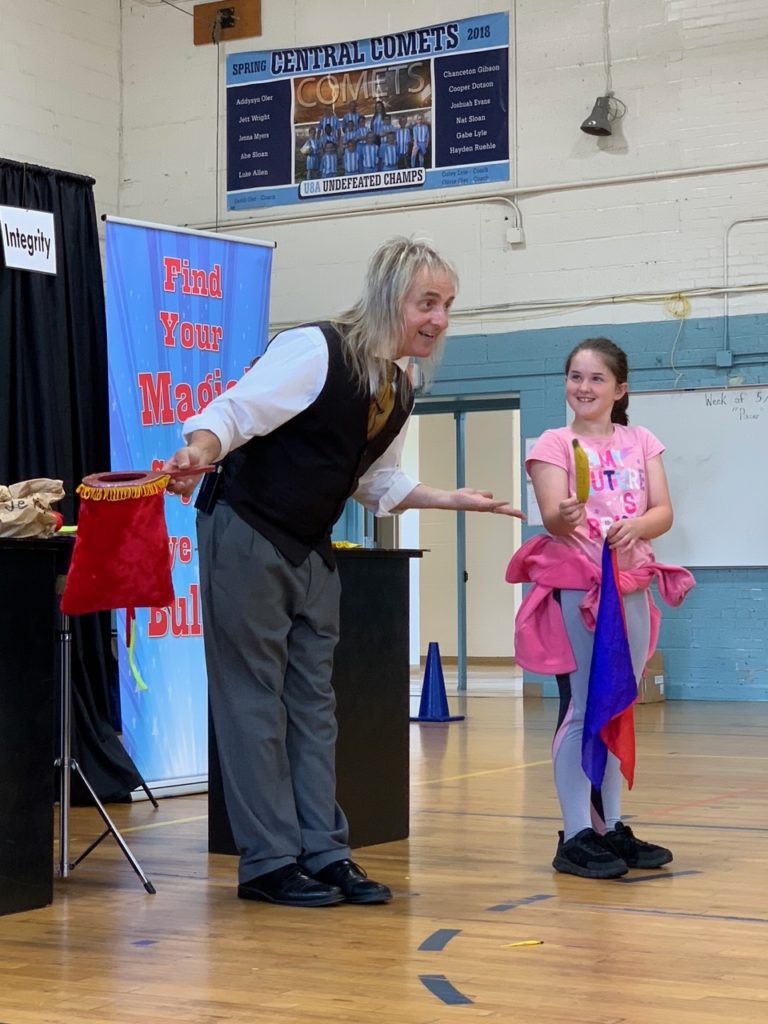 BY BRANDY TEMPLETON
Smiles were abundant at Central Elementary School when students were treated to Mr. Marvel's Bye Bye Bullies Magic Show. Kindergarten through fifth-grade students attended what Principal Kelly Byrd Johnson considered an important event.
"It's good to see them back together. They've missed this the past two years," she said.
School counselor Stephanie Wright said that even though Central doesn't typically have problems with bullying, the program was important for student awareness.
"Sometimes kids don't understand that something that's funny to them may not be funny to others," she said.
Wright felt like it would be a good idea to incorporate her lessons with a kid-friendly magic show.
Chris Benfield, AKA Mr. Marvel, wants to stop kids from being bullied. He came up with the idea for his show five years ago after remembering bullying while he was a high school student.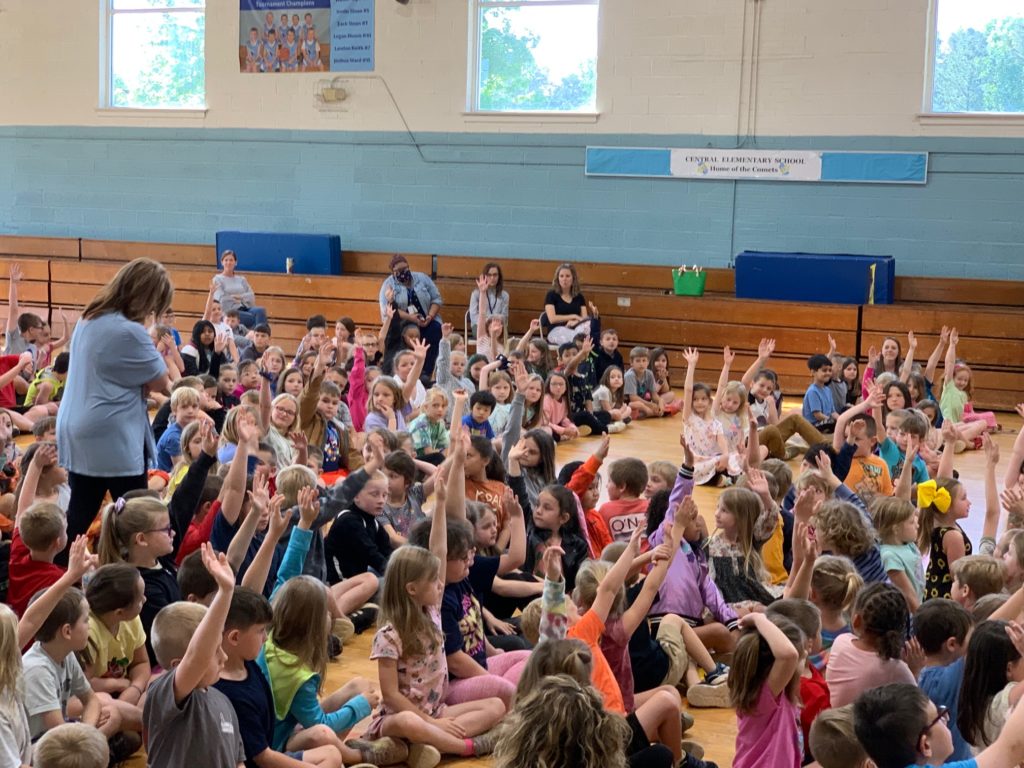 "Statistically, 160,000 students miss school every day because they're being bullied," he said. "From kindergarten through twelfth grade, 56 percent of students will get bullied."
Benfield teaches important core principles of respect, kindness, thoughtfulness, and integrity through magic, jokes, and student participation.
"You do magic every day," he said. "You can make other people feel good about themselves and make other people feel good about you."
During the show, Benfield defined bullying, and asked students to give examples.
"Bullying is where someone is subjected repeatedly to negative actions by another person or by a group of people," he said. "To make bullying stop, we need to learn all we can about it."
Examples of bullying were not letting someone sit with you at lunch, lying about someone, spreading rumors, name-calling, and excluding people.
Benfield believes that words are especially powerful and can be permanently etched into children.
"Every word you say can change the way someone feels about themselves," he said. "Every word you say can become a part of a person."
Benfield demonstrated the power of telling someone they are pretty or smart through audience participation.
"I'd like to be your friend," brought smiles to students' faces.
"We don't use words like weirdo, ugly, or dumb, because that makes people feel bad about themselves," he said. "We all have differences , but we're the same inside."
Before closing, Benfield gave an example of how words make people feel small by using a balloon and a little "person."
He told the students a story and showed what can happen when the person is mistreated.
"You can make someone wish they could disappear," he said.
Students cheered after seeing the "person" return to normal while the kind lyrics of Jackie DeShannon's "Put a Little Love in Your Heart" played.
"He had their full attention, they were so engaged," Johnson said. "He was pumping up kindness."
At the end of his magic show, all students received an anti-bullying coloring book and cheered for Mr. Marvel.
Benfield is thankful for those who believe in his mission and help fund his show, especially for Kyle Houston's Allstate Insurance.
He's grateful to Houston for his help and hopes more people will want to support his program.
"I'm just one guy with the help of sponsors," he said.
Benfield wants others to invest to help protect kids.
"Over the past five years, over 10,000 kids have seen my show," he shared. "If I can convince one percent to not be a bully, that's 100 kids. "
Benfield said that if a child does bully, he or she will bully approximately 100 times a year.
"That's really a low number," he said. "Probably in reality it's five times that. If that's true, then 10,000 kids seeing my show is 10,000 times that bullying doesn't happen, that's 10,000 scars that don't exist."
LEARN MORE
For more information, please contact Mr. Marvel's Magic Show at 704-873-0907 or chrisbenfield@bellsouth.net.
Photos