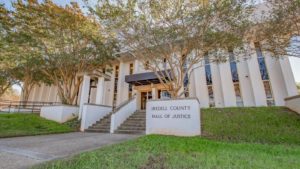 BY MIKE FUHRMAN
The men who left a birthday party at a house off Rita Avenue in Statesville in the early morning hours of January 6, 2018, were upset when they returned to the house a couple of hours later, according to testimony Wednesday in Iredell County Superior Court.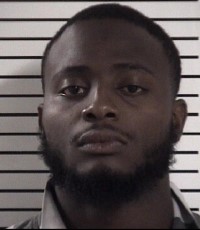 Testifying in the sixth day of Kevin Turner's murder trial, prosecution witness Karessa Butler told the jury that there were two fights among the men after they returned to the house. Later, after the group learned on Facebook that someone had been shot in the head in Statesville, the group's mood changed dramatically, she said.
"They were happy," Butler told the jury. "We all did shots" of alcohol.
Turner, 29, was part of the group that left — and the individual who asked to use Butler's Chevy Trailblazer that evening, she testified. He is charged with first-degree murder and faces life in prison if he is convicted in the death of Freeman Jacobi Wells.
Butler later learned that Wells, 30, had been shot in his home off Hickory Avenue early in the morning of January 6, 2018. A forensic pathologist testified last week that Wells was mortally wounded by a bullet that struck him near the temple. Statesville police officers testified that more than 60 bullets were fired at Wells' home.
An acquaintance of Butler's — identified as co-defendant Rick Chambers — suspected that Wells had shot him during a house party in November 2017, Butler told the jury on Wednesday in response to questioning from Assistant District Attorney Mikko Red Arrow.
On the night the group of men left the birthday party, "I knew they were going to see about who shot Rick," Butler testified.
Portions of Butler's testimony supported parts of earlier testimony by other witnesses, who also described the party and the fights after the men returned. One of those witnesses — co-defendant Antown Taylor — told the jury that he accompanied a group of men to a home in South Statesville and the group opened fire on a house there before they returned to a house off Rita Avenue. After the shooting, other members of the group were angry with him, and he fought one of them, Taylor testified.
Also Wednesday, Taylor's former fiancee testified that Taylor borrowed her gold Chevrolet Malibu on the night before the shooting to go out drinking with friends. When Ayanna Darty saw Taylor the next morning, "he looked like he had been fighting … he was dirty," she testified. Taylor told her he thought "somebody had just got killed, but he didn't know who it was," she said.
Darty also found a mask and bullets in her vehicle, she said.
The final witness on Wednesday was Davie County Sheriff's Office Capt. Wes Martin, who painstakingly described for the jury the firearms, ammunition and other items seized from a Mocksville motel room where co-defendant Enrico Heggins was staying on January 11, 2018, when he was arrested.
Heggins, who witnesses in the trial said they knew as "Big Shitty," "400" and "Big Unc," was attempting to leave the motel with several firearms when he was taken into custody, Martin told the jury. After securing search warrants, investigators seized a mini-Draco, High Point rifle, Smith & Wesson revolver, Derringer, and ammunition for nearly a dozen types of firearms along with Heggins' driver's license, credit cards, cash and two cell phones, Martin said.
Two witnesses told the jury that they saw a mini-Draco at the party at Rita Avenue.
The Davie County captain also told the jury that investigators found bullets and a mask in the Jeep Cherokee that belonged to Laura Moxley, an earlier witness who said she drove Heggins around and ran errands for him in exchange for drugs.
Heggins, who faces trial at a later date, was also present at the party at Rita Avenue and left with the rest of the group on the morning of the shooting after someone said, "Let's ride out," according to Butler's testimony.
The prosecution has attempted to prove through the testimony of 16 witnesses and the introduction of more than 200 exhibits that Turner acted in concert with the other co-defendants to kill Wells.
Defense attorney John Basinger has attempted to undermine some of the prosecution witnesses' credibility by pointing to discrepancies between their testimony and their statements to police investigators and by implying that their memories of the events they testified about were impaired by drug or alcohol use.
Turner is the first suspect to stand trial in connection with Wells' death.
The prosecution is expected to complete its case on Thursday morning. According to Judge Greg Horne, closing arguments will likely be held Friday morning, followed by jury deliberations.
Related
DAY 1: Murder trial begins in shooting death of Statesville man; prosecutor describes crime scene as 'war zone' | Iredell Free News
DAY 2: Shooting victim's mother testifies during second day of murder trial in Iredell County Superior Court | Iredell Free News
DAY 3: Prosecution witness details actions of co-defendant, associates in Turner murder trial | Iredell Free News
DAY 4: Prosecution witness: Defendant was part of group that opened fire on murder victim's home | Iredell Free News
DAY 5: Prosecution witness set to provide evidence of motive in Turner murder trial | Iredell Free News