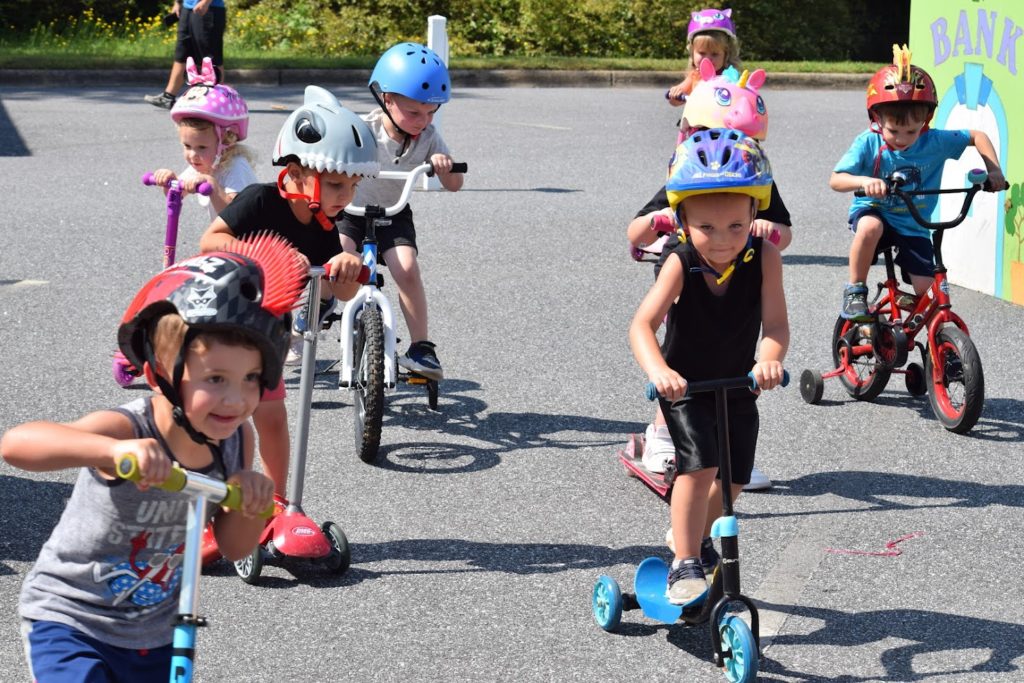 BY DEBBIE PAGE
debbiepage.iredellfreenews@gmail.com
About 30 preschoolers raced around the Town of Troutman's town simulation on Thursday morning, practicing their bike safety skills while raising money for the Rainbow Kidz program.
New Perth ARP Preschool Director LuAnne Lancaster said that as they resumed the annual event after a COVID-19 pause, the staff decided to choose a local charity that focuses on children as the recipient of the students' fundraising.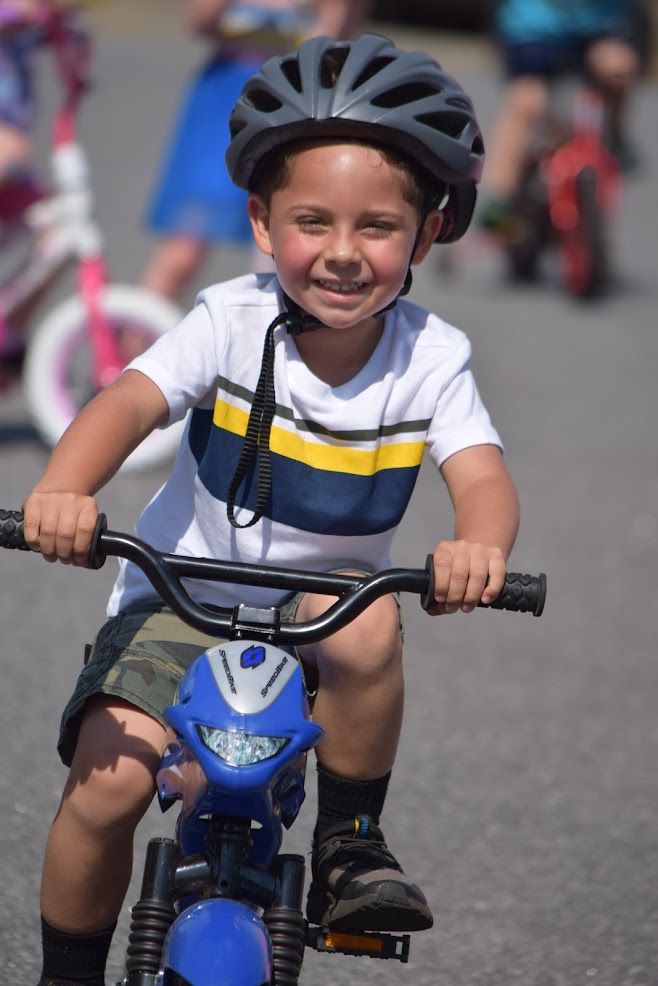 "We just decided we wanted the kids to help other kids," said Lancaster, who also thanked town staff for hauling over and setting up its large wooden city buildings, stoplights, and traffic signage for the children to enjoy.
The event's goal was to raise $1,500 for Rainbow Kids, and Lancaster said they were very close to reaching that target.
The preschool teachers taught bike, fire, and police safety tips to the children in the past few weeks to prepare for the event, which was put on with the help of a number of parent volunteers.
The children enjoyed riding the course, stopping for red lights and railroad crossings as indicated by the signs. During rest breaks, they enjoyed ice pops and water to cool off from burning off all that preschooler energy.
Troutman Police Department Student Resource Officer Wayne Elmore was on hand to hand out any "tickets" if things got too rowdy, and Associate Town Planner Andrew Ventresca, himself an avid bike enthusiastic who cycles to work most days, joined the kids on a few laps.
"I think it's neat for the kids and teaches them a little about the responsibilities of the road," said Elmore.
Ventresca talked to the kids about the importance of wearing bike helmets and having lights for riding in low-light conditions. "It's nice to see the kids having fun too," he said.
Having good bike and pedestrian access to the community is a passion for Ventresca, who is in the final stages of completing the town's new bike/pedestrian plan for presentation to the Town Council, most likely in the next few months.
Once the new plan is made reality, it will "give people more safe options to get to places without getting into a car," said Ventresca, "and helps those unable to drive to get to their destination safely."
The town's plan, which proposes additional greenways, sidewalks, and bike lanes, will help staff and council members as they look to allocate funds or apply for grants to bring the vision to fruition.
"Having a plan in place will also help the town require the developers to put these requirements in," added Ventresca.
ABOUT RAINBOW KIDZ
Rainbow Kidz grief counseling helps families and children cope with illness and grief through "extraordinary care and support at home, in schools, and throughout our community."
Rainbow Kidz offers an array of services at no cost to families or in schools by licensed clinical social workers, including weekly in-school grief support groups for children who have experienced a loss in Iredell-Statesville and Mooresville Graded Schools as well as private and charter schools throughout the county; emergency bereavement support in schools following student or staff member loss; one-on-one grief counseling for children after the death of a loved one; and more.
For more information, visit https://www.hoic.org/Rainbow-Kidz or contact Rainbow Kidz Director LeighAnn Darty at 704-873-4719.
To donate, visit Hospice & Palliative Care of Iredell County at https://apps.hoic.org/donate-now and direct the gift to "Rainbow Kidz."
Photo Gallery