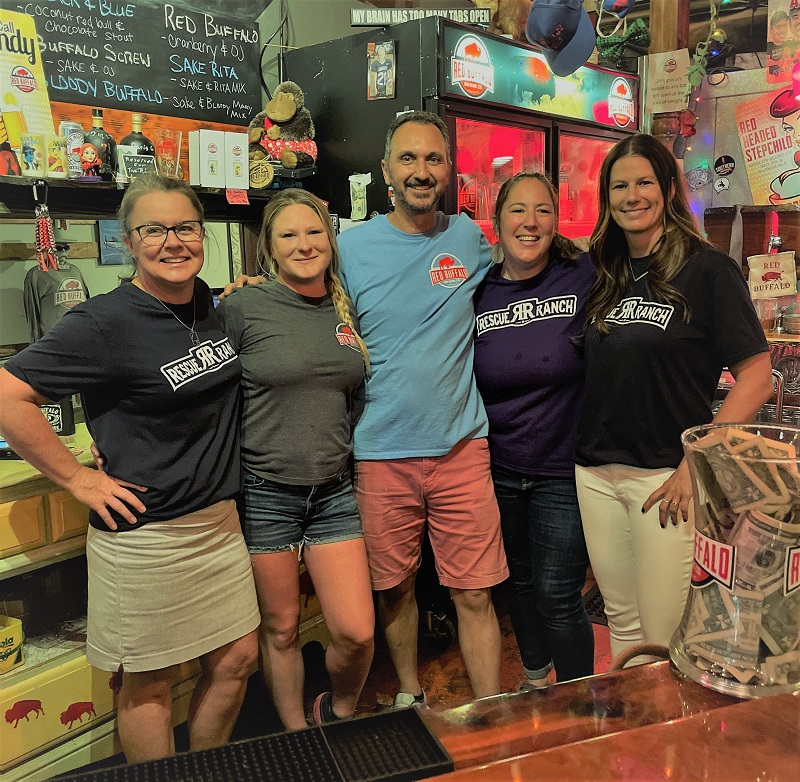 BY KARISSA MILLER
As a snake, tortoise and bearded dragon looked on, Rescue Ranch staff hosted a pour and sip fundraiser at Red Buffalo Brewing Co. on Thursday that raised more than $1,000 in just a couple hours.
The event featured an animal meet and greet and food trucks.
"We felt like it was a huge success. In addition to monetary funds, the opportunity provided by Red Buffalo helped us build connections in the community, for greater awareness and foster growth with our volunteer base," said Rescue Ranch executive director Michelle Hepler.
During the event, Rescue Ranch co-founder and president Krissie Newman and Hepler, as well as the staff at Red Buffalo, were all behind the bar serving up drinks for guests.
"What I've enjoyed about this partnership and fundraiser is it's very different and new. I bartended back in college so it's kind of fun to get back into it," Newman said. "It's been great to promote Rescue Ranch and what we do and get connected to the community."
Reptile Friends
While friends sipped drinks and socialized, Rescue Ranch animal ambassadors and animal care staff members Maddie Hess and Leslie Smith introduced Opal, a bubble gum snow corn snake, and Titan, the bearded dragon, respectively, to guests in another room.
Some petted Titan gently with one finger from the head down, while a few held him on their chest.
"We've had him for 10 years. They are native to Australia but are very common now and can make good pets," Smith said.
Meanwhile, Pineapple the Sulcata tortoise moved around slowly in a gated enclosure. The proceeds from Thirsty Thursday will help the Ranch purchase a bigger indoor enclosure for Pineapple.
Red Buffalo Brewing Co. has opened its doors to local organizations seeking to raise money for a variety of charitable causes, inviting those to "earn their tips" by serving up drinks to thirsty customers and donating a portion of the proceeds.
"We get to meet new customers sometimes people that might not have been here. We also get to learn about what they do. It's s a win win. It's nice to help out when you can," said Red Buffalo Brewing Co. owner Joe Bondi.
About Rescue Ranch
Formed in 2012 on 87 acres in Statesville, Rescue Ranch is a 501c3 non-profit animal welfare organization founded by Krissie Newman and NASCAR driver Ryan Newman. Visit rescueranch.com to get involved, learn about children's camps and other opportunities.
Photo Gallery