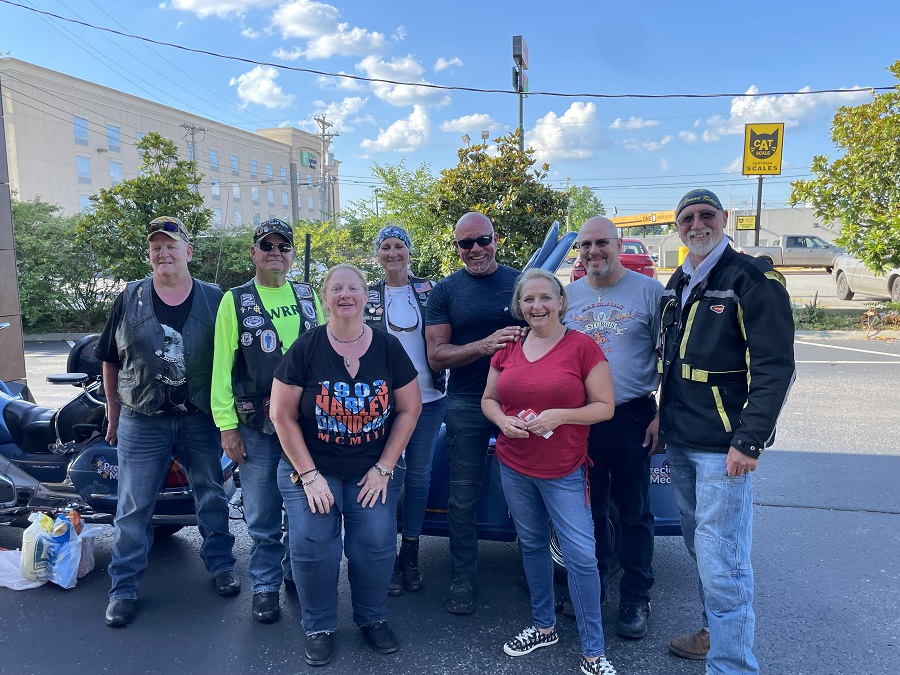 BY MIKE FUHRMAN
The first day of a cross-country mission to reunite a World War II veteran's service medals with his family included an inspirational send-off with hometown supporters, opportunities to share Coy William Goins' story with strangers, and a growing fellowship among the participants.
Eight people — including two veterans — are making the 2,500 trip from Statesville to Los Angeles over eight days by motorcycle and RV. The first leg, which began at Purple Heart Homes in Statesville and covered about 320 miles along Interstate 40, included stops in Candler, N.C., and Knoxville. The day ended with dinner at a Cracker Barrel in Cookeville, Tenn.
During refueling stops, Precious Medals founders Kim and Roger Siegrist and the other participants shared the Goins' story with folks who saw the motorcycles and the organization's logos. A West Virginia native who enlisted in the Army the day after the Japanese attack on Pearl Harbor, Goins was highly decorated for his service in World War II. He participated in the Normandy invasion and the Battle of the Bulge.
Kim Siegrist found his medals for sale while browsing in an antique store two years ago, sparking this journey to reunite them with his family.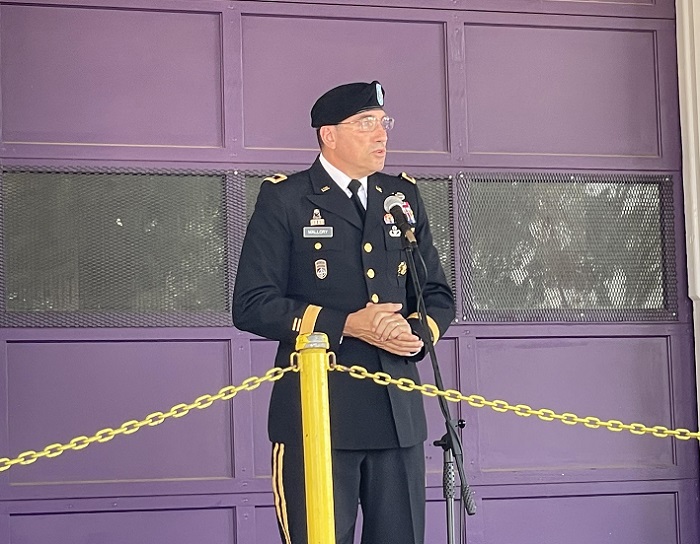 The mission has received support from veterans' organizations in Iredell County and beyond, including Purple Heart Homes, which helps combat wounded and aging veterans with housing solutions. During a Memorial send-off, retired Gen. James Mallory praised the participants for their willingness to travel 2,500 miles to reunite Goins' family with part of their legacy.
"It's more than that physical journey," Mallory said. "It's the opportunity to have a figurative journey that can extend far beyond this one, well-deserving soldier who earned two Purple Hearts, two Silver Stars, the Silver Star being the third highest award that can be given for gallantry in action with the enemy. He came back with wounds both seen and unseen."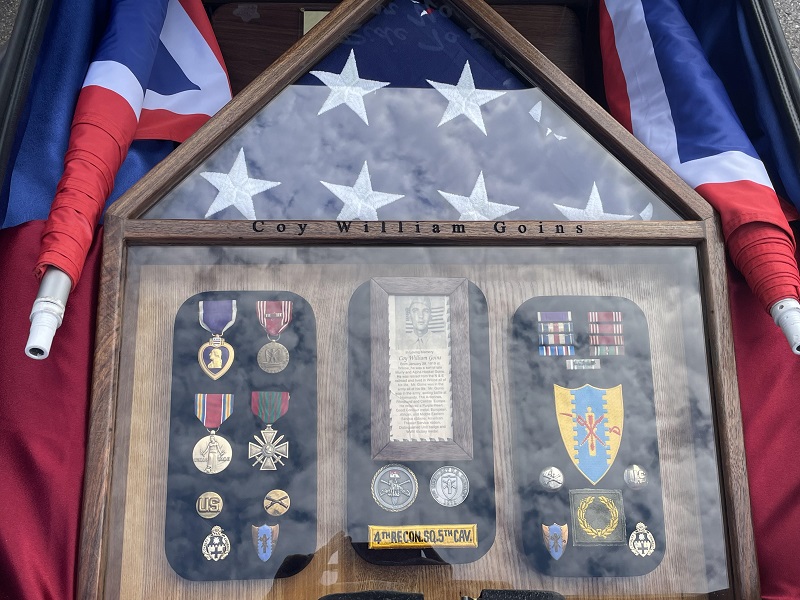 In an era where the United States is divided politically, Mallory encouraged those in attendance to learn more about the sacrifices that their ancestors made in World War I, World War II, the Korean and Vietnam Wars, the Cold War and the War on Terror. While a fraction of the crowd was made up of veterans, nearly everyone in attendance had a relative who had served in the armed forces.
"We owe a debt of gratitude to Kim and Roger … and their Precious Medals initiative as well as Purple Heart Homes for this entire endeavor as they move forward," Mallory said.
More than 15 million Americans served in the military during World War II, and 50 percent of adult men served.
"Over 400,000 paid the ultimate sacrifice in theater," Mallory told the crowd. "That doesn't really count those that returned and then later on succumbed to their wounds, both physical and emotional."
The retired general encouraged those in attendance to talk to their relatives, folks they go to church with and others in the community to learn about the sacrifices they made to protect the freedoms that many take for granted.
"Go into the attic or basement and find the old foot locker or duffel bag that's covered in mold or mildew and open them up and find out what's there because you will find a story," Mallory said. "Most of our World War II veterans, Korean War and Vietnam veterans came home proud of their service, but did not talk about it."
While only one percent of the current U.S. adult population has served in the military, that percentage is three times higher in Iredell County. And county residents who have served — and especially those who have been killed in action — should be honored for their commitment to country.
"Memorial Day is all about remembering. That presupposes that you know something to remember, that you are informed about your family's sacrifice. … We don't know our own history. We don't know our own family history and how that plugged into our nation's history. My challenge to you is to act on that."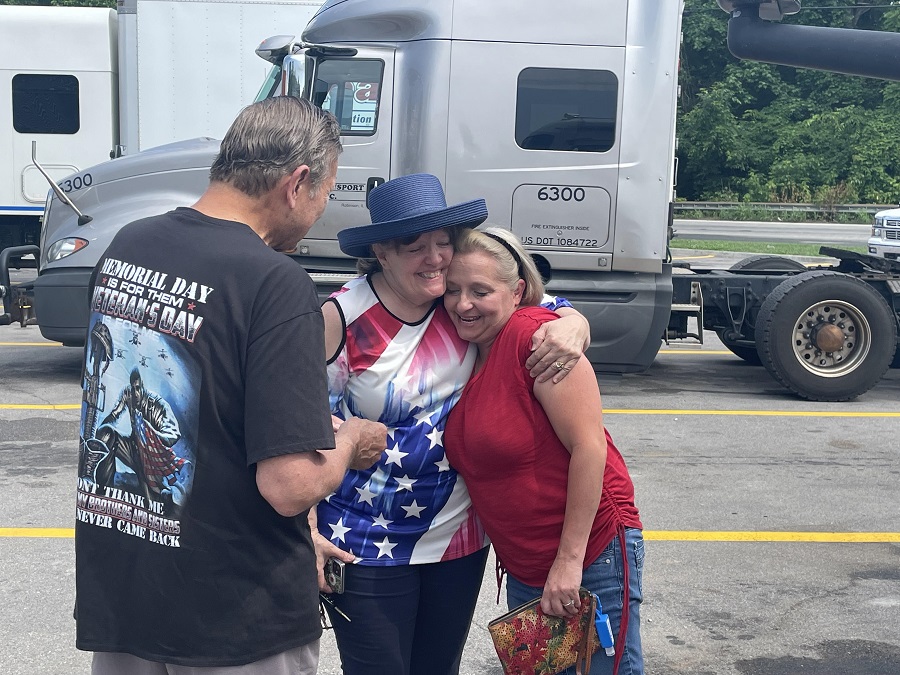 As the participants in the Precious Medals caravan began making their way across the country, they met a couple who knew about the mission and planned ahead to meet them — and they also had spontaneous conversations with veterans and others who were moved by the cause.
Manuela and John Ptacek greeted the group at the Flying J truck stop in West Knoxville, and provided drinks and snacks on behalf of her friend, U.S. Sen. Marsha Blackburn.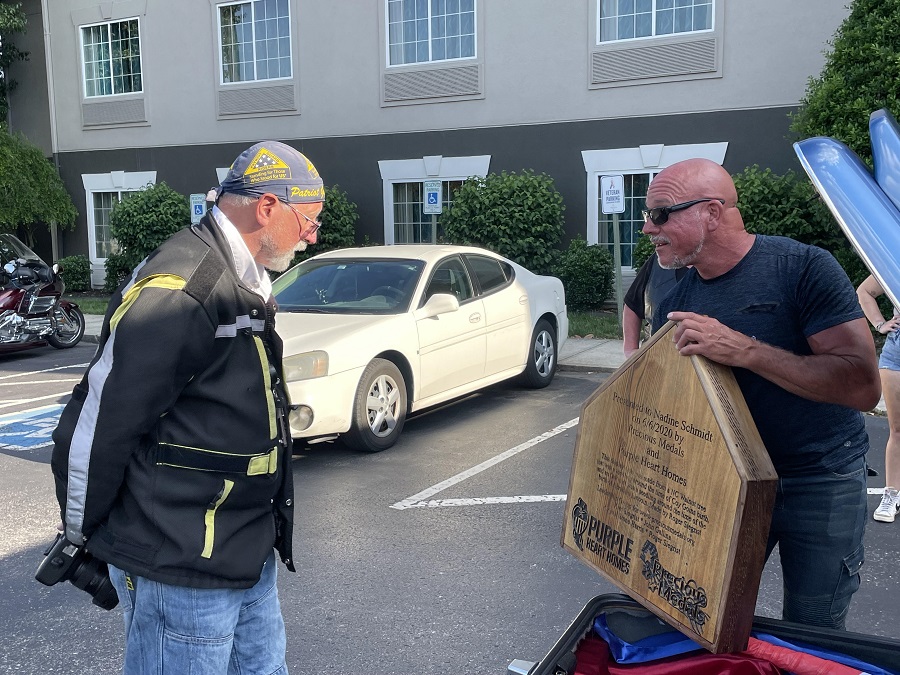 "We wanted to be a part," Manuela Ptacek said. "We have a son-in-law who has PTSD from Afghanistan. (John's) dad came back from World War II with PTSD. We have friends who have PTSD. I am just so honored to at least to have been a part for a few things."
In Cookeville, they met Air Force veteran Chris Downs and Jim "Hoofer" McCrain, a photographer who frequently who were participates in motorcycle rides to honor veterans. Both men were moved by the Precious Medals mission.
Roger Siegrist said later that the support of Purple Heart Homes and the veterans community in Statesville as well as the folks they have encountered so far have exceeded his expectations. The journey has just started but the appreciation of veterans, like Purple Heart Homes' Brad Borders, has already had a profound impact on him.
"For me, this is honor and recognition beyond a stadium filled with cheers," he told Borders.
Support this Mission
You can help fund this journey and support the work of Precious Medals and Purple Heart Homes, by making a contribution HERE.
Related Stories
♦ MAY 20: A Journey to Remember: Precious Medals, Purple Heart Homes collaborating on mission to deliver service medals to relatives of World War II veteran
♦ MAY 30: Photo Gallery: Purple Heart Homes hosts send-off for Precious Medals mission
Email Edition
Sign up for our free daily email edition HERE.