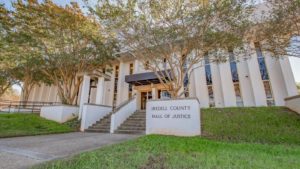 BY MIKE FUHRMAN
A co-defendant in the shooting death of Freeman Jacobi Wells testified on Monday that Kevin Turner was a member of the group of men who opened fire on the Statesville home where Wells was fatally wounded on January 6, 2018.
Testifying during the fourth day of Turner's murder trial in Iredell County Superior Court, Antwon Taylor told the jury that he thought the group — which included Turner and was traveling in three vehicles — was headed to a liquor house in South Statesville in the early morning hours.
After the two SUVs in front of him pulled in front of Wells' house on Hickory Avenue, Taylor said he got out of his Chevy Malibu, grabbed his 9 mm handgun and then stumbled and fell down.
Taylor, who is charged with first-degree murder in the case but free on bond, testified that he then heard gunfire — either from his weapon or someone else's. He got up and started firing too.
"It was go mode," he told the jury. "There was a shot fired."
"Who else was firing?" Assistant District Attorney Mikko Red Arrow asked Taylor.
"Everybody," he replied.
"Mr. Turner?" the prosecutor said.
"Yes," Taylor answered.
The witness said the shooting lasted only three or four seconds. Statesville police investigators recovered dozens of shell casings from outside the home and numerous projectiles from inside the home.
Wells, 30, was hit by two bullets. One round grazed his upper right arm and a second struck him near the temple and caused a devastating brain injury that led to his death later that day at a Winston-Salem hospital, according to the forensic pathologist who conducted the autopsy.
Turner, 29, is charged with first-degree murder. He faces life in prison if he is convicted.
The prosecution has called a total of 13 witnesses in the trial and introduced more than 170 exhibits, including crime scene diagrams, shell casings and projectiles recovered at the scene, witness statements and the autopsy report.
Taylor was the second witness for the prosecution on Monday. Before he took the stand, Laura Moxley completed her testimony. Under questioning by Red Arrow, she repeated her earlier account of what happened one evening around the time of the shooting. She did not remember the exact date.
Moxley told the jury that she drove another co-defendant, Enrico Heggins, to a Statesville home, where she saw a pistol, an AK-style long gun and a mini-Draco weapon. Although she admits she was high on heroin, she told the jury that she remembers Heggins — whom she ran errands for and knew as "Big Shitty" and "400" — and a group of men leaving for a while before returning.
Defense attorney John Basinger attempted to undermine Moxley's credibility by inferring that her habitual drug use might have hindered her memory. Moxley said she may not remember some minor details and names, but she recalled the events to which she testified.
But Taylor's testimony — and Turner's attorney's efforts to introduce as evidence a recording of a jailhouse phone call that Turner made to his attorney — were the highlights of the day.
As Taylor was being sworn in, he looked across the courtroom and stared down the defendant. Before taking a seat on the witness stand, he took a step toward Turner and said, "What's up, pussy?"
Judge Greg Horne immediately asked the jury of 10 women and two men — and two alternates — to leave the courtroom for a few minutes. The judge then told Turner that was not appropriate decorum in the courtroom.
Taylor continued to stare down Turner even as he answered the judge's questions. Once the jury returned, his testimony began.
On the night of the shooting, Taylor said he got off work at International Paper at 11 p.m., bought some moonshine from a friend and then went to a birthday party with another friend. They hung out until about 3 a.m., he testified, and then he dropped the friend off and drove to the bottom of Rita Avenue.
That's where he saw Turner, who was sitting outside with a group of men and women. "They were just chillin'," he testified.
When someone said they were headed to South Statesville to go "liquor house hoppin'," Taylor got in his car with two other men and followed the two SUVs occupied by several other men, including Turner.
After a night of drinking, Taylor said he was intoxicated, and his vehicle swerved as he drove along Garner Bagnal and made a few turns before arriving at the Hickory Avenue house where the shooting occurred.
The defense attorney pressed him about his alcohol intake, suggesting Taylor's memory was impaired and he did not see Turner with a gun. But Taylor was adamant that Turner had participated in the shooting.
"I remember clearly, cuz," he told Basinger.
"Did you see him fire a gun?" the defense attorney asked.
"Everybody was shooting," Taylor said.
After leaving the scene of the shooting, Taylor got into a scuffle with another member of the group, he told the jury. Later, he testified, he and Turner drove to his house, where he retrieved his firearm and wiped it down before giving it to one of the other men.
During questioning by both attorneys, Taylor admitted he had lied to State Bureau of Investigation agents and Statesville police investigators about his involvement in the shooting in the months prior to his arrest.
"I didn't tell them nothin'," he said.
Taylor was charged with first-degree murder by Statesville police on May 17, 2018, a day after he told SPD officers that he was home with his fiancée when the shooting occurred.
By then investigators had obtained surveillance video of Taylor, his Malibu and the two SUVs — a Jeep and a Chevy Trailblazer — around 2:15 a.m. on the morning of the shooting and recovered Taylor's firearm.
Also on Monday, Basinger's attempt to introduce a recorded phone call between Taylor and his attorney as evidence was denied by Judge Horne.
Contending that the recording would show that Taylor was not a credible witness, the defense attorney argued that Taylor had no reasonable expectation of privacy when he made a call to Statesville attorney Ashley Cannon from the Rowan County jail. An announcement at the beginning of the call notifies inmates that their calls are recorded, and Basinger said federal case law supported his argument that the recording was admissible evidence.
The prosecutor argued that Taylor was entitled to have a confidential conversation with his attorney and that, like all criminal defendants, he had the right to invoke the attorney-client privilege. Cannon also filed a motion objecting to the recording being played for the jury.
The judge sided with the prosecution and Taylor's attorney, but also said the defense attorney could introduce recorded calls between Taylor and his family members as evidence.
The trial is scheduled to resume at 9:30 a.m. Tuesday.
Related
DAY 1: Murder trial begins in shooting death of Statesville man; prosecutor describes crime scene as 'war zone' | Iredell Free News
DAY 2: Shooting victim's mother testifies during second day of murder trial in Iredell County Superior Court | Iredell Free News
DAY 3: Prosecution witness details actions of co-defendant, associates in Turner murder trial | Iredell Free News