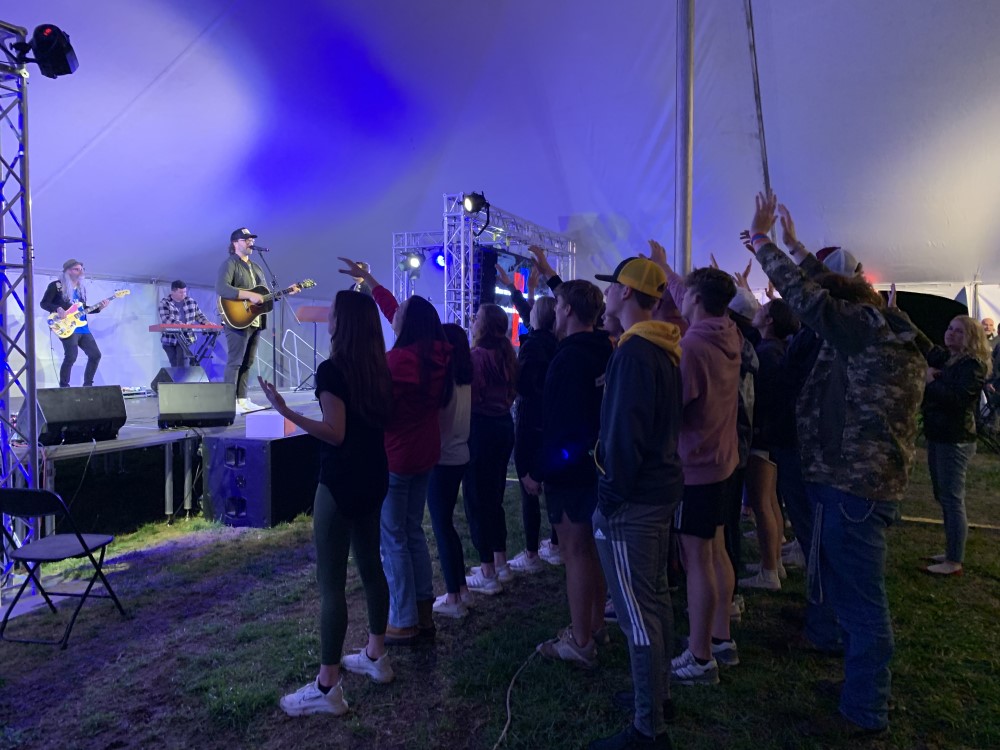 BY BRANDY TEMPLETON
For five days, the Iredell County Fairgrounds was packed with people hoping for a positive change.
"Return 2022" was held in a white tent filled with those eager to know Christ and to be a light to others in dark times. People of all backgrounds stood united in the belief that Christ could guide them.
The event was organized by different organizations and churches uniting for a common cause — to bring salvation to lost and hurting people.
Beulah Baptist Church Senior Pastor Brian Burgess was one of the pastors who actively participated. Also instrumental in organizing the event were Ben Shelton and Mark Cash. The pair was encouraged by the turnouts and testimonies.
"The theme has been putting Christ's blood in the work," Shelton said. "Each night has just flowed together with the speakers building on the same message."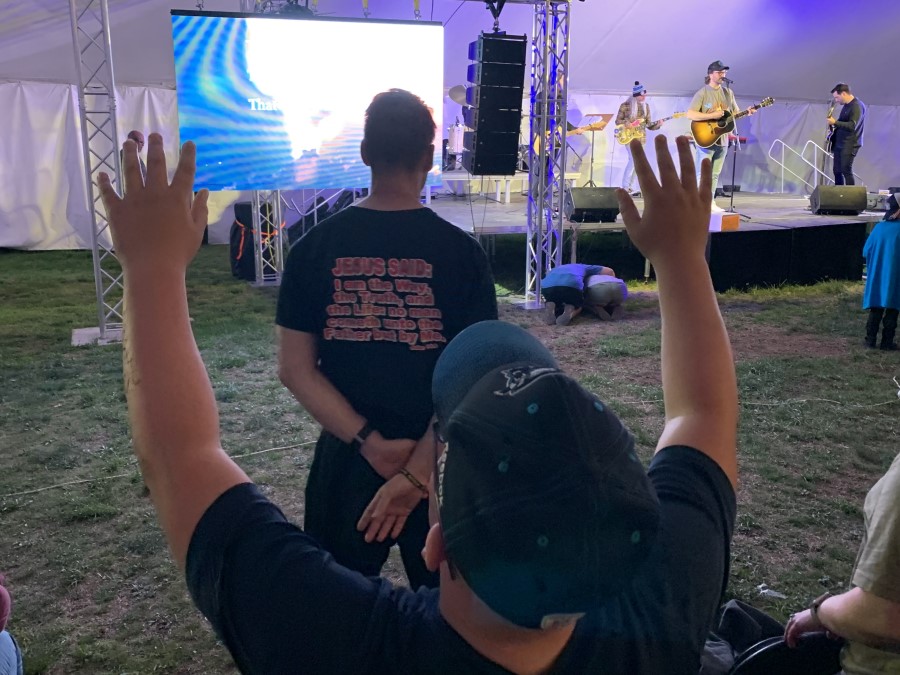 The atmosphere was uplifting with a feeling of unity driven by promoting God's salvation.
Christian music by Andy Cherry filled the air, and preachers shared the gospel for all people wanting positive change in their lives.
Saturday's kickoff featured the 2019 Christian movie "Breakthrough." John Smith, whose miracle story was told in the movie, was among those present for the viewing.
Sunday through Wednesday speakers included evangelist Clayton King, North Carolina Lieutenant Governor Mark Robinson, and evangelist Frank Shelton.
Each night unbelievers were brought to salvation, with over 50 people giving their lives to Christ.
Many of those came on Tuesday to welcome one of North Carolina's own. Rain didn't dampen the enthusiasm for Robinson, who was greeted by cheers and a standing ovation.
He shared the challenge he overcame like growing up with an alcoholic father, rollercoaster teenage years, and financial woes in his marriage.
Robinson also spoke about soaring gas prices, the war in Ukraine, as well as rampant pornography, racism, and the indoctrination of innocent school children.
He said the United States doesn't have good leadership, and the political parties aren't always the right ones to lead.
"The problem in this country is we've turned spiritual issues into political issues," Robinson said. "Instead of turning to shiny, rich business people, we need to look in the mirror and ask God how He wants us to solve our problems. We need to contrast the way we pick people with the way God picks people."
He said that God uses unlikely people, including those with questionable pasts. Everyone has "skeletons" in their closet, and no one is better than anyone else, he told the audience.
"God has frowned on their sins as He has yours," Robinson said. "It doesn't mean God can't use you."
He condemned church corruption, saying that many churches are guilty of taking tax exemptions in exchange for altering God's message.
"We need to either believe in God or not," Robinson shared. "We don't need to worry about offending anyone by preaching the true gospel."
He said he wasn't ashamed to stand for Christ and to speak the truth at the expense of offending others.
"I don't care about mass media," Robinson said. "I don't care what it costs me to tell His truth."
He encouraged other believers not to be intimidated by the world, but to continue to bring people to Christ.
"Get serious, stop playing around, stop dilly-dallying, stop being afraid," Robinson said. "Whatever may happen to us … give God the glory. Do not be afraid. Do not worry, the story is already written. We can change this nation, change our world, change our communities."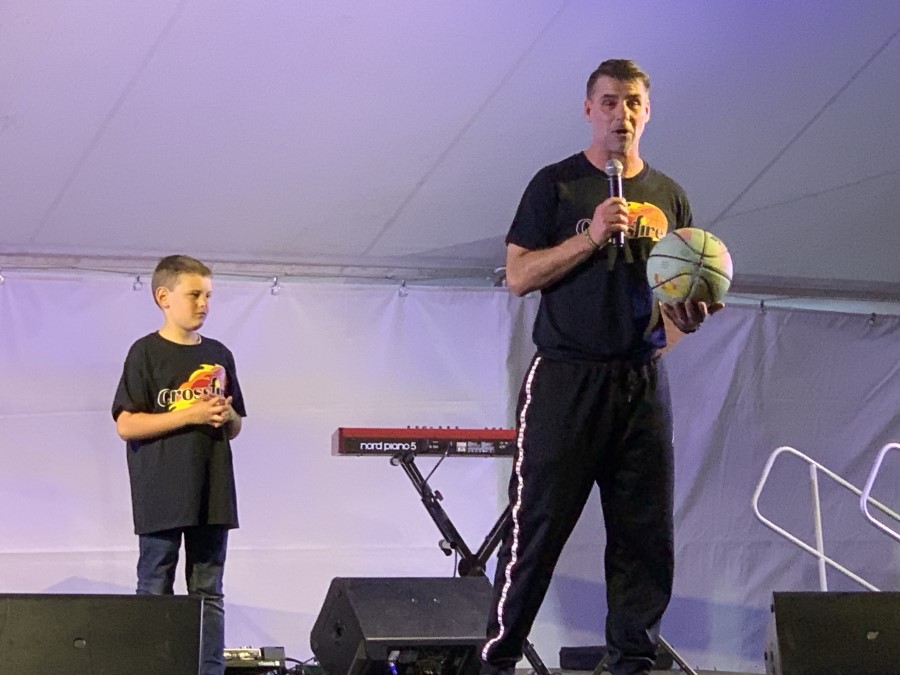 Wednesday evening, Randy Shepherd, with Crossfire Ministries, shared his testimony and some basketball skills. He gave his life to Christ at age nine and has counted his blessings ever since.
At 16, he attended UNC's basketball camp and met Michael Jordan. "Our team won the game at end of the week," he recalled, smiling.
From that inspiration, Shepherd continued to serve Christ by traveling to spread the word.
"Jesus can clean up your heart and give you peace and a purpose for living," Shepherd said.
Author and evangelist Frank Shelton closed the evening with a motivational sermon. He has preached the gospel all over the world and led Bible studies for international politicians. Shelton has also protected multiple U.S. presidents, following the footsteps of his father and other family members in law enforcement.
He served on the Reverend Billy Graham's staff for five years. In 2020 alone, Shelton was booked to speak in 12 countries in just 10 months.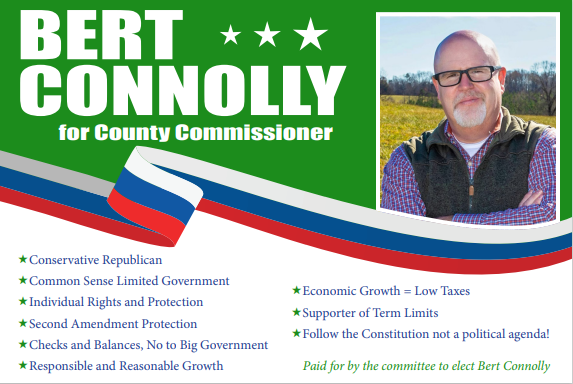 Like Robinson, he agreed there is a lack of leadership in the United States.
"The answer is not in the White House, the answer is in the church house," Shelton said.
Change will happen by going the extra mile and accepting personal responsibility. He traveled across the country to help save souls in Iredell County and was disappointed that more local preachers didn't attend the event.
"I traveled 5,000 miles across the country to be here, but some pastors couldn't drive across the county," Shelton said.
He said time is running out to turn to Christ and that every minister should see saving people as an urgency.
"Ministry without urgency is catastrophe," Shelton said.
He continued by talking about making good choices, turning from sin, reaching lost souls, and the importance of forgiveness.
"There's a reason our rearview mirror is smaller than our windshield," Shelton said. "Where you're going with God is more important than your past with the devil."
Photo Gallery