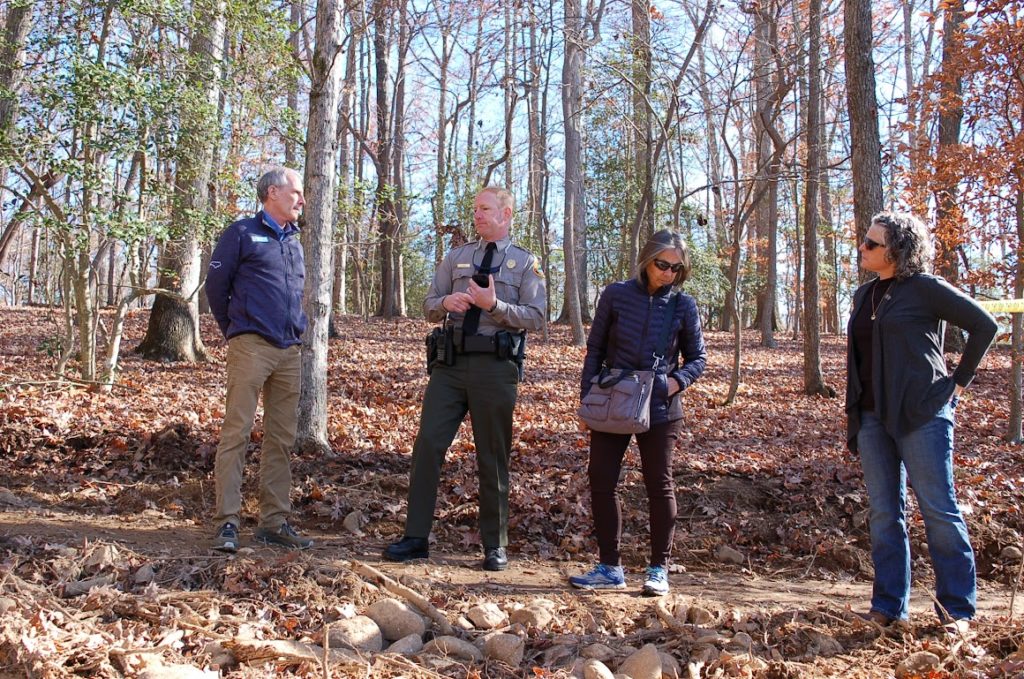 BY DEBBIE PAGE
N.C. Department of Natural and Cultural Resources Secretary Reid Wilson recently visited Lake Norman State Park to tour the park's new rental cabins and bathhouse, get updates on Lakeshore Trail realignment and construction, and learn more about the challenges facing Park Superintendent Scott Avis.
Avis took Wilson, along with Friends of Lake Norman State Park board members Vicki Taylor and Stacy McGlamery, to tour the six new camper cabins, which sleep six and have heating and cooling units and electrical outlets.
A picnic table, fire ring, and a lantern hook are provided at each cabin for cooking needs. Water access and showers are available in the nearby bathhouse.
After the facilities tour, Wilson had a chance to inspect the Lakeshore Trail work and heard about erosion issues that the park staff is tackling. Avis also shared the difficulty of filling open staff positions because of the months-long hiring process. Operating the 1,942-acre park and water access areas, which had 857,481 visitors in 2021, without a full staff is also a challenge.
Wilson said the pandemic restrictions made people appreciate the beautiful natural resources of the state's parks. The record visitation of the past two years shows that people need spaces to enjoy and learn the outdoors, added Wilson. The state's 41 parks had a record 22.8 million visitors in 2021.
The state government has responded with increased investment. The 2021-2022 budget added $91 million in spending for state and local parks, trails, and beach accesses, plus an additional $30 million to complete state trail projects.
The N.C. Parks and Recreation Division will also get 30 new permanent field positions, $10 million to create park facilities for veterans and those with disabilities, and $40 million in water and sewer upgrades.
Wilson set five major priorities for his department, including expanding educational program opportunities for school-age children, protecting public health, boosting local economic development, strengthening the department's commitment to diversity, inclusion, equity, and accessibility, and addressing climate change and community resiliency.
2023 YEAR OF THE TRAIL
Wilson also enjoyed an impromptu hike on the Alder Trail with Avis before heading off to the launch of the 2023 N.C. Year of the Trail event at the Charles Mack Citizen Center in Mooresville, which concluded a day-long 15th Carolina Thread Trail Forum.
House Bill 545 designated 2023 as the Year of the Trail in North Carolina, signifying an effort to increase the existing $28 billion economic impact and 260,000 jobs provided through N.C. recreation opportunities.
The extensive trail system across the state has not always gotten the attention it deserves since trails make North Carolinians healthier, provide more accessibility, and create a more enjoyable place to live. Walking or biking across town on a greenway is healthier and a more environmentally friendly travel resource.
Volunteers often do much of the trail regular maintenance, clean-up after storms, or work to create more trail stability with added materials.
Wilson told the group that the state's historic sites, cultural resources, and natural areas help bring people together and create a sense of community.
"The more common ground we have in the world these days, the better, and everybody is welcome," he said.
Wilson thanked the legislative representatives for the substantial increase in funding for recreational opportunities across the state.
He said trails are important to provide citizens with physical, mental, and spiritual benefits and inspiring a love for nature as well as creating awareness of environmental, water quality, wildlife habitat, climate change, quality of life issues that also affect the state's economic development.
Wilson also hopes the Year of the Trail initiative will create awareness of "trail deserts" in the state and spur efforts to increase trail access and capacity, with the hope of one day providing trail access to everyone within ten minutes of their homes.
In conclusion, Wilson stated his belief that the emphasis on trails will create decades of benefits for North Carolinians.
Palmer McIntyre, Conservation Planner for the Piedmont Land Conservancy, said that North Carolina is the first state to have a Year of The Trail, so creating this effort was a ground up "fun, collaborative, creative" process.
"The goals of the campaign are really simple. It's about inspiring people of all ages, abilities, and backgrounds to try trails, to explore North Carolina's beautiful landscape through trails in our great communities," McIntyre said.
One of the goals for Year of the Trail is to have at least one trail event in each of North Carolina's 100 counties to be integrated into existing community events or special events.
Ideas for Year of the Trail events include a guided trail outing (walk, hike, ride or paddle), a ribbon cutting on a new trail, a fundraising event to raise money to build, repair, maintain, and expand local trails, trail volunteer recognitions, educational events, and trails advocacy and community building efforts.
To kick off the year, New Year's Day trail activities are encouraged as N.C. First Day Outdoors events.
Year of the Trail bill sponsor, N.C. Rep. Hugh Blackwell of Burke County, believes getting people out on North Carolina trails creates conservationists of the state's wonderful natural resources. They also provide recreation and healthy living opportunities as well as act as a draw for tourism and an economic driver in many of the state's communities.
Rep. Dean Arp, also a bill sponsor, said the Complete the Trails Funds are particularly important for rural areas of the state.
The COVID-19 pandemic changed the world, noted Arp, and supercharged the need to invest in conservation and recreation resources to increase citizens' quality of life. The pandemic also inspired the use of natural resources to the state's advantage to bring in new business and economic development in a time of workforce challenges.
"I believe this is a turning point in the history of our state," he said.
Mecklenburg County Commissioner Elaine Powell talked about the immeasurable return on investment of a community's trails, especially for children. They create lasting impressions on young minds and foster a love of nature.
For adults, they provide places to be soothed and healed in this frantically paced world, "a therapeutic feeling that cannot be measured."
The event concluded with a grape juice toast to the Year of the Trail and specially decorated themed cookies.
The year-long effort is part of a strategy to make North Carolina the "Great Trail State" (https://greattrailsnc.com/).
The Year of the Trail campaign seeks to connect "communities with the message of how and where to experience trails that showcase North Carolina's beautiful landscapes, provide healthy recreation, and stimulate local economies," according to the website.
The Great Trails State Coalition (https://greattrailsstatecoalition.org/), a group of diverse organizations, agencies, and supporters, has spearheaded the effort to advocate for increased state investment in hiking, paddle, mountain biking, equestrian, and paved trails across the state.
Photos