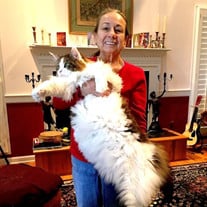 Phyllis Ellen Daniel Thompson, beloved wife of H. Stan Thompson Jr. who survives her, died of Alzheimer's disease on December 7, 2022, at Northlake House Memory Care in Charlotte, N.C., not far from their Lake Norman home in Mooresville. She was 74 years old.
Phyllis and Stan were married in 1980. Phyllis was a math graduate of the University of Georgia, where she specialized in computer science, her life-long career.
Stan remembers that the most remarkable thing about Phyllis was her fearlessness. Though just 4- feet, 10-inches tall, she was a certified scuba diver and loved coral reefs. Around the time she retired, she went on a night dive among giant manta rays in Hawaii.
She and Stan loved international travel, and Phyllis was no less fearless abroad. While on a 1992 Russian tour, she explored Moscow alone by taxi. While Stan led a 2010 International Hydrail Conference in Istanbul, Phyllis took an overnight solo trip to ancient Cappadocia, not knowing a word of Turkish. She was a member of the Archeological Institute of America and just missed a tour of the ancient Mediterranean when the Covid-19 pandemic broke out.
Phyllis was a sci-fi and especially a Star Wars fan. Her fearlessness sometimes left more cautious Stan feeling he was playing "CP3O" to her irrepressible "R2D2."
While Phyllis loved her Mooresville lake home, and Oz, their Maine Coon cat, something in her toes always longed for Georgia clay. She leaves a cloud of cousins and dear friends in North Georgia and her ashes will — as she wished — be buried in the family plot in Clarkesville, where her brother James Daniel (also a "Bell System alumnus") lived in retirement.
Phyllis lived in two worlds, and she will have a service in each. In North Carolina, her life will be celebrated at 11 a.m. on Tuesday, December 13, at New Beginning Moravian Church in Huntersville, N.C. Then at 1 p.m. on Saturday, December 17, a second service will be held at Clarkesville Baptist Church, where her parents and brother — and often Phyllis — attended.
Arrangements are being handled by Cavin-Cook Funeral Home and Crematory in Mooresville, N.C. Condolences may be made to the family at www.cavin-cook.com.