FROM STAFF REPORTS
A 54-year-old man faces felony indecent liberties charges following an in investigation by the Iredell County Sheriff's Office.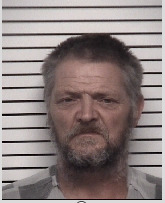 Sheriff Darren Campbell announced the arrest of James Murry Smoot, who was staying at the Fifth Street Ministries Shelter at the time of his arrest, in a news release Tuesday.
The ICSO received a report on August 6 that Smoot had inappropriately exposed himself to two young children at a location in northern Iredell County on that date, according to the news release.
The investigation was assigned to Special Victims Unit Detective J. Welborn, who interviewed Smoot.
The two minor females were interviewed at a Children's Advocacy Center. Based on information gathered during the investigation, warrants were issued for Smoot's arrest.
On September 6, Warrant Squad Deputy D. Stutts placed Smoot under arrest. Smoot was charged with Indecent Liberties with a Child and taken before Magistrate Chambers at the Iredell County Detention Center, where he was issued a $75,000 secured bond.