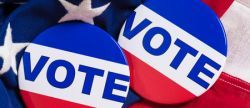 FROM STAFF REPORTS
A day after his fitness to serve in public office was questioned in the Iredell Free News, Statesville mayoral candidate Brian Summers told his Facebook friends that he would not be deterred.
"Is that it…….I'm Not Fearing any man. I'm Not going anywhere," he posted on Saturday morning.
Citing determinations by the former chairman of the Iredell County Republican Party Executive Committee and the Statesville Branch NAACP president that Summers had suppressed Black voters in the 2020 primary while working on behalf of a judicial candidate as well as allegations that Summers had falsely claimed to have the endorsement of the NAACP in the mayor's race, the editor of Iredell Free News argued in the opinion piece that voters should not give Summers' candidacy serious consideration.
Summers, a Republican, was also sentenced to 90 days in jail 1999 for violating his probation on a misdemeanor conviction. He was initially charged with a felony, obtaining property by false pretense after he fraudulently obtained $955.97 worth of merchandise from a Statesville clothing store.
Summers declined to answer questions from the editor about his questionable conduct on Thursday and did not respond to a request for an interview on Friday.
In his Facebook posting, Summers did not address any of the allegations.
"Vengeance is mine; thus says the Lord," he wrote. "You are a threat when they attack you!!"
He ended the message with "#StatesvilleForward"
Summers is one of seven candidates in the May 17 election for Statesville mayor. Early voting begins April 28.
RELATED: Viewpoint: Voters should weigh Summers' questionable conduct before casting ballot in Statesville mayoral race | Iredell Free News
Statesville Mayoral Candidate's Facebook Posting