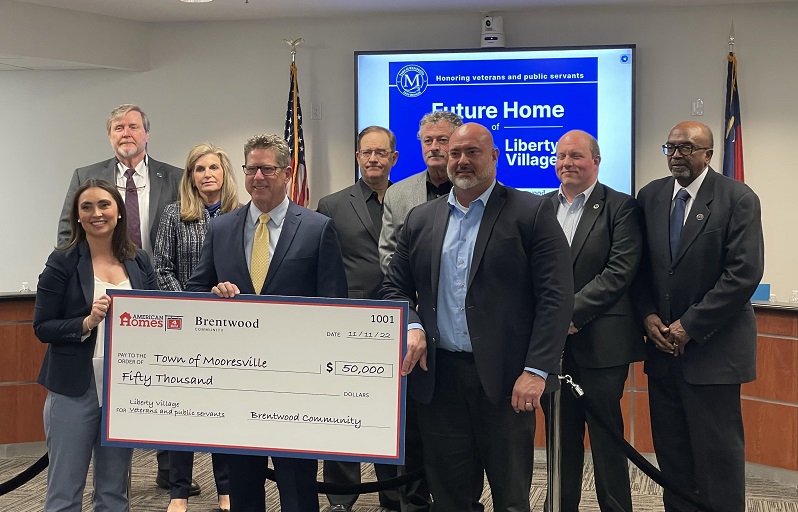 BY MIKE FUHRMAN
Mooresville town officials announced a plan Monday to develop a small affordable housing development for veterans and first responders.
Mayor Miles Atkins said the town had purchased 3.25 acres near Liberty Park and the War Memorial for the project.
"Liberty Village will be the place where our residents care for each other, especially our veterans and our heroes," Atkins said. "Today is the beginning of a journey to realize the vision of Liberty Village."
Residents of Liberty Village will have access to services to help them reintegrate into the community, town officials said
American Homes 4 Rent, which owns 3,500 homes in the Charlotte region, has signed on as the first corporate partner for the project.
The company has donated $50,000 to assist with the development of Liberty Village.
"We are humbled and grateful to be one of the first partners in Liberty Village," Cisco Garcia, senior vice president for development for American Homes for Rent, told commissioners during Monday's board meeting.
The company is working to raise a matching donation from its vendors, according to Vice President for the Carolinas Brandi Donaldson.
Commissioners are excited about the project.
"This is an outstanding opportunity for us to serve our veterans," Commissioner Gary West said.
Commissioner Bobby Compton said he was pleased with how quickly the project came to fruition after the property owner approached Commissioner Thurman Houston about selling the 3.25 acres to the town.
"It's mind-boggling, staggering what it's come to in a short time," Compton said. "It's very heart-warming."