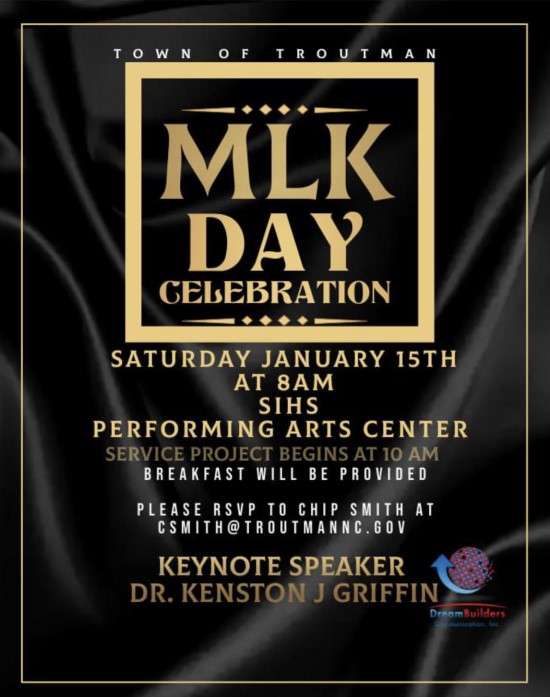 BY DEBBIE PAGE
debbiepage.iredellfreenews@gmail.com
The Town of Troutman is honoring Martin Luther King Jr.'s birthday with a free breakfast, speaker, and service project as part of its "Make it a Day ON, Not a Day OFF" celebration at the South Iredell High School's Performing Arts Center on Saturday.
Those interested in attending should contact Troutman Parks and Recreation Director Chip Smith at csmith@troutmannc.gov to RSVP by Friday.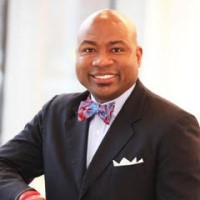 The 8 a.m program will feature keynote address by Kenston J. Griffin, a bestselling author and top-performing trainer and coach.
His award-winning presentations to corporate, education, government, and nonprofit organizations are described as "inspiring as well as transformational."
The Statesville native believes coaching "is the art and science of leveraging an individual's strengths and helping them to discover what is holding them back from their true potential."
Griffin helps companies and organizations gain insight into their team's potential by discovering what is holding them back and helps them pursue the addressed areas and assists them in reaching their goals. He is the founder and CEO of Dream Builders Communication Inc., which provides training and development in leadership, organization effectiveness, academic enhancement/retention, board development, and executive coaching.
"If better is possible, good is no longer an option," explains Griffin, who believes "you must surround yourself with success to achieve success."
Griffin earned his bachelor's degree from Livingstone College and master's degree in social work and psychology from the University of South Carolina. He has also received an honorary Doctor of Liberal Arts Degree from Wilberforce University.
Following breakfast and Griffin's speech, participants can head out to work on a community service project to answer Rev. King's call to lead a life and legacy of service.
The group will gather in the Exit 42 area to do some cleanup and enhancements.