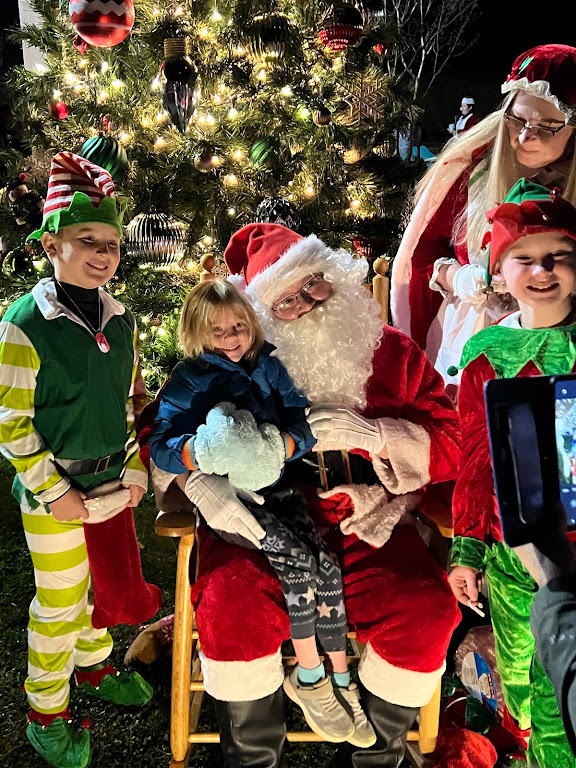 BY DEBBIE PAGE
Hundreds of holiday revelers gathered at Troutman's ESC Park on Thursday night to officially begin the Christmas season with special musical performances, sweet treats and special visitors from the North Pole.
Iredell Charter School students kicked off the event with special Christmas music, complete with dance moves, followed by the enthusiastic Troutman Elementary chorus. The South Iredell High School Viking Voices wowed with their harmonic renditions of classic carols.
Prior to lighting the trees at the park and at Town Hall, Town Manager Ron Wyatt thanked all of the volunteers and town staff for making the event possible. He also recognized the Ruritan Club for serving free hot chocolate and cookies to attendees.
Mayor Pro Tem Paul Henkel and council members George Harris, Eddie Nau, and Jerry Oxsher also shared holiday greetings.
After the countdown, the huge tree, located on the corner of the Town Hall property, and the tree next to the amphitheater in the park were lit up to the cheers of the crowd.
Suddenly, blue lights and sirens drew the crowd's attention as a police car delivered Santa, Mrs. Claus, and elf assistants to visit with girls and boys of all ages. Children piled onto Santa's lap to whisper their secret wishes into the jolly old elf's ear and receive their candy canes.
UPCOMING HOLIDAY EVENTS
Parade
Other holiday festivities this weekend include the Troutman Christmas Parade on Saturday at 11 a.m., featuring over 100 entries The route heads down Old Murdock Road from CATS and then turns right onto Eastway Drive down to Troutman Baptist Church.
Parade participants and spectators are asked to bring unwrapped new toys to donate to the Toys for Tots program. Santa's elves will have a trailer in the parade to collect donations.
Public parking for spectators is available at Troutman Town Hall, Troutman ESC Park, the Downtown Depot lot, and the Wagner Street lot.
SIHS Holiday Bazaar
The South Iredell High School Holiday bazaar will also be operating in the new gym from 9 a.m. to 3 p.m. This event is a great opportunity to shop for unique gifts such as crafts, home and holiday decor, jewelry, apparel, and delicious treats while benefitting the SIHS Arts Department.
The school is located at 299 Old Mountain Road.
Jingle Run
Coming up on Sunday at 3 p.m. is the Town of Troutman Jingle Run 5K, a festive and family-friendly event. The run begins at Troutman Town Hall (400 N. Eastway Drive) and winds through Troutman. The race is stroller friendly but please use caution.
This is an officially timed race by McLelland Racing Team.
Please consider donating a new toy or personal care item for My Sister's house to support their holiday season. Bring this item on race day to be collected on-site.
The My Sister's House Christmas wish list includes pajamas (all sizes for women and children), women's slippers, robes, scarves, mittens, toboggans, blankets, throws, new unwrapped toys for all ages, paper products (toilet paper, paper towels, facial tissues), cleaning supplies, OTC cold & flu medication, shampoo & conditioner sets, bottled water, juice boxes, soda, dark-colored towels, washcloths, and dish towels.
Online registration has ended, so runners must register in person (prior to race day) at Troutman Town Hall at 400 N. Eastway Drive or prior to the race starting at 2 p.m.
T-shirt and bib pickup is Friday, December 2, from 4 to 7 p.m. at Troutman Town Hall or prior to the race on Sunday starting at 2 p.m.
Contact ewatson@troutmannc.gov with questions.
Photo Gallery