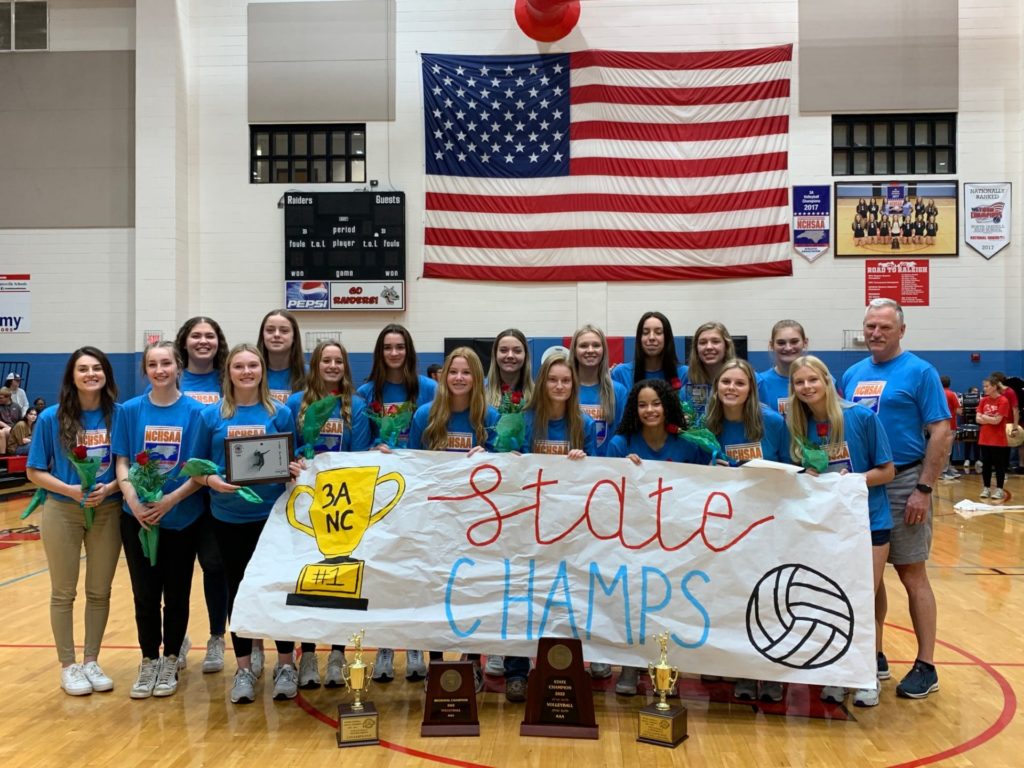 BY BRANDY TEMPLETON
The North Iredell High School woman's volleyball team capped a perfect season on Saturday by winning the NCHSAA Class 3A state championship.
After breezing through their first five matches without dropping a set, the Lady Raiders defeated J.H. Rose, the No. 1 seed in the East Region, in the championship match.
On Monday morning, the Lady Raiders celebrated the school's third state volleyball championship with the rest of the student body in the school gymnasium. North Iredell also won the Class 3A state title in 2008 and 2017.
Iredell-Statesville Schools Superintendent Jeff James and School Board member Martin Page were on hand for Monday's celebration.
"It shows what hard work can do," James said. "They came together with the support of their families and the community."
The Champs
Ailena Mykins (Senior), Mila Stewart (Freshman); Megyn Gaither (Sophomore), Kayden Madden (Sophomore), Eliza Jenkins (Junior), Hadyn Crawford (Junior), Madeline Sigmon (Senior), Emma Norris (Senior), Tilley Collins (Senior), Dilynn Norris (Freshman), Skylar Bolin (Senior), Emily Campbell (Senior), George-Anne Johnson (Sophomore), Kaydan Flowers (Sophomore) and Barrett Williams (Freshman)
Run to the Title
After finishing the regular season 27-0, claiming the Western Foothills Conference Championship and earning the top seed in the West Region, the Lady Raiders steamrolled the competition before rallying to win the state championship.
First Round
North Iredell def. West Charlotte, 25-2, 25-4, 25-3
Second Round
North Iredell def. Franklin, 25-6, 25-9, 25-21
Third Round
North Iredell def. Lake Norman Charter, 25-12, 25-9, 25-12
Regional Semifinals
North Iredell def. North Henderson 25-14, 27-25, 25-13
Regional Finals
North Iredell def. Foard, 25-23, 25-10, 25-21
State Championship
North Iredell def. J.H. Rose, 25-20, 16-25, 25-20, 23-25, 15-9
Photos