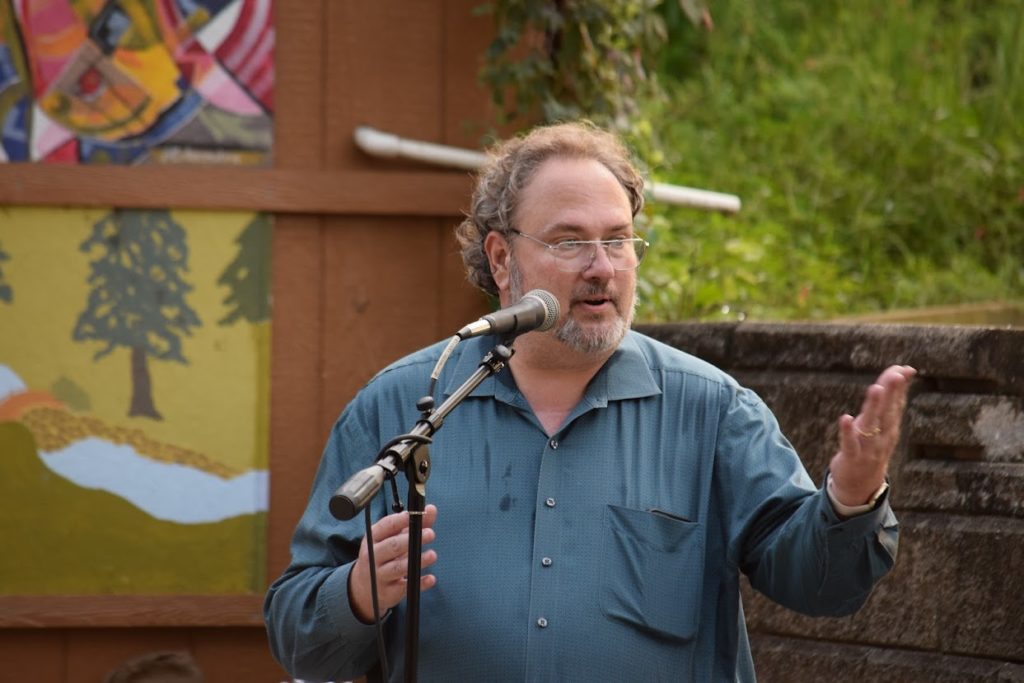 BY DEBBIE PAGE
debbiepage.iredellfreenews@gmail.com
United Way of Iredell County agencies gathered at Daveste Vineyards in Troutman on Thursday night to kick off the 2022 fundraising campaign and to spread the word about the quiet but meaningful work that goes on every day in our community.
After a half hour of guests engaging with agency representatives, Executive Director Brett Eckerman welcomed attendees to a reception in the pavilion area that showcased three agencies and their work in the community.
Eckerman recognized the 25 partners and 44 nonprofits United Way has funded since 2020 and the companies, donors and volunteers who make the organization work. "When you look at that whole thing, working together, you can say 'united,' " he explained.
About 150,000 people in Iredell County went to one of these agencies to have some need filled — food, a place to stay for the night, mental health counseling or support — and got that need met.
"That's something we should be really proud of. It doesn't just happen. It happens because we choose to make it happen," Eckerman said.
Kim Atwell, market president at Truist Bank in Statesville and Mooresville, is co-chairing this year's United Way county-wide campaign with recently retired Hospice & Palliative Care of Iredell President and CEO Terri Phillips.
Atwell announced that this year's campaign goal is $800,000. She proudly announced that generous community donors have already contributed $140,000 to jumpstart this year's fundraising effort.
The program next featured three agency partners, along with clients who were served through their programs.
Leigh Ann Darty, director of Rainbow Kidz, expressed her love for the community and her appreciation of the United Way for its support of Hospice & Palliative Care of Iredell County and its programs.
"It's an honor to do this work. All that we do for the children and families is provided at no cost because of folks like you, because of United Way," she said.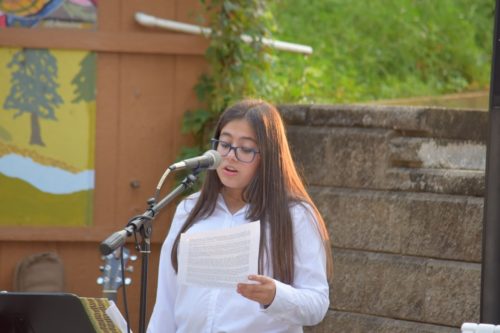 Darty introduced 14 year-old Briannna to speak about how Rainbow Kidz and the Boys & Girls Club of the Piedmont helped her through her grief when she lost her father in 2019. The program helped her process her grief and emotions with other children who suffered loss.
Rainbow Kidz counselors visit schools each week to help children and teens talk about their feelings, discuss coping strategies, and share journaling. Brianna also enjoyed the Rainbow Kidz therapeutic summer camp with support animals, crafts, yoga, dance, swimming, music and other activities to create a fun, supportive atmosphere in which they can express their feelings of grief and remember their loved ones.
Brianna also praised the Boys and Girls Club's Abby Winthrop Smart Girls program, which provides an opportunity for Brianna and other girls to learn skills, develop leadership abilities, and discuss issues that concern them. She has also become a junior staffer, helping teachers as she mentors younger children, assists with homework or sports, and other needs.
Amy LaCount, executive director of Mooresville Christian Mission, explained that her organization helps provide food, clothing and shelter to those in need in the southern part of the county as it seeks to help end generational poverty.
Jennifer Marion Mills, whose family has been a longtime supporter of the Mooresville Christian Mission, said that her family was brought up to give back to the community and help those in need.
She praised the Mission for offering help, support and guidance to the people of Iredell County, providing help with things like electric bills, clothing for children, or finding a job. The nonprofit works with its clients to help them better their lives, which makes the whole community stronger.
"The clients are treated with the utmost respect and are very well-cared for," added Mills.
She shared the story of a disabled veteran who had lived in his car for months. Through the Mission's case management services and resources, the emotional veteran soon moved into his own apartment.
Nancy Keith represented the Iredell County Cooperative Extension's youth development program, the 4-H Clubs. "The 4-H motto is to make the best better, and that is what we try to do with youth of Iredell County," she said.
4-H offers programs in STEM areas, agriculture, and other areas in after-school and school enrichment programs "to make future leaders in Iredell County and the State of North Carolina," said Keith.
Quincy Sherrill, a sophomore at Crossroads Early College, is a member of a West Iredell 4-H Club. She was the delegate to the N.C. Association of County Commissioners and participated in the Youth Voice seminars.
Sherrill talked about how the current technological connectedness has led to a disconnect both physically and emotionally between people. She was grateful to get to join 4-H to find some of that human connection she was lacking.
Participants in 4-H learn about careers, help their communities, and make a commitment to the 4 H's — head (clear thinking), heart (greater loyalties to others), hands (larger service and giving their best to the community) and health (better living and presenting the best version of themselves for the club, community, and world) — to connect to something bigger than themselves.
After the presentations, Eckerman challenged anyone feeling discouraged about the world to go on a tour of partner agencies and see the work that goes on every day in Iredell County.
"I guarantee you will be inspired by the love and care that happens in this community every day behind the scenes that doesn't always get noticed, but it is what makes a real difference and unites us as a community."
Rhyne Scott, a dedicated United Way volunteer who helped in the creation of a countywide United Way, is grateful for the year-long process of bringing the county together in one United Way organization, ready to help the entire community.
Scott cited the many community leaders, elected officials, organizations, and school systems joining together to create the framework for the expansion to encompass the entire county.
"We knew it would bring communities together, strengthen campaigns, and help us be stronger together," he said.
Scott said the partner agencies would always be the driver of the United Way of Iredell. "This new chapter will be a perfect story," he added.
After the program, Eckerman explained that one of the goals for this year is to reach outside of the way the United Way have always done business and build new relationships. He also wants United Way to add value to its partners in every way that they can to help them do their work more effectively and efficiently.
Another goal is "to bring the community together to accomplish our common vision of a strong, healthy, well-educated community," said Eckerman.
Expanding to Mooresville "opens up the door to finding ways to work together more efficiently."
"There's a lot of agencies, programs, and services that have worked across our county for many years, and United Way has gotten a little bit behind the times of making sure that we have that same footprint, so we can support those agencies," he said.
"We can help bring conversations together that are going to improve the effectiveness of all these programs and better resource our partners so they can say 'yes' more often."
Eckerman also said that conversations are about to get underway about holding another Longest Table event now that the pandemic has receded.
"I hear a hunger from people for it. I get calls about that a lot. We have to figure out what a whole county version of that looks like. It will be a challenge," he said.
"We have to find a new way to do it that still creates that felling of connection and togetherness."
FOR MORE INFORMATION
For more information about the effort to create a cohesive Iredell County United Way agency or to donate to this year's campaign, visit https://uwiredell.org and see the video introduction at https://www.youtube.com/watch?v=XTI3bK4knVg.
Photos